Sony's expected to announce at least one new smartphone on 24 February at Mobile World Congress 2020, the smartphone tech show. Vying for the title of best camera phone could be the Sony Xperia 5 Plus (or is it Xperia 1.1?) the Japanese tech giant's recently leaked flagship.
Whatever it ends up being called, the latest camera phone leaks suggest it could boast a totally different camera setup to anything we've seen from Sony before, bringing it in line with the upcoming Samsung Galaxy S20 and phones like the Huawei P30 Pro.
Leaked renders of the new Xperia included some interesting shapes within its camera array when they surfaced not long ago, but there was no clarification as to what features were cameras, focusing elements, color temperature sensors or other non-picture-taking components. Now, thanks to a leak from Android Next, a close-up image of the camera surround has a full breakdown of camera specs, complete with resolutions and sensor sizes.
As with the iPhone 11 Pro, and indeed Sony's 2019 Xperia 5, the main sensor looks set to be a 12MP module with a respectable 1/1.5 sensor size. Sony keeping its main sensor resolution low may not be a bad thing; we've noticed big pixel count sensors can lack some of the attention to tonal detail lower-resolution sensors in top-tier flagships can grab.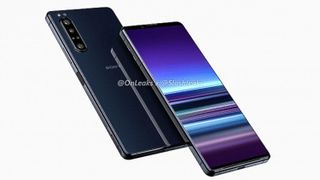 Interestingly, it also looks like the Sony Xperia 5 Plus/ Xperia 1.1 will feature a 64MP secondary module, likely delivering a 2x optical zoom. This looks set to be the Samsung ISOCELL sensor found in the Realme X2 Pro and Motorola One Hyper, and could help the phone deliver improved telephoto performance throughout zoom ranges by combining high-resolution sensor cropping with optical zoom.
If the leak is valid, additional modules look set to include a 12MP ultra-wide camera, a 2MP ToF camera for depth perception and, a first for Sony, a periscope camera that will feature OIS and an undisclosed focal length and resolution.
As exciting as these suggestions are, putting our cynical hats on, we've never seen a periscope module quite so unimposing before. Additionally, the Japanese site, Android Next hasn't featured particularly heavily on the leaks circuit either. Having said that, Sony needs to make waves if it wants to stay in the race, and these suggested specs do – so check back in February when all will be revealed.
Via: GSMArena
Read more
• Smartphone news, camera phone leaks and mobile rumors
• Best budget camera phone in 2020
• The best camera phone in 2020
• The best add-on lenses for iPhone and Android phones
• The best gimbals for your iPhone, GoPro and camera
• The best selfie sticks