Realme enjoyed a short-held spot at the top of the megapixel podium with its 64MP camera packing Realme X2 Pro. Despite the fact it was shortly superseded by the current big pixel count champ, the 108MP Xiaomi Mi Note 10, the Realme X2 Pro still represents fantastic value for money - but big pixels seldom make for the best camera phones.
Realme's latest flagship smartphone features a class-leading screen for the price. Measuring 6.5-inches, its Super AMOLED panel packs a peak iPhone-grade brightness and a OnePlus 7T smooth 90Hz refresh rate. Starting at €399 (£340, $445), you'd expect pure midrange power inside, but Realme has somehow fitted the X2 Pro out with a best-in-class Qualcomm Snapdragon 855 Plus processor complete with between 6-12GB RAM.
Combine all that with stereo speakers, a huge 4000mAh battery and the fastest charging we've seen to date, and it's a head-scratcher as to why the Realme X2 Pro doesn't cost more than it does.
On paper, the phone's quad-camera set-up also sounds impressive with its big pixels and multiple focal lengths - including a wide, telephoto and ultra wide lens; but, it's ultimately a bit of a guinea pig. The first phone to feature Samsung's new high-resolution 64MP sensor, Realme opted against a safe choice - Sony's ubiquitous 48MP sensor. This all means, this fantastically specked phone could fall flat at what could be the most important hurdle, imaging.
Realme X2 Pro: camera specifications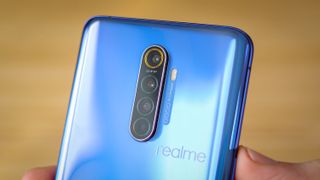 The quad-camera setup around the back of the Realme X2 Pro features a wide angle 64MP sensor with 0.8µm pixels combined with a 26mm lens. With an aperture of f/1.8, it lets in a fair amount of light, though with no image stabilisation, isn't as well-specced for low light photography as some competition, not least of all the 108MP Xiaomi Mi Note 10.
The Realme X2 Pro's telephoto camera features a resolution of 13MP, combined with an f/2.5 aperture lens with a 52mm focal length, and once again, no OIS. The phone's ultrawide camera is the lowest resolution picture taker clocking in at 8MP, and with a 16mm angle of view, works out to about 0.6 times that of the primary camera.
There is a fourth low-resolution 2MP sensor at the bottom of the camera array, but this is a depth sensor so doesn't independently capture images.
As for the selfie camera, it's 16MP sensor is coupled with a 25mm wide angle lens, which has an aperture of f/2.0 - virtually identical on paper to that of the Oppo Reno 2.
Shooting modes: Despite the Realme X2 Pro's 64MP resolution sensor, the phone captures 16MP images, combining four pixels on the sensor into one dot in the final photo. You can override this and shoot at full resolution by firing up Ultra 64MP mode, but this is at the expense of HDR-capture.
Additional shooting modes are plentiful - Video, Photo, and Portrait occupy the bottom bar for quick access, with additional modes - Nightscape, Pano, Expert, Time-lapse, Slo-Mo and Ultra Macro - available through an expanded menu.
While the expert mode supports control over ISO up to 3200 and a shutter speed of up to 16 seconds, there's no support for RAW shooting here.
Realme X2 Pro camera performance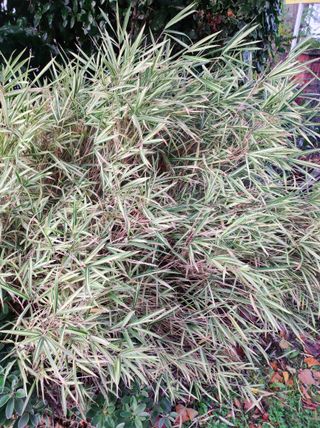 In well-lit environments, photos taken on the Realme X2 Pro share some similarities with those captured on 48MP camera phones like the Huawei Nota 5T and Redmi Note 8T. Despite being loaded up with plenty of detail, occasionally, they lose out on nuance found in dark shadows or bright highlights, with mid tones impressing for the most part.
This isn't all down to the sensor; Realme's processing boosts the saturation and contrast a fair bit, so photos shot in auto mode pack punch but sacrifice nuance. Using a third party camera app can help mute things a little; we had great success with an unofficial port of the Google Camera app. Serious photographers will definitely want to try out a couple of third party solutions, as there's no other way to drop the contrast and saturation.
Stick with Realme's own camera app, however, and you can still get some impressive shots with an Instagram-ready look to them. Despite the lack of OIS, images are seldom blurry, focus is on point and snappy, even in middling light, and when shooting indoors, the Nightscape mode helps pull out textures when the camera phone's automatic mode struggles.
The telephoto camera's 2x zoom lens may be missing OIS as well, but with a steady hand it outperforms the primary camera in challenging lighting. If you want maximum flexibility and the light is right though, you'll be as well off to shoot in 64MP mode and crop into your shot after the beat.
As for the ultra wide angle camera, it does the job in good to middling light, but, unfortunately, doesn't work with the Realme X2 Pro's night mode, so all-encompassing low light landscapes are out of the question. One party trick it does pack is Ultra Macro mode though, focusing at around 2.5cm away from a subject just like the OnePlus 7T Pro.
Video on the Realme X2 Pro climbs up to 4K resolution at 60fps. As with photos, footage captured has a saturated, contrasted look to it that looks pleasing, but doesn't leave much wiggle room for edits. At 60fps, there's also a fair amount of live view lag, especially noticeable at 4K resolution, and mid-capture autofocus is hit and miss. Nevertheless, the Realme X2 Pro's electronic image stabilisation does keep things steady for the most part across all resolutions which is a boon.
Realme X2 Pro: sample images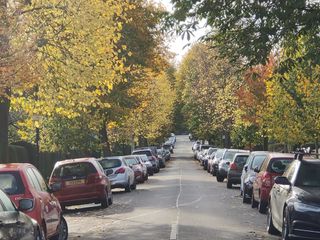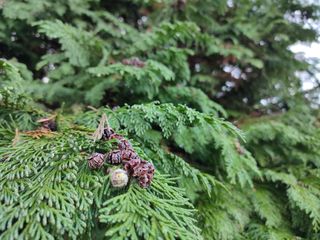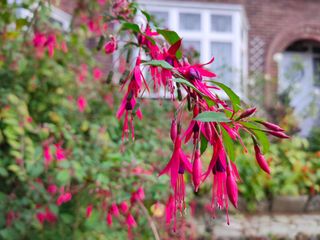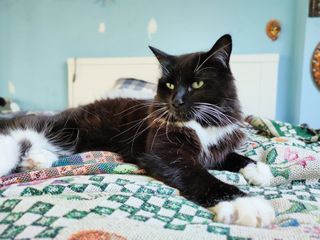 Realme X2 Pro: Battery, connections and OS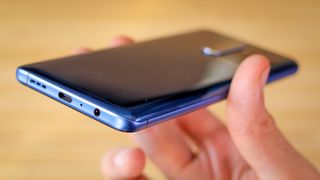 Realme includes a beefy 4000mAh battery in its X2 Pro, so it's little wonder that even with that large, 90Hz screen, it comfortably makes it through a full day of use. Adding to an already excellent battery story is the fact this phone charges very quickly. With 50W fast charging, capable of powering up from 0-100% in just over half an hour, it's the fastest we've seen on a smartphone to date in the UK or US.
The Realme X2 Pro also features a host of other flagship features - an under display fingerprint scanner, NFC for contactless mobile payments, stereo speakers tuned by Dolby and Gorilla Glass 5 protection.
Powered by a Qualcomm Snapdragon 855 Plus processor, it's also a powerhouse, and there are plenty of storage options available too. Having said that, the phone doesn't support expandable storage - so you can't bump up the space inside with a microSD card. In turn, we'd recommend you pick up the 128GB version or 256GB version if you're not sure 64GB will give you enough room for all your files, photos and videos.
Running Android 9, app support for the X2 Pro is excellent as well, with plenty of apps available through the Google Play Store. Color OS, the interface Oppo and Realme both use on their phones is a mixed bag, heavier than most skins; but Realme's done a great job of stripping it back going into 2020, removing much of the bloatware that weighed down other Color OS devices like the Oppo Reno 10X Zoom.
Realme X2 Pro: Verdict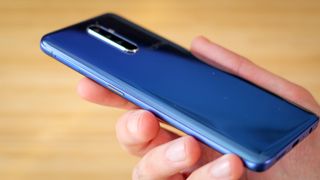 What you end up with in the Realme X2 Pro is a phone that punches way above its weight. It doesn't have the most premium styling, but its build is solid, and it definitely doesn't look bad. With a fantastic, bright, smooth OLED screen, plenty of power, stereo speakers and day-long battery life, for the phone's €399 (£340, $445) starting price, nothing else can touch it when it comes to value. The one addition that would have made it a total no brainer would have been a microSD card slot.
What's more, while the camera definitely isn't the best around, or, even the best that you can get for best budget camera phone under £400 - that accolade goes to the Huawei Nova 5T and Oppo Reno 2, depending on the kind of photographs you like to capture - it's still perfectly usable, grabbing plenty of detail and snapping decent photos across lighting conditions.
The kicker, however, is how limited its availability is. If you're in the UK, you can only buy it online through select channels, and for anyone in the US, it's an import-only option.
Read more:
• Best budget camera phones in 2020
• Best selfie sticks for your smartphone
• The best iPhone tripods
• The best gimbals for your iPhone, GoPro and camera
• The best phone cases to protect your camera phone