With Sony's plans for the MWC expo in Barcelona firming up behind the scenes, the tipsters have been at it again, unveiling the unveiled ahead of the big announcement. The latest leak from @Zachbucks on Chinese social media platform, Weibo, is a slide from Sony pushing 5G, 4K HDR screen tech and more, alongside an image of a device.
Sony is building upon a solid foundation when it comes to hardware and software ahead of its MWC 2020 announcement. The Sony Xperia 5 is a great phone with a great camera, especially when it comes to manual video capture, and leaked renders have suggested that we'll be getting an Xperia 5 Plus soon enough. This looks set to come complete with at least three cameras around the back and a familiar design, as well as a Snapdragon 865 chipset.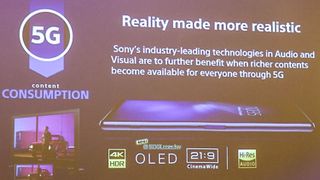 Additionally, we may well be seeing the successor to last year's Xperia 1 too, which was announced at MWC 2020, with the device launching in the spring.
The leaked slide confirms that the new phone will pack 5G, which will, with any luck, see significantly better coverage throughout 2020. This device's screen will likely feature 4K resolution and OLED tech, with a 21:9 aspect ratio - all traits shared with the current flagship, the Xperia 1.
Will these two devices in fact be one? Can we also expect a slew of midrangers, mirroring Sony's 2019 MWC strategy? All will be revealed soon enough, with the event kicking off on 24 February 2019.
Read more:
• What is 5G?
• The best 5G phone in 2020
• Smartphone news, camera phone leaks and mobile rumors
• Best budget camera phone in 2020
• The best camera phone in 2020