On the same day as Sony announced its huge and expensive 600mm f/4 pro telephoto lens, the company also announced a much more affordable telephoto zoom for enthusiasts.
With a focal range of 200-600mm, the new FE 200-600mm F5.6-6.3 G OSS goes much further than a typical telephoto zoom, extending into the kind of super-telephoto range used by bird and wildlife photographers, and fans of long-range sports photography. It matches the focal length of the Sony FE 600mm F4 GM OSS lens, albeit with a smaller maximum aperture across its zoom range. This could prove to be one of the best Sony lenses yet for sports fans.
The new lens can also be used on any Sony full frame mirrorless cameras like the A7 III and Sony A9, and on Sony's smaller APS-C mirrorless cameras like the A6400, where it offers an even longer focal range equivalent to 300-900mm. It's also compatible with Sony's 1.4x and 2.0x teleconverters. When these are used, the FE 200-600mm F5.6-6.3 G OSS offers a maximum focal length (on a full frame camera) of 840mm at f/9 or 1200mm at f/13 respectively.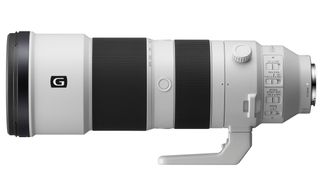 Optical design and autofocus
Sony says its new super-telephoto zoom uses some of its most advanced lens design technologies, claiming high image quality and high performance autofocus.
The optical design includes no fewer than five ED (extra low dispersion) elements and one large aspheric element to minimise optical aberrations, plus an 11-bladed aperture mechanism for smooth background blur (bokeh) and Sony's own Nano AR optical coatings to suppress reflections, glare and ghosting.
The front element also has a fluorine coating to repel dirt and fingerprints, and an internal focus mechanism that offers "high resistance" to dust and moisture as well as offering better balance during zooming, as the overall length of the lens does not change. The zoom ring also has a quick action thanks to its "light torque" mechanism.
The autofocus system uses Sony's DDSSM (Direct Drive SSM) focusing system for power, precision and quiet operation – which is especially important for timid wildlife subjects, like birds, or sports events where silent shooting is essential.
The FE 200-600mm F5.6-6.3 G OSS also has three customisable focus-hold buttons, a focus range limiter and a manual focus ring with Linear Response AF for fine control. The in-body stabilisation built into Sony full frame camera bodies is supplemented here with the lens's own built-in optical stabilisation.
Sony's new super-telephoto zoom goes on sale in August 2019 at a price of approximately £1,800 / $2,000, which is par for the course with a lens of this type.
Read more:
• The best Sony lenses in 2019
• The best Sony cameras right now
• The best 150-600mm supertelephoto zooms