UPDATED 21/11/2018: When we thought the Sony Alpha 99 II would be the ultimate camera for continuous shooting and autofocus performance for a long time still, it got the rug pulled out right from under it by a hot new contender – and that contender is another Sony.
In many respects, these two camera lines are in direct competition. We wondered how long Sony's ageing Alpha system would be allowed to keep its technological lead over the mirrorless A7 series: the Alpha 9 is our answer.
Read more: The best Sony cameras in 2019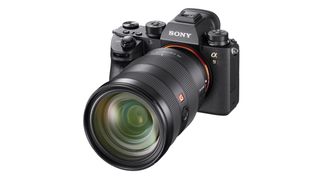 The A99 II still wins for outright resolution – 42MP versus the A9's 24MP, but the A9 thrashes it with its 20fps continuous shooting speed (with AE and AF tracking), massive buffer capacity (362 JPEGs, 241 raw files) and an on-sensor autofocus system with no fewer than 693 AF points covering 93% of the image area.
The A9 is an out-and-out action specialist, sacrificing resolution for speed in the same way as the Canon EOS-1D X Mark II and the Nikon D5. These two professional DSLR workhorses have had the world of pro sports photography to themselves for some time now. They may not have been particularly rattled by the A99 II, but the A9 is different.
This is not just because of its speed and the sophistication of its autofocus system. It's different because when it's running at 20 frames per second it's completely silent. In theory, the A9 could let you shoot at sporting events, musical performances and speeches where any other camera would be banned.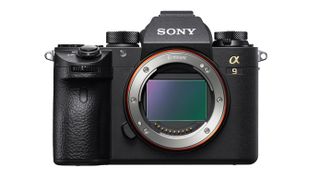 It's all made possible with an electronic shutter mechanism that has a third crucial advantage – no screen blackout.
With any camera that uses a mechanical shutter, the screen blacks out for an instant during each exposure. This gives the autofocus less of a 'window' to work in during continuous shooting, and makes it harder for the photographer to follow a moving subject in the viewfinder.
With the A9's electronic shutter mode, however, there is no screen blackout, even when shooting at 20 frames per second. The only penalty is a drop in the viewfinder's refresh rate from 120fps to 60fps, but a minor increase in screen lag is surely a small price to pay for continuous and seamless viewing.
The A9's performance has been made possible by Sony's cutting-edge 'stacked' sensor technology, with integral memory, backed up by a BIONZ X image processor to deliver what Sony says is a 20x faster readout speed and a performance "far exceeding SLRs".
The A9 also benefits from Sony's in-body five-axis stabilisation system. This is in addition to the image stabilisers built into some of Sony's pro lenses, such as the new FE 70-200mm f/2.8 GM OSS, one of the lenses used in our tests.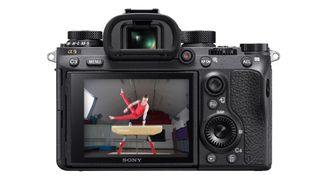 Movies, of course, are a big feature in any new Sony camera. The A9 can shoot 4K UHD video with full pixel readout without pixel binning – in other words, instead of combining pixels to produce 4K resolution, it uses the sensor's full resolution, then 'downsamples' it by a factor of 2.4 for better detail rendition.
The autofocus system plays its part here, with an AF area extended to almost that of stills mode and a reduced 'slow' focus speed for smoother slow focus effects while filming.
We said at the start that the A7/A9 series and the older Alpha SLTs were in competition, but there is some crossover. The A9 can use Alpha mount lenses via Sony's LA-EA3 adaptor, which enables the full 693-point AF system and shooting at up to 10fps with AF tracking.
So although there are still some gaps in Sony's professional lens range, particularly for super-telephoto primes, there are a couple of big A-mount lenses that will do the job for the time being. The adaptor also offers a way for SLT users to transition to the E-mount system of the A7 and A9.