This kit is just what you need if you want to ensure that you are managing the color workflow from capture through to image editing. The Datacolor SpyderX Photo Kit consists of three professional calibration devices that come in a metal storage case. The recommended price for this all-in-a-box kit is usually £399, but Wex is currently selling for just £199 – a saving of £200.
The kit includes the SpyderX Elite, a top-of-the-range monitor calibrator that on its own usually costs the best part of £200. It is designed to be able to allow you to adjust the color of computer screens and video projectors - and can do this in less than two minutes.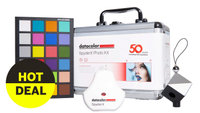 But you also get two accessories that will help with exposure and white balance, which are used at the shooting stage. The Spyder Checkr 24 is a professional color chart which can be used during a shoot to give reference colors that will allow you control tint and tonality at the editing stage.
The final bit of the kit is the innovative Spyder Cube. This highly-portable device is simply photographed within the scene doesn't just replace the traditional grey card, it can also give a value for absolute black and measure highlights.
Read more
• Best monitors for photo editing
• Best video editing monitors
• Best USB-C monitors
• How to calibrate a monitor
• Best monitor calibrators
• Best laptops for photo editing