There have already been some fantastic savings over the holiday weekend, but this is one of the best we've seen yet: save $500 on the Olympus PEN E-PL9 with a brilliant pancake zoom lens!
One of the best Labor Day sales around, this sensational saving means that you can buy the Olympus PEN E-PL9 with pancake lens for just $399.98! The camera is available in two colors, honey (pictured above) or pearl (below).
Just click through to the Olympus website, put the body in your basket and then it will prompt you to add the lens and apply your discount!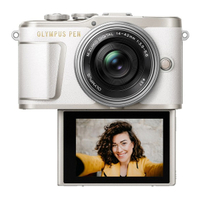 The Olympus PEN E-PL9 is one of the best travel cameras as well as one of the best cameras for vlogging – a truly pocket-sized camera that packs in-body image stabilization, 4K video, a 180° flipping selfie screen and can instantly transfer images to your smartphone.
It pairs perfectly with the tiny yet mighty M.Zuiko 14-42mm EZ – one of the best pancake lenses that offers a full-frame equivalent 28-84mm focal range, while ensuring that the whole camera setup can still fit in your pocket!
Read more:
The best Olympus camera in 2020: for Instagrammers, enthusiasts and pros
The best Micro Four Thirds lenses: lenses for Olympus and Panasonic
Olympus PEN E-PL10 review