Taken on its own merits the Olympus PEN E-PL10 is, just like its predecessors, a great camera for travelers, bloggers, vloggers and fashionistas. However, the problem is exactly that: the E-PL10 is just like its predecessors.
That makes it increasingly difficult to take the Olympus PEN E-PL10 on its own merits, because those merits come with a 2020 price tag – and almost the exact same merits are available on the 2019 model, which comes with a 2019 price tag.
Still, we've been big fans of the E-PL ("PEN Lite") line since the E-PL7 – and this latest iteration is undoubtedly one of the best travel cameras as well as one of the best vlogging cameras.
Specifically in the latter case, it's a fantastic first camera for non-photographers looking to get into the vlogosphere – as evidenced by the number of fashion and lifestyle vloggers who have embraced E-PL cameras, which offer simple and stabilized 4K video with compact and capable lenses that deliver great image quality.
So what's new with the Olympus PEN E-PL10, and does it warrant a purchase over the similarly specced Olympus PEN E-PL9?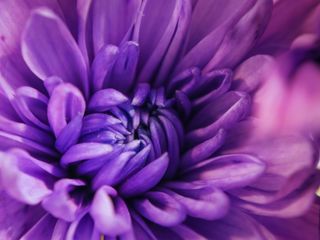 Specifications
Sensor: 16.1MP Four Thirds Live MOS
Image processor: TruePic VIII
AF points: Contrast detect, 121 points
ISO range: 200 to 25,600 (expandable to 100)
Max image size: 4,608 x 3,456
Viewfinder: N/A
Metering modes: Digital ESP, center-weighted, spot, spot with highlight control, spot with shadow control
Video: 4K UHD up to 30fps, 1080p FullHD up to 60fps
Memory card: 1x SD / SDHC / SDXC (UHS-I)
LCD: 3-inch 180° tilting touchscreen, 1040k dots
Max burst: 14.1fps silent mode / e-shutter, 8.6fps mechanical
Connectivity: Wi-Fi, Bluetooth, USB Micro, Micro HDMI
Size: 117.1 x 68 x 39 mm
Weight: 332g (body only; 380g, with battery and SD card)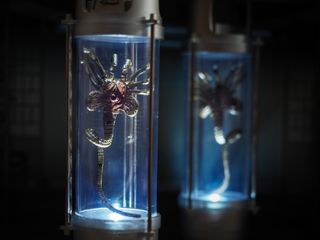 Key features
At the heart of the Olympus PEN E-PL10 is a 16.1-megapixel image sensor – which is certainly on the low side by 2020 standards, but it's still a very competent sensor that produces crisp, punchy, vibrant images.
What really sets the E-PL10 apart from the competition, though, is the 3-axis in-body image stabilization (IBIS) that offers 3.5 stops of stability. In layman's terms, that means you can handhold the camera at slower shutter speeds (when shooting in low light, for example) or when using longer lenses, without worrying about camera shake spoiling your images.
IBIS is still a rarity among cameras in this category (and, indeed, a rarity among much larger and more expensive cameras, too), and really does make a huge difference to your shots – especially when using lenses with smaller apertures (higher f-numbers), such as the M.Zuiko 14-42mm EZ kit lens that is often bundled with PENs.
The E-PL10 features a 180° flipping touchscreen that, again, makes it perfect for vlogging as well as taking selfies and videos on your travels. (It should be noted that the screen flips down, so that it points back to you from underneath the camera, meaning that you can't see it if the body is mounted on a tripod.)
Video can be recorded in 4K at up to 30 frames per second, 1080p up to 60 frames, and a High Speed Movie mode can also be invoked that captures 120 frames per second for slow-motion – though this is limited to 720p resolution, with no audio or autofocus (as is typical of slow-mo recording).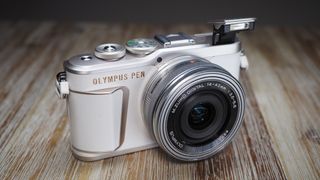 Build and handling
The PENs have carved a niche for themselves as svelte and stylish cameras, available in a choice of fashion-conscious colors, which accounts for a large part of the reason why they're so popular with fashionistas and lifestyle bloggers. The E-PL10 is no different, with its clean lines and bag-friendly size.
The size really is the strength of this camera, and is where the Micro Four Thirds format has a distinct edge on its rivals. Unlike bodies with larger sensors, Micro Four Thirds lenses are as compact as they come – such as the 14-42mm EZ lens, which makes a perfect combo with the E-PL10 – and bestow you with a powerful picture-taking setup in an incredibly small package.
Build quality is good and solid; while this may be Olympus' entry level body, it doesn't feel at all cheap and plasticky the way some other manufacturers' smaller bodies do. The E-PL10 is a premium product, with beautiful leatherette finish and a good sturdy feel.
It is, again, largely indistinguishable from the E-PL9 that preceded it, so once more you have a good grip that gives you good purchase without being too pronounced. And it also possesses a pop-up flash, with a head that can be angled to bounce the light, which is always useful.
While it only possesses a single control dial, you can still control shutter and aperture independently by pressing the D-pad to toggle between the two inputs. This means that the camera is perfectly usable in manual mode, though the PEN Lites are pitched towards entry level users and non-traditional photographers who will more likely use aperture priority.
Such users will enjoy and greatly benefit from the UI, which like the Olympus OM-D E-M10 Mark III offers guided menus for more complex features. Combined with the familiar touchscreen input, this makes it an ideal camera for those graduating from smartphone photography.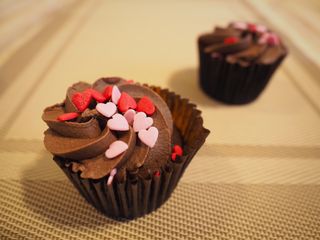 Performance
At the risk of sounding like a broken record, if you've used the E-PL9 (or, really, any of the E-PLs for the past four years) you'll know exactly what to expect from the Olympus PEN E-PL10, which features the same sensor and processor as previous models.
That means you can expect pleasing image quality that, much as we're frustrated to see the same 16MP sensor, are absolutely more than good enough for social media and blogging. And while it's undoubtedly on the modest side in 2020, 16 megapixels is certainly still enough to make reasonable sized prints.
Likewise the video is ideal for the E-PL10 market, enabling you to record good quality 4K or 1080p footage whether you're shooting in the fully automatic mode or you want to go manual to maintain a cinematic 24fps look. The ability to shoot at 120fps for slow-motion shots is very welcome, too – yes, the resolution does drop to 720p, and there's no AF or audio, but for a quick clip on a vlog or Instagram post it's more than adequate.
The camera features Face Priority and Eye Priority autofocus, which is helpful for stills photography, but the contrast detect AF system means that it will sometimes struggle to follow faces in video mode, particularly if you have a busy background. Generally though it's very good and is great for run-and-gun video – and the in-body image stabilization will keep your handheld footage so stable that you needn't bother with a gimbal.
As mentioned, while small bodies from other manufacturers are mostly betrayed by the oversized lenses that need to accompany them, the E-PL10 pairs wonderfully with Micro Four Thirds' range of compact optics – in particular, Olympus' brilliant f/1.8 prime lenses. With a pocket full of primes, the E-PL10 becomes a portable portrait machine or a sleek street shooter, and is an ideal everyday and travel camera that's never too heavy or bulky to take with you.
Certain among you will be very pleased indeed to know that silent shooting has at last been added to the drive modes, giving you full manual control while shooting with the electronic shutter (previously with the E-PL9 and E-M10 Mark III, Olympus only offered silent shooting in a semi-automatic AP mode).
Perhaps we didn't notice it for the E-PL9, but the suite of Art Filters has now been limited somewhat. While you still get the all the standard Instagram-esque overlays (some more tasteful than others, from Grainy Film and Pop Art to Diorama and Instant Film), you don't get the full raft of options. One of our favorites, for example, is Vintage, but here you only get a single option whereas on the OM-D bodies you can choose from Vintage I, II or III. That said, there is now a handy gauge so that you can set the degree to which the effect is applied.
For instant sharing or remote shooting, the camera connects to your smartphone via Wi-Fi or Bluetooth. From here, the free OI.Share app enables you to transfer photos and movies, or use your phone as a remote control to fire the camera – great for getting group shots, taking self-portraits without your arm sticking out, or even for shooting animals in the yard without frightening them away.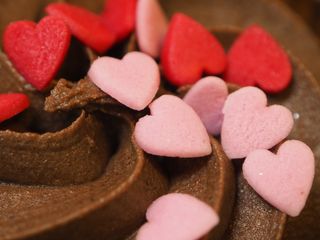 Lab results
Resolution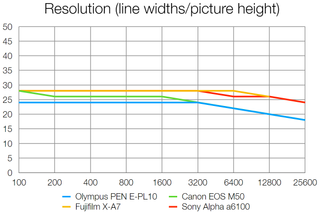 With the PEN E-PL10 only having 16.1MP at its disposal, it simply cant resolve the same level of fine detail when compared to rival cameras packing ~24MP sensors. However, the Olympus's excellent high ISO performance does at least enable it to resolve the same amount of fine detail as the EOS M50 at higher sensitivities, which is no mean feat given the megapixel disparity.
Dynamic range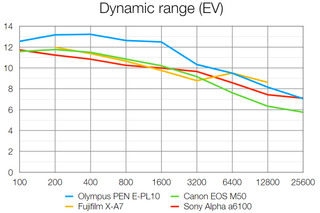 At sensitivities up to ISO 3200, the PEN E-PL10 is capable of class-leading dynamic range - a superb result. Above ISO 3200 the difference between the Olympus and its rivals is slightly less pronounced, but this is still the dynamic range benchmark to beat.
Signal to noise ratio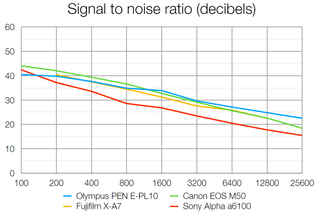 Our signal to noise test measures image clarity, specifically the ratio of the actual image 'data' you want to capture, versus the image noise that you don't want, but will inevitably be visible when shooting at higher ISO sensitivities. The higher the score at a given ISO sensitivity, the better.
The PEN E-PL10 gets off to slightly mediocre start at ISO 100, but by ISO 200 it's already producing images that are as clean as those from the Fujifilm X-A7, and it's only a whisker behind the class-leading Canon EOS M50.
But its noise at higher sensor sensitivities that's most noticeable, and here the Olympus really comes into its own. At ISO 1600 and beyond, it's producing the cleanest images of the bunch.
Verdict
The Olympus PEN E-PL10 is a capable, compact, content creating machine. Ideal for newcomers to photography, non-photographers who want to shoot images and video, run-and gun vloggers who want stabilized 4K on the go, or travel and street photographers who need small and discreet kit, it does everything you could want a camera in this category to do and a little bit more besides.
Our only criticism is – even more than is usually the case for the PEN line – that it really is very, VERY similar to last year's model. If you don't need manual control over silent shooting, we can't honestly think of a reason to recommend it over the E-PL9 (which comes in our personal favorite color, denim blue), though the "Batman black" of the E-PL10 is very fetching.
We love the Olympus PEN E-PL10, but we also love the E-PL9 – which is a couple of hundred bucks cheaper. So unless you really want to be as stealthy as the Dark Knight and shoot silently, last year's model offers greater value.
Read more:
The best Olympus camera in 2020: for Instagrammers, enthusiasts and pros
The best Micro Four Thirds lenses in 2020: lenses for Olympus and Panasonic
The best travel camera in 2020: see the world and capture amazing images