As the year comes to an end, PhotoPlus: The Canon Magazine has revealed its rundown of the best cameras, lenses and accessories for the Canon photographers in 2019. The PhotoPlus Gear Of The Year awards, where we reveal the most outstanding Canon EOS cameras and Canon-fit add-ons that are available right now..
In 2019 PhotoPlus tested Canon's EOS RP mirrorless camera and a stack of new RF lenses for it, while in the DSLR camp, Canon released its finest beginner-friendly and mid-range cameras of all time. Plus Sigma and Tamron have continued to delight with some truly great glass. So there's plenty to choose from whether you are a Canon mirrorless or mirrorless camera user! Without further ado, let's get right to it and reveal the winners!
Best beginners's DSLR
Canon EOS Rebel SL3 & EF-S 18-55mm
The most fabulous of EOS cameras for beginners who are serious about beginning their long, potentially expensive, journey into photography – the Rebel SL3 (known as the EOS 250D in Europe) bends over backwards to be helpful. Its fully articulated vari-angle touchscreen looks and works a treat from any angle, and comes complete with a 'Guided' user interface that smooths out the learning curve of shooting with a DSLR. It's not short on specifications either, with a 24.1 megapixel sensor that features Dual Pixel AF and is capable of delivering wonderfully rich and detailed images, as well as capturing that 4K ultra-high definition that everyone talks about.
• Read Canon EOS Rebel SL3 review
Best Enthusiast mirrorless camera
Canon EOS RP
Who says full-frame cameras need to be big and chunky? This mirrorless marvel is Canon's smallest and lightest full-frame EOS camera and weighs in at just 485g, complete with battery and memory card. It's also less than two-thirds the price of the EOS R, while still packing a serious set of features including a 24MP sensor, Dual Pixel CMOS AF with 4779 AF positions, and 4K video, yet the most appealing thing about this camera is that it delivers a cost-effective route into using Canon's epic new RF series lenses.
• Read Canon EOS RP review
Best Enthusiast DSLR
Canon EOS 90D & EF-S 18-135mm
Better and faster than the preceding EOS 80D, the 90D takes things to a new level. The image sensor has a mighty 32.5 megapixels and the DIGIC 8 processor is two generations newer. It has a faster 10fps maximum burst rate, rising to 11fps in Live View mode, and ups video capture resolution from 1080p to a full 4K. The fabulous ergonomics of the 80D are retained, including the vari-angle touchscreen, making the 90D the new top trump for APS-C format enthusiast-grade cameras.
• Read Canon EOS 90D review
Best Pro DSLR`
Canon EOS 5D Mk IV
The consummate all-round full-framer, the 5D Mark IV excels at just about everything. Handling is a dream, it combines a high-res 30.4 megapixel image sensor with a fast 7fps continuous drive rate and has exceptional high-ISO image quality. It's great for shooting everything from landscapes to portraits, and from action sports and wildlife to night-time cityscapes. We love how the optical viewfinder and high-performance autofocus module combine for tracking moving objects, while sensor-based Dual Pixel AF with rear screen preview enables it to compete with mirrorless cameras for speed and accuracy.
Best professional mirrorless camera
Canon EOS R
The EOS R was Canon's first full frame mirrorless camera, and while it might look like a mirrorless version of the Canon EOS 5D IV it has a much more advanced autofocus system with an amazing 5,655 focus points and Canon's new and more advanced RF mount. It has the same balance of resolution and image quality we admire in the EOS 5D Mark IV but in a smaller, more compact body. It's the first of Canon's new RF camera range, but it's sure not to be the last.
• Read Canon EOS R review
Best travel zoom
Sigma 18-300mm f/3.5-6.3 DC Macro OS HSM | C
One of the big attractions of any 'system camera' that has interchangeable lenses is that you can fit the best tool for the task at hand. The flip side is that nobody likes traveling or walking around with a heavy bag of lenses. This Sigma stretches from seriously wide-angle coverage to telephoto reach, with just the twist of a zoom ring. Better still, it manages to deliver impressive image quality at all zoom settings, while keeping the size and weight to easily manageable proportions.
Best telephoto zoom
Sigma 100-400mm f/5-6.3 DG OS HSM | C
Compatible with both full-frame and APS-C format DSLRs, this Sigma lens gives greater telephoto reach than 70-300mm lenses. But it is still easily manageable, with a reasonably compact, light build. Features are excellent, including dual-mode autofocus, dual-mode stabilization, an autofocus range limiter and even dual custom modes, which you can set up with Sigma's optional USB Dock. Image quality and all-round performance are superb, and you even get dual zoom options, using the regular zoom ring or applying a push-pull action.
Best standard zoom
Canon RF 24-105mm f/4L USM
The everyday zoom lens for EOS R and RP mirrorless bodies that strikes the perfect balance. It's compact and lightweight, thanks to its f/4 aperture rating, so it pairs up well with a diminutive mirrorless body. We've tested Canon's EF 24-105mm L-series lenses before, but this RF lens really ups the game in terms of sharpness, which is pretty epic throughout the entire zoom range, even when shooting wide-open at f/4. The five-stop image stabilizer works well too.
Best budget portrait lens
Samyang MF 85mm f/1.4 RF
Mounting a manual lens on a high-tech mirrorless body like the EOS R or RP might seem a bit daft. However, while you have to focus and adjust the aperture manually, this Samyang lens handles nicely. It's got a fluid feel to its focus ring that operates with precision and can still take advantage of focus peaking in the viewfinder or rear screen displays of the host camera. And while it's 'only' a manual, the optical path is full of high-tech finery.
Best street lens
Canon RF 35mm f/1.8 IS Macro STM
Some of Canon's new RF mount lenses are frankly enormous. This one is refreshingly compact and lightweight, while still going extra-large in terms of image quality and all-round performance. It works brilliantly for everything from landscape and architectural shooting to extreme close-ups, with a short minimum focus distance that enables a 0.5x macro magnification factor. We're particularly fond of the lens for street photography, where its compactness combined with an R-series body enables stealthy shooting without drawing attention to yourself.
• Read Canon RF 35mm f/1.8 IS Macro STM review
Best supertelephoto zoom
Sigma 60-600mm f/4.5-6.3 DG OS HSM Sports
Like a superzoom lens on steroids, this Sigma gives a mighty 10x zoom range but, instead of starting at a wide-angle focal length, it kicks off in standard territory and stretches to super-telephoto lengths. It's feature-packed with wide-ranging on board controls and customization options. What we love most is the ability to shoot with anything from standard to super-telephoto focal lengths without the need to swap lenses. It can make all the difference between getting the shot and missing it, especially in wildlife and sports scenarios.
• Read Sigma 60-600mm f/4.5-6.3 DG OS HSM Sports review
Best Astro lens
Samyang XP 14mm f/2.4
In our recent group test of lenses for astrophotography, this fast wide-angle prime from Samyang's premium range of manual-focus lenses came out on top. Not just for starry nights, however, it makes a fabulous ultra-wide lens for everything from sweeping landscapes and cityscapes to architectural interiors. Unlike some Samyang manual-focus lenses, this one has built-in electronics to enable aperture-control from the host camera, as well as illumination of the focus confirmation lamp in the viewfinder. Image quality is simply spectacular. It is sold as the Rokinon SP 14mm f/2.4 in North America.
Read Samyang XP 14mm f/2.4 review
Best professional telephoto zoom
Sigma 70-200mm f/2.8 DG OS HSM Sports
Canon's latest EF 70-200mm f/2.8 lens is fabulous, but this new Sigma Sports lens is arguably even better. The autofocus system is lightning-quick yet deadly-accurate, image stabilization is highly effective for both static and panning shots, and switchable dual autofocus modes give priority to autofocus or manual override – the latter enabling override even in AI Servo (continuous AF) mode. Most of all, the image quality delivered by this Sigma lens is absolutely stellar. You also get the option to set up dual switchable custom operating modes.
• Read Sigma 70-200mm f/2.8 DG OS HSM Sports review
Best wide-angle prime
Tamron SP 35mm f/1.4 Di USD
Tamron created this new lens to celebrate 40 years of its SP (Super Performance) line-up. So it's designed with every enhancement that Tamron could throw at it, from top-quality glass to high-tech nano-structure coatings and super-fast autofocus, all wrapped up in a durable weather-sealed shell. We love the way that the f/1.4 aperture rating and short minimum focus distance combine to enable a tight depth of field and beautiful bokeh. It's a stunning lens that's beautifully built and really delivers the goods. This Tamron matches Canon's much vaunted EF 35mm f/1.4L II USM lens for image quality, but it costs less than two-thirds of the price! You simply cannot go wrong with it there.
• Read Tamron SP 35mm f/1.4 Di USD review
Best standard prime
Canon RF 50mm f/1.2L USM
Canon surprised a few people by going large on its 50mm lens to pair with its downsized mirrorless R and RP bodies. But it really does make a point. The legendary Canon EF 50mm f/1.2 lens for DSLRs is sketchy in terms of AF accuracy, because the AF module is separate from the image sensor and depth of field is so tight. Using phase-detection AF right on the sensor, this lens can give consistently accurate focusing with practically zero effort, and the overall image quality is ace.
• Read Canon RF 50mm f/1.2L USM review
Best pro portrait lens
Canon RF 85mm f/1.2L USM
The even bigger brother to Canon's RF 50mm f/1.2 lens, the new 85mm is tailor-made for portraiture. At typical shooting distances, it delivers a depth of field so tight that you can literally focus all the attention on a single eye. As with the 50mm lens, autofocus with an R or RP mirrorless body is consistently accurate. We love the sharpness of this lens but we absolutely adore the quality of its bokeh, which is simply scrumptious.
Read Canon RF 85mm f/1.2L USM review
Best pro standard zoom
Canon RF 28-70mm f/2L USM
When you're in the market for a top-quality standard zoom, the usual choice is between a more 'enthusiast-level' f/4 or a fully 'pro-grade' f/2.8 lens. This magnificent new RF lens is a whole f/stop faster than an f/2.8 lens, giving even greater control over depth of field. More than that, image quality is better even than in most top-notch prime lenses of equivalent focal lengths, throughout the entire zoom range. It's pretty mighty in the size of its build but mightier still in performance. We love the ability to sweep through a range of popular focal lengths with absolutely no compromise in image quality.
• Read Canon RF 28-70mm f/2L USM review
Best budget flashgun
Yongnuo YN-560 IV
The thing we love most here is its price tag. But despite being cheap, it has a strong Gn 58 power rating, a 24-105mm zoom head, and full bounce and swivel options. There's also a wide-angle diffuser and catchlight card, and built-in wireless RF transceiver that enables master/slave operation with other Yongnuo flashguns over a range of 100m.
Best travel tripod
Benro iFoto 19AIBO
What we hate about tripods is that they're big, clunky and weigh you down when on the move. What we love about this one is that it folds down to just 35cm and is quite lightweight, yet extends to a decent max height of 152cm. That's thanks to having five-section legs and a two-section centre-column, and legs that swing up for reduced stowage size. This Benro also has top-quality construction and comes with an excellent ball head. It's a great budget performer.
• Read Best travel tripods
Best Sling bag
Tenba Solstice Sling 10L
It's lightweight yet tough and rugged, and versatile thanks to fully adjustable and removable internal dividers. Sling bags can be a bit unsteady when you're tackling terrain, like craggy hills or a rush-hour tube station, but this has an extra strap that you can utilize for stability.
• Read The best camera sling bags
Best studio flash kit
Elinchrom D-Lite RX 4/4 To Go
It's well engineered, from its lighting stands to its flash heads, softboxes and wireless remote trigger. The control panel of the flash heads are intuitive, yet give access to wide-ranging features, like ignoring pre-flash pulses when slaving from a flashgun.
Best location flash kit
Interfit Honey Badger Unleashed
So-called 'location flash' kits, powered from rechargeable battery packs, are notoriously expensive but this new Interfit breaks the mould. We love the versatility enabled by the 9-stop power range and that the bright LED modeling lamps are good enough to use as constant lighting for video.
Best LED Panel
Rotolight AEOS
You can't beat LED light panels for constant lighting. Typical of the breed, the Rotolight AEOS delivers powerful illumination from a cool-running panel. We love the way it can be easily handheld in operation, thanks to the two aluminum grab handles on the rear, and that the controls enable seamless adjustment of power and color temperature.
• Read The best LED light panels
Best polarizing filter
Marumi DHG Super Circular Polarizer
This filter lets you minimize reflections in water, windows and other reflective surfaces, while boosting color saturation and the drama of skies. Available in a range of sizes to suit lenses with most filter threads.
• Read The best polarizing filters
Best monitor calibrator
Datacolor SpyderX Pro
Painstakingly editing your images so they look their best, if the monitor you're using isn't accurate. This calibration kit comes complete with a simple wizard-based app that enables you to fine-tune computer monitors and laptop screens quickly.
• Read The best monitor calibrators
Best flashgun modifier kit
Rogue Flash Bender 2 Portable Lighting Kit
Despite being small and lightweight when packed away, this flash accessory kit is enormously versatile. It's based on a fabric panel that can bend into a flat or curved bounce card, or even roll up into a snoot. The kit also contains a secondary smaller panel and diffuser, plus a three-way honeycomb grid. It's not especially cheap but is nevertheless keenly priced compared to some other options, and can massively improve the quality of light from a speedlight.
• Read The best flash diffusers, softboxes and modifiers
Best wireless trigger
Phottix Odin II
Phottix Odin II transmitters and receivers are available in Canon versions, enabling triggering of multiple flashguns in as many as five groups, over a range of up to 100 meters. It's great being able to use TTL flash metering and high-speed sync options, as well as applying power adjustments and flash exposure comp for remote flashguns.
• Read The best flash triggers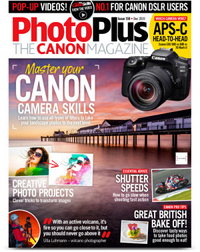 PhotoPlus: The Canon Magazine is the world's only monthly newsstand title that's 100% devoted to Canon, so you can be sure the magazine is completely relevant to your system. Every issue comes with a disc of video tutorials too. You can get up to 57% off the regular price right now.