Nicknamed the 'Bigma', Sigma's original 50-500mm super-telephoto lens was launched back in 2001, updated in 2006, and then revamped in 2010 with the welcome addition of optical stabilization. It was renowned for being a big, heavy lens but the new 60-600mm Sport is noticeably larger and nearly 40 per cent weightier, at 2,700g. That's almost as hefty as the Sigma 160-600mm Sport lens.
Like the preceding 50-500mm lenses, the new edition has a massive 10x zoom range. Its main selling point is that you can shoot at any focal length from standard to super-telephoto, at the flick of a wrist, without needing to swap the lens on your camera. It's ideal when you need to react quickly to shifting shooting opportunities, especially in action sports and wildlife scenarios.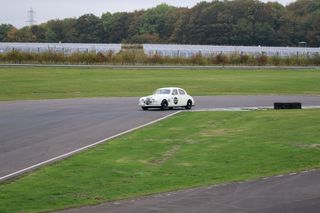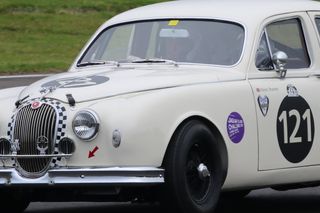 Much more than just having an upsized focal length, the new lens represents a major redesign. As a 'Sport' lens, it's built for speed, with an upgraded ring-type ultrasonic autofocus system that's geared to a fast response and the ability to track moving objects. The new optical stabilizer has an improved panning mode, which now works in portrait and even diagonal orientations, instead of just landscape orientation.
The complex optical path is based on 25 elements and includes three top-calibre FLD (Fluorite-grade Low Dispersion) elements and one SLD (Special Low Dispersion) element. Fluorine coatings are applied to the front and rear elements, to repel oil and water.
Sigma 60-600mm: Build & handling
Build quality feels strong and sturdy, based on magnesium, TSC (Thermally Stable Composite) and carbon fibre-reinforced plastic parts. Extensive weather-seals are fitted around the mounting plate, joints and switches.
Switches are on hand for AF/MO/MF, the mid position giving priority to manual override during autofocus. There's an autofocus range limiter which can lock out either the short or long end, and a zoom lock switch that you can engage at any marked focal length on the zoom ring. Two switchable custom modes are available, for tweaking the range limiter setting, autofocus speed and stabilizer action, via Sigma's optional USB Dock.
The lens is supplied with a padded soft case and shoulder strap, plus an extra strap that connects to lugs on the side of the barrel. This avoids placing undue stress on the camera's mounting plate when carrying the lens. For use with a tripod or monopod, a mounting ring is included with an Arca-Swiss compatible foot that also has 1/4-inch and 3/8-inch threaded sockets.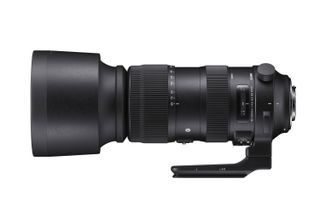 Sigma 60-600mm: Performance
Autofocus is very quick and effective in the vast majority of cases, with only occasional hunting when trying to acquire particularly tricky targets. The image stabilizer is highly effective for both static and panning shoots. Contrast and sharpness are impressive at all zoom settings, particularly when shooting wide-open, which is pretty crucial given the typically 'slow' aperture rating for a super-tele zoom.
Colour fringing is well controlled and, given the extra-large overall zoom range, distortions are of a fairly low order. As with a growing range of Sigma Global Vision lenses, automatic in-camera corrections are available for most current and recent Canon SLRs, including lateral chromatic aberrations, peripheral illumination and distortion.
Sigma 60-600mm: Lab tests
Sharpness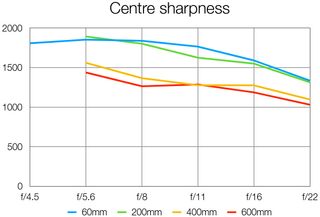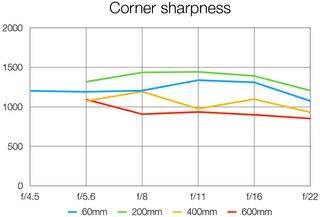 Sharpness is measured at the centre and corners of the frame and across the aperture range. Levels of sharpness across the frame are good at shorter focal lengths, but average at 400mm and beyond.
Colour fringing at edge (nearer 0 is better)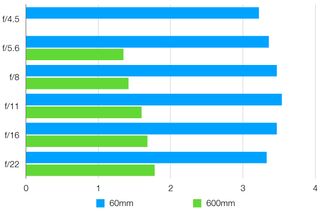 Colour fringing is measured at six aperture settings (above). At 600mm it's well controlled, but you may notice some fringing at shorter focal lengths.
Distortion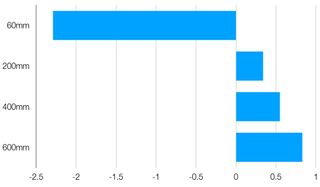 Distortion is displayed on a scale of negative values (barrel distortion) through zero (zero distortion) and positive values (pincushion distortion). Barrel distortion at 60mm is noticeable although not severe, transitioning quickly into negligible pincushion distortion from 200mm upwards.
Verdict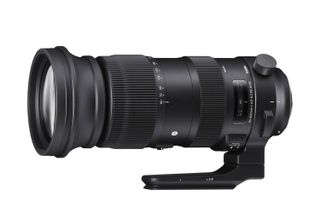 Super-telephoto meets superzoom in this lens. The big news isn't the slight increase in focal length over Sigma's preceding 50-500mm zoom, but the more major overhaul in build quality, features and performance. It's a highly versatile but rather hefty beast.
Sigma 60-600mm: Specifications
Full-frame compatible: Yes
Mount options: Canon EF, Nikon F
Image stabiliser: Yes (4 stop)
Minimum focus distance: 0.6-2.6m
Field of view: 39.6-4.1 degrees (diagonal)
Construction: 25 elements in 19 groups
Focus type: Autofocus & manual
Focus limit switch: Yes
Internal focus: Yes
Filter size: 105mm
Iris blades: 9
Weather seals: Yes
Supplied accessories: Caps, hood, soft case
Dimensions (dia x length): 120 x 269mm
Weight: 2,700g