Samyang's expanding range of XP (XPert) lenses are all about delivering the best possible image quality. Indeed, Samyang claims this lens has been designed to compliment DSLRs with 50+ megapixel sensors. Inside are 18 lens elements arranged in 14 groups. Fancy glass includes two aspherical elements, a hybrid aspherical element, two extra-low dispersion elements and three high refractive elements, all of which serve to reduce chromatic aberration, distortion and flare.
The high-quality glass is neatly wrapped in a really solid casing. The rubberized manual focus ring gives a very assured grip and has a long rotational travel with a fluid feel, plus there's a focus scale with depth of field markings. All very useful, as the lens is manual focus only. However, this is definitely not a deal-breaker, as wide-angle lenses lend themselves to manual photography, with their relatively deep depth of field even at large lens apertures, and because they're rarely employed to capture fast-moving subjects.
The lens lacks weather sealing - not even a sealing gasket on the lens mount - but, again, you're unlikely to use such a lens for long all-weather shoots.
Unlike some manual-focus lenses, the XP 14mm f/2.4 still retains electrical contacts on the lens mount to communicate with your camera, so you can control the lens aperture from the camera body and get focus conformation.
Rokinon SP 14mm f/2.4 review
Samyang lenses are branded Rokinon in the North America, where this lens is called the Rokinon SP 14mm f/2.4 - the features are exactly the same, it is just the branding that changes.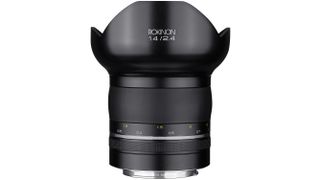 Performance
Image quality from the XP 14mm f/2.4 is excellent, even at the widest aperture. Sharpness is both very good and extremely consistent across the image frame. Chromatic aberrations are negligible, while coma and astigmatism are very minimal. Barrel distortion can be visible at close focus distances, but it's still less pronounced than with many competing lenses of a similar focal length.
Lab data
Sharpness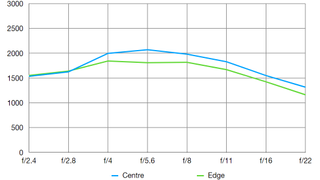 Image sharpness is excellent at all apertures, but particularly high between f/4 and f/11. However, what's most impressive is corner-frame sharpness, which is unusually high for a wide-angle lens.
Fringing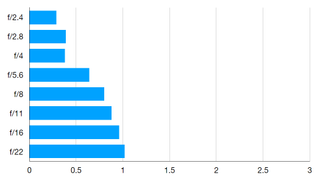 Fringing is apparent at narrower apertures, but it's never distracting and is easily corrected in Adobe Camera Raw if you're picky.
Read more:
Best wide-angle lenses for Canon
The best wide-angle lenses for Nikon