ON1 Photo RAW can organise your photos, enhance them and add any number of different image effects, and it even supports image layers and masks for creating composite images. It's a strong Lightroom alternative and already on our list of the best photo editing software, and this latest version adds important operational improvements.
ON1 has concentrated on efficiency and workflow rather than any fancy new filters or editing tools with this update, but it's keen to tempt busy, professional users away from Lightroom and Photoshop, so productivity enhancements are just as important.
New features in ON1 Photo RAW 2019.5
The ON1 Photo RAW 2019.5 update will add a new Dual Mode that enables users to 'undock' the Browse module from the Edit module to show them on different displays. This could be useful for presentations and for everyday workflow.
Also new is an Edit History feature (many rival programs have this already). Although ON1 Photo RAW is a non-destructive photo editor that enables you to change or remove your settings, it's often useful to return to an earlier image state or at least compare it with the current version to make sure you're headed in the right direction.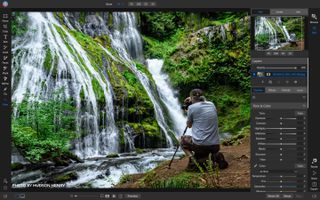 Related to this is a new Settings Applied Info feature which will show you what changes you've made to the image. In a program like this it's easy to make a number of dramatic and powerful alterations to an image… and then forget what you did.
The advantage of non-destructive photo editing programs like ON1 Photo RAW 2019 is that you can copy and paste adjustments from one image to another, and the ON1 Photo RAW 2019.5 update brings a Selective Sync feature which allows you to choose which settings are copied across – which is useful if you just want to copy white balance adjustments, for example, from an image where you've made a host of other adjustments too.
ON1 has also improved the Apple Photos Extension for Mac owners so that full RAW date is used for improved tone and colour adjustments and ON1's layers, crop and text settings are supported.
Finally, ON1 has added hierarchical keywords, a much-requested feature that allows photographers to 'nest' keywords in a logical hierarchy. If you're not a keyword nut this won't affect you, but if you use keywords as a key (sorry) organisational tool, this is an important addition.
The good news is that this will be a free update for existing ON1 Photo RAW 2019 users. The bad news is that the new version won't be available until mid-May 2019 (though that's not long to wait).
Read more:
• The best photo editing software you can get right now
• The best photo editing laptops
• The best USB-C monitors for photo editing