Looking for the best iPads for photo editing, video, and photography? If money's no object, then we'd say the 11-inch and 12.9-inch versions of the iPad Pro 2022 are your best options, as they're super-fast, have beautiful screens, and have great cameras.
Of course, they're also quite expensive, so you'll probably want some more affordable options to consider too. To help you out, we've brought together the best iPads at a variety of price points below, and give you the facts and figures you need to choose between them.
Why iPads? Well, Apple's tablets are generally considered some of the best tablets for photographers because they're light, portable, and powerful; capable of running high-end apps such as Adobe Photoshop for iPad and Affinity Photo without freezing or crashing. That said, some of the older iPads aren't really suitable for photo and video editing as some of the latest software can only run on Apple's latest chips. But if you want them for other purposes, see our guide to all the iPad generations, which will give you a broader range to choose from.
Also note that while the iPad version of Photoshop and Lightroom are improving quickly, they are a little more limited and don't have full feature parity to the full versions, so if you'd prefer a Windows tablet instead, you'll find some top recommendations in our guide to the best tablets for photo editing. As far as Affinity Photo goes, though, the iPad version is exactly the same as the desktop version, iPads are also great for creating on Adobe Express or Canva.
The best iPad in 2023
Why you can trust Digital Camera World Our expert reviewers spend hours testing and comparing products and services so you can choose the best for you. Find out how we test.
The current iPad Pro (2022) 12.9 is the best iPad for photo editing. It features the latest M2 processor, so it's basically as powerful as a MacBook; Photoshop is not likely to crash on this machine. The 12.9-inch screen is quite beautiful too: a Liquid Retina XDR mini-LED LCD display, offering a 120Hz refresh rate, HDR10, Dolby Vision, and up to 1600 nits peak brightness.
If you want to edit with a stylus, there's support for the Apple Pencil 2, although you need to buy this separately. There's even a new feature, exclusively to the latest 11 and 12.9-inch iPad Pros, called Hover. This means your stylus is now detected up to 12mm above the screen, allowing you to see a preview of your mark before they make it. We're looking forward to seeing photo editing apps incorporate this feature, and we're sure it'll make photo editing on the iPad even more user-friendly.
Launched in March this year, there is both super light, at just 461g, and feature these M1 chip. That means you're getting quite a similar experience to the latest iPad Pro (number one on our list), including a high-res display, 5G connectivity, strong battery life, and great cameras.
So why not get this instead of the latest iPad Pro? Well, you're getting a much smaller screen, at 10.9 inches in diameter, less storage space, and a less bright screen. And while the M1 processor is fast, it's not as fast as the Pro's superior M2 chip.
On the plus side though, it's much cheaper. So if those are not deal-breakers, this may well be a better bet; especially if portability is an issue.
If the 12.9-inch version of the iPad Pro (number one on our list) is either too large or too expensive for you, then consider the more compact and affordable 11-inch version. This matches its bigger sibling in almost all respects: you can get the same powerful M2 chip, the same storage, the same gorgeous display, the same first-class cameras, and the same 5G connectivity.
The main difference other than size and weight is that the screen only offers 600 nits of brightness, to the 12.9 inch iPad Pro's 1,600. On the plus side, it's cheaper, lighter, and more portable, which may be more important to you.
Launched in October 2022, this basic iPad may not be as advanced as the first three on our list but is still a very competent tablet. Featuring Apple's A14 Bionic chip, its performance is decent enough for photo editing. True Tone display technology can automatically adjust screen colors to compensate for the color temperature of the ambient lighting around you, making for a more comfortable viewing experience. And the 10.9-inch Liquid Retina IPS LCD display, offering 500 nits of brightness, isn't too shabby either.
You'll also benefit from a better camera setup. On the back, there's a 12MP back camera that can record up to 4K at 60fps or 240fps slow-motion video. On the front, there's an ultrawide 12MP sensor with a 122-degree field of view (on the landscape side for better video calling). Its ultra-wide viewing angle also makes it compatible with Apple's Center Stage video call technology, whereby the camera automatically pans to keep you in view if you move around.
In short, this is certainly the most advanced 'basic' iPad to date, although with a significantly higher price to match. Note, however, that like all the basic iPads, it does not support the Apple Pencil 2, only the Apple Pencil 1. (For details of the difference between these styluses, see our article Apple Pencil 1 vs 2).
If you're often traveling, carrying around such large iPads isn't always convenient. Which makes iPad Mini a great choice for photo editors on the go. Launched in September 2021, it comes in a compact size with an 8.3-inch display, yet it's also impressively powerful, with Apple's A15 Bionic processor making everything run relatively fast. Compared to compact Android tablets, the iPad Mini blows them out of the water when it comes to performance, and it can even compete with Apple's larger devices.
Launched in 2021, this previous version of the iPad Pro 12.9 still has a lot to offer, at a potentially lower price. The M1 chip delivers lightning performance, there's support for the new Magic Keyboard (though that'll cost extra), and a nice big battery keeps you in business for longer. There are good cameras too: 12MP wide and 10MP on the rear and 7MP on the front.
Read our full Apple iPad Pro 12.9-inch M1 review for more details.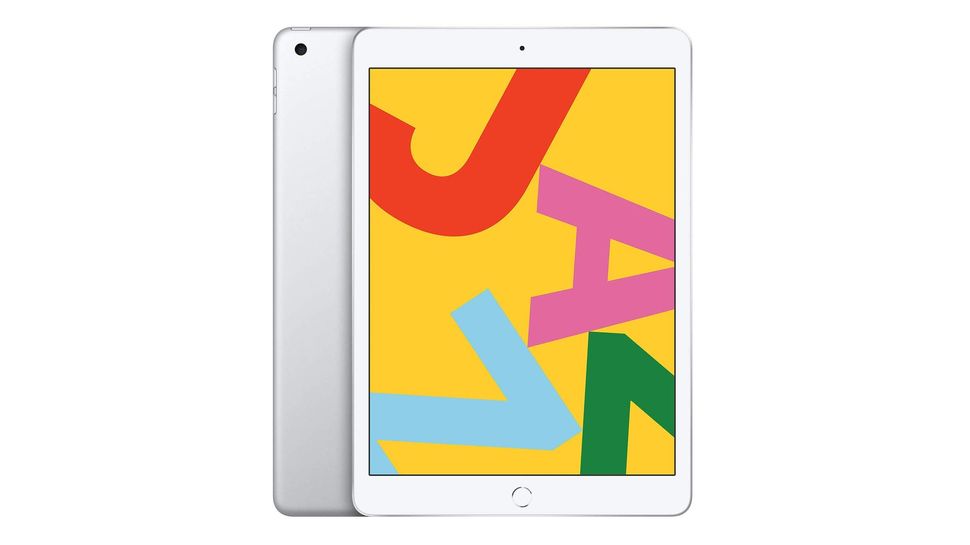 Apple and other retailers are still selling the iPad 10.2 (2021) as a cheaper alternative to the 2022 model. It is the most basic iPad you can buy but is still capable. First launched in September 2021, it comes with a large and vibrant screen, and it supports most of the peripherals that the iPad Pro does, including the excellent Apple Pencil. Be aware, though, that the chip is a bit slower and the camera is poorer than its 2022 successor.
---
The best iPads: what are the different types of iPad and what do we look for?
As we mentioned, there is a range of iPads available, so what are the differences and how do you pick the best iPad for your needs?
Let's start off with the regular iPad. This is basic iPad offers a large and vibrant screen (the current model is 10.9 inches and the previous ones 10.2 inches), whilst remaining thin and light enough to easily carry around with you. It has enough power to run photo and video editing apps without a hitch, and newer models also support the Apple Pencil 1 (check out the best stylus for iPads).
If you want something that's more portable, the iPad mini is the best iPad for you. With a screen size of 7.9 inches, this is an ideal tablet for carrying around. The screen is still large enough to use comfortably, and thanks to the vibrant and sharp image quality, it's a great iPad for showing clients your work. The latest models also feature some of Apple's best hardware yet, and it's also compatible with the Apple Pencil, making it great for photo editing and doodling.
Then there's the iPad Air. This is a great compromise device that offers a larger 10.5-inch screen while remaining affordable. And as the name suggests, it's also lightweight enough to comfortably carry around as well.
Finally, there's the top-of-the-range iPad Pro, which has been updated for 2022 with Apple's new M2 processing chip. These are larger, more powerful models of the iPad that come in 11-inch and 12.9-inch sizes, and feature power and performance that rival laptops. They are great for working on intensive apps, like video and photo editors, and if you're after an iPad that can double as a laptop then this is a good shout (you'll need to buy a keyboard separately, though).
Read more:
Best cases for iPad Pro
Best stylus for iPads and iPhones
Best iPad keyboard
The best phablets: big-screen smartphones
The best monitors for photographers
Best drawing tablets for photo editing
The best photo-editing laptops
The best desktop computers for photo editing