Sony has revealed a new high-resolution Micro Four Thirds image sensor, which would deliver 47MP shooting and 8K video to Olympus, Panasonic and other cameras using the standard.
This would enable Micro Four Thirds cameras to shoot with more megapixels than most full-frame mirrorless cameras, bringing its resolution in line with hi-res models such as the Sony A7R series.
Fascinatingly, it also enables 8K video shooting – hot on the heels of the Sharp 8K Video Camera, which uses a proprietary 33MP sensor that was previously the highest resolution Micro Four Thirds chip available.
• Read more: The 10 highest-resolution cameras
The Sony IMX492LQJ sensor fact sheet, spotted by 43 Rumors, describes a 47MP Exmor R multi-aspect sensor, with 41MP resolution when shooting in a standard 4:3 ratio and 35MP in 17:9.
It is capable of shooting 8K video up to 30 frames per second in 17:9 (matching the Sharp 8K Video Camera) and up to 25 frames in 4:3, with 10- and 12-bit on-chip digital output (exceeding the Sharp's 10-bit output).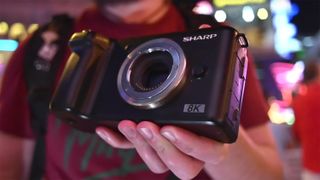 "The IMX492LQJ is a diagonal 23.1mm (Type 1.4) CMOS image sensor with a color square pixel array and approximately 47.08 M effective pixels. 12-bit digital output makes it possible to output the signals with high definition for moving pictures," reads the Sony flyer.
"It also operates with three power supply voltages: analog 2.9 V, digital 1.2 V, and 1.8 V for I/O interface and achieves low power consumption. Realizing high-sensitivity, low dark current, this sensor also has an electronic shutter function with variable storage time."
This new sensor could offer a fresh lease of life for the Micro Four Thirds standard, especially in terms of photography, that seemed to have plateaued at 20.4MP in stills cameras such as the Olympus OM-D E-M1X.
The promise of 41MP imaging and 8K, 12-bit video would theoretically make an Olympus OM-D E-M1 Mark III or Panasonic GH6 every bit as powerful as full-frame mirrorless cameras – something that seemed unlikely just a few months ago, with the megapixel gap seeming to widen insurmountably.
Read more:
The best Olympus cameras in 2019
The best Panasonic cameras in 2019
What is 8K? And what does it mean to photographers and videomakers?