Canon has filed a patent for a new cinema camera that looks like it uses the RF mount – the same, cutting-edge lens mount featured in the full-frame mirrorless Canon EOS R and RP.
Fascinatingly, this would actually be the second cinema camera to use the mount. Canon was beaten to the punch by Red Digital Cinema, which is building the imminent Red Komodo around the RF mount.
• Read more: Red Komodo: the 6K RF camera that does what Canon can't
It was an inevitable development, of course, that the company would sooner or later incorporate its next-generation mount in its Cinema EOS line of cameras. However, with the recently revealed Canon EOS C500 Mark II continuing to use the EF mount, expectations had been somewhat tempered as to when the transition would occur.
The Japanese patent, reference JP 2019‑161567 A 2019.9.19 (spotted by Newsshooter) was filed on 19 September and "shows a compact camera that looks to be smaller than any Canon Cinema EOS series camera, but slightly larger than say an XC10.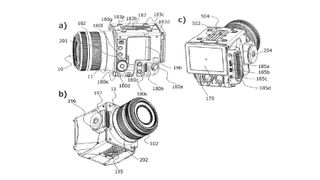 "The camera has dual XLR ports, a rosette style attachment that is possibly designed for a detachable handgrip, a rear screen, and an HDMI port. It also looks to utilize a Canon LP battery which slides into the side of the camera."
While the RF mount is not explicitly mentioned, it is implicitly stated by the diagrams; the mount, as depicted in the illustrations, is positioned too close to the sensor to be the EF mount, which has a greater flange back distance (the space between the mount and the sensor) than the RF version.
A Cinema EOS camera using the RF mount would be a pretty big deal, given the potential of the new optics and how they already perform on the Canon EOS R and Canon EOS RP.
Lenses like the Canon RF 15-35mm f/2.8L and particularly the Canon RF 24-70mm f/2.8L produce great video results on the stills cameras, so the idea of a dedicated Cinema EOS body is a very exciting prospect for cinematographers.
Read more:
Red Komodo: the 6K Canon RF camera that does what Canon can't
Canon EOS C500 Mark II comes with 5.9K Cinema RAW Light and CFexpress storage
Canon RF lens roadmap: everything we know so far