The wait for some pro-level constant-aperture f/2.8 lenses for the Canon EOS R system has been quite a long one, but it looks like things are moving now. The Canon RF 15-35mm f/2.8L IS USM is the first of the 'holy trinity' lenses for the EOS R, which also comprises the Canon RF 24-70mm f/2.8L IS USM and the upcoming Canon RF 70-200mm f/2.8L IS USM.
This new lens is big, and it's expensive, but that's par for the course with Canon's L-series lenses. Once you take that on board, whether you're an existing Canon EOS R owner or somebody who's been waiting for a premium wide-angle lens before jumping aboard the system, we don't think you'll be disappointed. We already rate the EOS R (and EOS RP) amongst the best Canon cameras, but they're going to need the best Canon RF lenses too.
The Canon RF 15-35mm f/2.8L IS USM has been on the Canon RF lens roadmap for a while, but now it's here in the flesh and we can try it out properly.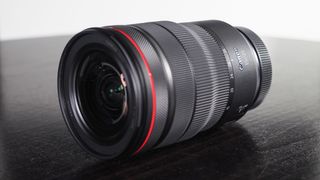 Specifications
Full-frame compatible: Yes
Effective focal length: 15-35mm
Image Stabilizer: 5-stop, hybrid
Minimum focus distance: 0.28m
Max magnification factor: 0.22x
Manual focus override: Electronic
Filter size: 82mm
Weather seals: Yes
Length: 126.8mm
Build and handling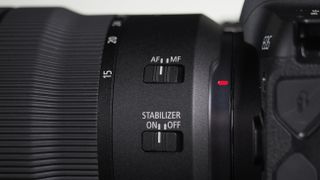 Mirrorless cameras may be smaller than their DSLR counterparts but that's as far as their advantage goes. The lenses are just as big, and although the RF 15-35mm is a hair smaller than its EF counterpart, the Canon EF 16-35mm f/2.8L III USM (which measures 127.5mm in length), it's still a pretty big lens, especially on an EOS RP but also on the EOS R. But where this lens scores over the EF DSLR version is that it goes 1mm wider to 15mm and still packs in Canon's 5-stop Image Stabilizer technology.
It's Canon's widest ever zoom lens to feature a constant f/2.8 aperture and, to complete the trinity trifecta, it's also the first fast-aperture zoom to possess the manufacturer's Nano USM system – a powerful motor that can shunt around the huge glass elements at high speed for stills, but also glide them near-silently for shooting video.
Since it's comparable in size and heft to its EF predecessor, if you've used that lens then you should feel right at home here. The RF 15-35mm is rugged, robust and deserving of its red ring, with the promise of weather sealing being as important as the promise of optical superiority.
Of course, like all Canon's native RF lenses, the 15-35mm possesses the fully customizable control ring. This can be assigned to virtually any function you choose, from aperture to white balance to ISO, and can be taken to a Canon service center for 'de-clicking' should you want to use it for video purposes.
What you don't get is a focus distance scale (bah!), but if you switch the lens to MF mode, you do get one in the viewfinder/live view display.
Performance
As an ultra wide-angle lens, the Canon RF 15-35mm f/2.8L IS USM is aimed squarely at landscape, travel and architectural photographers – though it will also prove useful to events and wedding shooters, who invariably require a lot of extra width when shooting in cramped locations where longer lenses just can't do the job.
The RF 15-35mm is every inch as capable as the EF 16-35mm before it – more so, in fact, given the slightly wider focal length.
As we've said before, though, stabilization is no guarantee of sharpness. Canon quotes up to 5 stops of shake compensation, though you'd be unwise to rely on it. We got one sharp indoor shot at an amazing 1sec exposure, plus a few more which weren't, and while 1/4sec seemed to produce images reliably sharp in the center of the frame, many had some visible rotational movement towards the edges.
In general, though, the RF produces reliable edge to edge visual sharpness across its focal range. Our lab tests are more pernickety, though, and reveal lower resolution at the edges of the frame than in the center. You'd accept that readily enough in a lower-cost consumer lens, but it's a mild disappointment here, especially given this len's price tag (the EF 16-35mm f/2.8 is similar in its characteristics, but cheaper to buy).
Impressively, though, there appears to be no visible distortion even when shooting at 15mm. This looks like an real optical coup and, unlike the Canon RF 24-240mm superzoom we've just tested, the RF 15-35mm doesn't appear to rely on digital corrections – our uncorrected raw files look just as straight as our JPEGs.
Lab tests
Canon RF 15-35mm f/2.8L IS USM: center resolution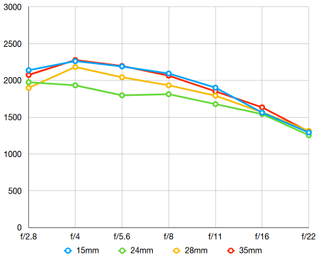 This is a very good and consistent performance overall, though it does seem to take a slight dip in the middle of the zoom range at about 24mm – usually we'd expect a drop at one end of the zoom range or the other – but it's not something that's going to be obvious visually.
Canon RF 15-35mm f/2.8L IS USM: edge sharpness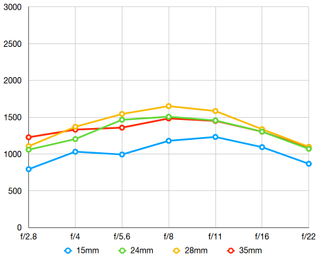 The edge sharpness is good and it's also pretty consistent across the zoom and aperture range – except at 15mm, where it's actually quite poor at f/2.8 and only improves a little on stopping down. In a cheaper lens we'd pass this off as being about what we'd expect, but given the price of this lens and its legendary L-series status, we'd hoped for a little more.
Canon RF 15-35mm f/2.8L IS USM: color fringing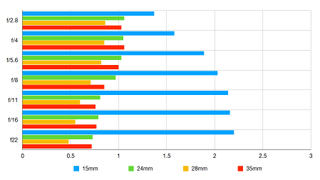 Color fringing levels are low, which is especially pleasing to see in an ultra-wide zoom lens. Using the in-camera optical corrections or lens profiles in software, we'd expect any color fringing to effectively disappear.
Canon RF 15-35mm f/2.8L IS USM: distortion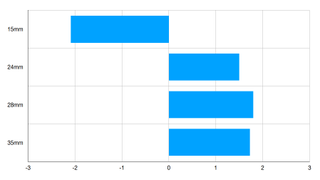 Very slight barrel distortion at 15mm changes to barely discernible pincushion distortion at 24mm and beyond, but the distortion levels are so low the results are likely to look dead straight with our without any lens corrections.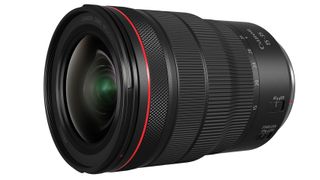 Verdict
A distortion-free 15-35mm lens with image stabilization and a constant f/2.8 aperture? This will be an undoubted must-have lens for many pro photographers – alas the price will probably keep it firmly in the professional market, and enthusiasts might need to wait for a more affordable alternative.
The price does affect our rating somewhat. In a cheaper ultra-wide zoom we wouldn't mind a slight loss of performance at the edges of the frame, but it's not so easy to accept here.
The only other point to make is that this and Canon's other RF lenses may have to wait for a new, higher-resolution EOS R to show what they can really do. The 26MP EOS RP and 30MP EOS R aren't going to push the lens performance very far, especially since both cameras have low pass filters in addition to their modest (by today's standards) resolution.
Read more:
• These are the best Canon lenses right now
• What's the best Canon camera? Here's our top picks
• Canon EOS RP vs EOS R: which should you choose?