The Canon C500 Mark II is a high-end cinema camera with a price point that puts it a step above full frame mirrorless rivals, but brings features designed for professional filmmakers.
The key features are its 5.9K Cinema RAW Light video capture, twin CFexpress card slots and its newly developed full frame image sensor.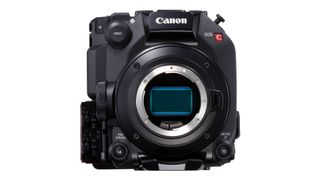 Canon EOS C500 Mark II new features
Canon describes the C500 Mark II as a 'compact and versatile' 5.9K full frame camera, but of course these things are relative. It's bigger, heavier and bulkier than regular full frame mirrorless cameras, and in truth it's a modular system designed to be used with add-on accessories like external monitors and mics.
Its 5.9K video capture is matched by cameras like the new Panasonic Lumix S1H, but Canon's recording features are aimed squarely at the needs of pros.
For a start, it captures raw video internally using Canon's own Cinema RAW Light format, which the company claims creates files between one-third and one-fifth the size of regular Cinema RAW files, and without sacrificing image quality or processing 'headroom'.
Canon is not the only company to offer raw capture. This also features on the new Blackmagic Pocket Cinema Camera 6K, though this is a very different sort of cinema camera.
The Canon EOS C500 Mark II can also record 4K 4:2:2 10-bit video internally, using a 'high-quality' debayering algorithm to oversample 5.9K data into 4K resolution. Canon says this suppresses moiré and reduces noise.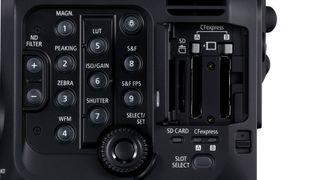 This is also the first camera to use the new CFexpress card format, which looks set to be the future of high-speed image data capture (Sandisk CFexpress cards only went on sale this week).
CFexpress uses the same form factor as the XQD card format, and we expect to see a number of cameras that use XQD cards getting firmware updates to support CFexpress.
Other features in the Canon Cinema EOS C500 Mark II include a built-in motorized full frame ND filter unit offering reductions of 2, 4, 6, 8 and 10 stops, electronic 5-axis digital stabilization (for the first time in a Cinema EOS camera) and Dual Pixel CMOS AF with One-Push AF, Continuous AF, Face Detection AF and Tracking AF with adjustable tracking speed and response.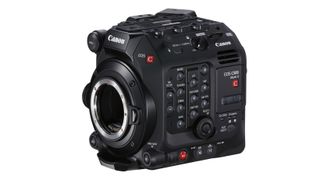 The Canon EOS C500 Mark II goes on sale in December 2019 at a price of £16,999.99 / $15,999.
Read more:
• These are the best cinema cameras right now
• We pick the best 4K cameras for filmmaking
• The best cameras for vlogging