Australia's lockdown laws have been eased and folk Down Under are allowed to travel again, albeit with limitations still. And that means you can once again indulge in some photography and, of course, save some money while you're shopping for a brand-new camera.
Nikon's travel-friendly CoolPix A1000 will get you closer to any action, thanks to its 35x optical zoom. That's a range of 24-840mm, outdoing some of the competition from Panasonic and Sony!
That long lens, though, means the A1000 does not feature a large 1-inch sensor like its rivals, but instead employs a 1/2.3-inch sensor with a resolution of 16MP (which is a drop from the A900's 20.3MP sensor resolution).
Don't let the size and lower resolution of the sensor fool you, though, as that's a good thing – lesser pixels means lesser noise and more light-sensitive photosites means it can handle some low-light scenarios better than its predecessor. ISO sensitivity has been improved from just ISO 1600 in the A900 to a much higher ISO 6400.
You'll also be able to capture all your new adventures in 4K clarity, and the camera's in-built hybrid vibration reduction (VR) system kicks in to keep footage smooth (there's lens-based VR for stills as well).
So, what are you waiting for? Grab yourself this little pocket-friendly and wallet-friendly compact camera for just AU$435.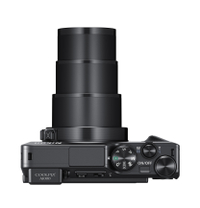 Nikon CoolPix A1000 | AU$435 (RRP AU$699; save AU$264)
You don't always have to spend a staggering sum of money on a new travel-friendly camera, particularly one that gives you a whopping 35x optical zoom. Capture great images and save a very cool 38% in the bargain when shopping during Amazon Australia's Mid-Year Sale.
Read more:
The best travel camera
10 top compact cameras
The best bridge cameras
10 top point-and-shoot cameras
The 10 best cameras for beginners