There are plenty of good reasons to buy Sony Xperia 5, but right now there's no better reason than the fact that you get a FREE PlayStation 4 and a copy of FIFA 20 when you purchase an Xperia 5!
This UK-only deal is running at Vodafone, and gets you the brilliant phone – which we awarded 4 stars in our Sony Xperia 5 review – with unlimited minutes, texts and data for just £29 up front and £43 per month (which saves you £364 on the contract, versus the previous price).
You also net a 500GB Sony PlayStation 4 with FIFA 20, which you'll probably already know is the best football game in the business!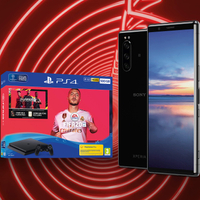 Sony Xperia 5 + FREE PS4 + FIFA: £29 up front + £43/month
Sony's compact, capable, triple-camera phone performs well for both stills and particularly video, thanks to its 4K HDR video. You also get a 500GB PlayStation 4 with FIFA 20, making this the best deal ever on the Xperia 5!
UK deal

The Xperia 5's primary 12MP camera features a 26mm equivalent focal length and an f/1.6 aperture, with a 12MP 52mm telephoto lens (both of which pack Dual Pixel PDAF and 5-axis OIS) and a 16mm ultra-wide camera.
The Xperia 5 is a great phone, especially if you're a keen smartphone videographer, combining great design, a sensational screen, a solid camera and an all-day battery. You get flagship power in a slightly smaller chassis, and Sony's latest camera hardware-software combo is an improvement over the Xperia 1 from a stills and video point of view.
Read more:
The best camera phone in 2020: which is the best smartphone for photography?
Sony Xperia 5 review
Smartphone news, camera phone leaks and mobile rumors