Medium format photography has generally been out of reach for the average enthusiast or hobbyist photographer. It's been the purview of professionals mostly, being used for studio work.
Fujifilm has done its best to make its GFX cameras a lot more affordable, with the 50MP GFX 50S II taking the prize for making large-format sensors more accessible and mainstream. So if you've been lusting after this sensor format, now might be a good chance to snap up a great deal.
Fujifilm's EOFY 2023 cashback offer will slash a generous AU$1,200 off the asking price of the GFX 50S II when purchased from an authorised retailer. So, for example, if you pick up the camera body from CameraPro (where it's priced well at AU$5,399) or at Ted's Cameras (where you'll pay more at AU$5,727), you can then head to Fujifilm's website to claim your cashback. This will bring the final price of the excellent snapper down to just AU$4,199 and AU$4,527 respectively. That's a really good bargain, particularly from the former Aussie retailer.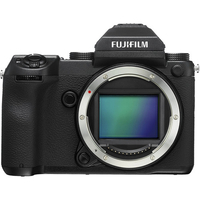 Fujifilm GFX 50S II (body only) | AU$6,299 AU$4,199 at CameraPro after cashback (save AU$2,100)
For those looking to leap into the world of medium format photography, the GFX 50S II is one of the best cameras on the market. Packed with the latest tech including a superb 51.4MP medium format sensor, 6.5 stop in-body IS, fast and accurate autofocus, and all packed into a body weighing in at only 900g! Be sure to claim that cashback from Fujifilm to get that low price.
Medium format cameras have historically been big and bulky, but Fujifilm has redesigned its new GFX range to be more DSLR-like, with easy to use dials and buttons.
If you're unfamiliar with a medium format sensor, it's 1.7 times bigger than a full-frame 35mm sensor. So the cameras's light gathering capabilities and depth of field are so much more superior to full-framers. There's a certain 'look' that photographers talk about when referring to medium format, and you'll get that here.
The GFX 50S II's 51.4MP sensor produces some amazing stills, and you can get 200MP high-res shots too using the Pixel Shift Multi-Shot mode. While the 117-point autofocus system is very capable, medium format cameras can feel a little sluggish in comparison to the latest mirrorless cameras... but then these large-sensor shooters were never designed for fast capture.
They were also not designed for 4K video or fast continuous shooting speeds. So if it's really beautiful stills you're after, it doesn't get cheaper or better than the Fujifilm GFX 50S II.
More GFX EOFY offers
The GFX 50S II might be the best EOFY offer from Fujifilm, but it's not the only camera that gets a cashback discount. The Fujifilm GFX100S comes with a AU$800 cashback offer when purchased from an authorised dealer. That's a 100MP medium format camera... but it also costs you a lot more for the extra pixels.
The other GF products getting EOFY cashback offers are select lenses. There's between AU$600 and AU$850 redeemable directly from Fujifilm on certain lenses – GF 110mm f/2, GF 80mm f/1.7, GF 32-64mm f/4, GF 45-100mm f/4 and GF 100-200mm f/5.6.
This EOFY cashback offer is available from participating retailers between June 1, 2023 and July 3, 2023. All claims will need to be redeemed by 11:59pm AEST on July 17, 2023. And if you happen to be using your camera or lens for work purposes, you can of course save a little more in the form of your tax returns.
Read more:
The best medium format cameras available today
Best Fujifilm GF lenses for your GFX camera
Fujifilm GFX 100 review
Fujifilm GFX 50S II vs GFX 100S: key differences