Until Fujifilm decided to make medium format photography a little more attainable for the average enthusiast or hobbyist, it was typically the purview of professionals for studio work, with the price point of most cameras – and their associated lenses – far out of reach for the everyperson.
However, if you've ever been keen on getting your hands on an excellent medium format camera, now would be a very good time indeed, with the 50MP Fujifilm GFX 50S II available for as low as AU$3,375 after a cashback redemption offer. That makes this one of the best Black Friday camera deals we've seen so far.
• Read our in-depth Fujifilm GFX 50S II review
While you can pick up the GFX 50S II at any authorised retailer and then claim the cashback, the best price at the time of writing is via Ted's Cameras. The body is discounted down to AU$4,675 from AU$5,499.95, which will stack with a deal on Fujifilm's cashback offer page, where you can register your purchase before January 10, 2024 to claim a whopping AU$1,300 back. And that brings the final price of this amazing camera down to a mere AU$3,374.96 for the body only, which is the best price we've seen to date. It smashes this year's EOFY offer of AU$4,199 right out of the park!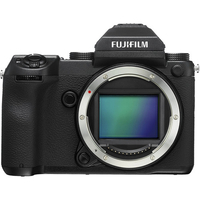 Fujifilm GFX 50S II (body only) | AU$5,499.95 AU$3,374.96 at Ted's Cameras after cashback (save AU$2,124.99)
For those looking to leap into the world of medium format photography, the GFX 50S II is one of the best cameras on the market. Packed with the amazing tech including a superb 51.4MP medium format sensor, 6.5 stop in-body IS, fast and accurate autofocus, all packed into a body weighing in at only 900g! Be sure to claim that cashback from Fujifilm to get this super low price.
Medium format cameras have historically been big and bulky, but Fujifilm has redesigned its new GFX range to be more DSLR-like, with easy-to-use dials and buttons.
If you're unfamiliar with a medium format sensor, it's 1.7 times bigger than a full-frame 35mm sensor. So the cameras's light gathering capabilities and depth of field are significantly superior to full-framers. There's a certain 'look' that photographers talk about when referring to medium format, and you'll get that here.
The GFX 50S II's 51.4MP sensor produces some amazing stills, and you can get 200MP high-res shots too using the Pixel Shift Multi-Shot mode. While the 117-point autofocus system is very capable, medium format cameras can feel a little sluggish in comparison to the latest mirrorless cameras... but then these large-sensor shooters were never designed for fast capture.
They were also not designed for 4K video or fast continuous shooting speeds. So if it's really beautiful stills you're after, it doesn't get cheaper or better than the Fujifilm GFX 50S II at this price.
More GFX Black Friday offers
The GFX 50S II might be the best Black Friday offer from Fujifilm, but it's not the only camera that gets a cashback discount. The Fujifilm GFX100S comes with a AU$1,300 cashback offer when purchased from an authorised dealer, with the best price at the time of writing coming via CameraPro where the cashback drops the price down to AU$7,199. That's a 100MP medium format camera... but it also costs you a lot more for the extra pixels.
The cashback also includes XF and GF lenses, with some of the best prices – after cashback of course – possible by shopping from CameraPro's Fujifilm promo sale.
While Fujifilm's cashback offer ends with registrations by January 10, 2024, the discounts at authorised retailers likely won't last past Cyber Monday on November 27, so don't dally.
Read more:
The best medium format cameras available today
Best Fujifilm GF lenses for your GFX camera
Fujifilm GFX 100 review
Fujifilm GFX 50S II vs GFX 100S: key differences