With a 24.3MP X-Trans CMOS III sensor and an advanced Hybrid Multi Viewfinder, the Fujifilm X-Pro2 has earned itself a solid fanbase for its classic rangefinder design paired with powerful technology inside. Now, likely due to the announcement of the Fujifilm X-Pro3 on Friday, the X-Pro2 has received a significant discount.
The Fujifilm X-Pro2 has been reduced from £1,499 to an incredible £985 (plus free delivery!), meaning a saving of over £500! That's just over a third of the original price.
• Read more: Best Fujifilm cameras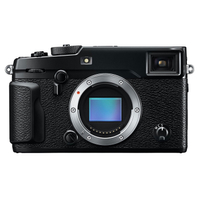 Fujifilm X-Pro2: £985 from £1,499!
With a 24.3MP X-Trans CMOS III sensor and an Enhanced Hybrid Multi Viewfinder, the Fujifilm X-Pro2 is a fantastic little camera. Snap up your own for just £985 today, after a £500 drop in price! (UK only)
While the Fujifilm X-Pro3 certainly looks exciting, not everyone will be a fan of its hidden flip-down screen. However, the X-Pro2's screen is set permanently inside the body, which helps prevent against the accidental damage that can occur from a knock when a screen is extended.
In addition, the X-Pro2's robust and weather resistant structure helps to protect against poor conditions when you're out on a shoot. Plus, the Enhanced Hybrid Multi Viewfinder gives you the opportunity to use both an optical or electronic viewfinder.
This great little camera is the perfect early Christmas gift - no matter whether you're buying it for yourself or a loved one! Save £500 by snapping up this juicy bargain today for just £985.
Read more
Best Fujifilm lenses in 2019
What is a pancake lens and why would you want one?
Best Olympus cameras in 2019