Dell has announced a myriad of new monitors ahead of the upcoming virtual CES 2021 Consumer Electronics Show. Headlining the new line-up is a no-compromise 40-inch ultrawide beast that pulls out all the stops in the quest for sublime image quality.
Dell UltraSharp 40 Curved WUHD Monitor (U4021QW)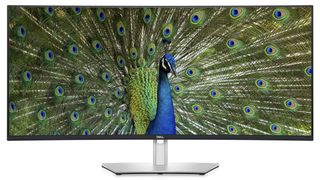 The Dell UltraSharp 40 Curved WUHD Monitor (U4021QW) might just become the best monitor for photo editing. Its a gargantuan 40-inch 21:9 curved ultrawide display with an equally huge 5120 x 2160 resolution - that specs combo makes this monitor a world-first, according to Dell.
The 2500R screen curvature radius (2,500mm) means that even though the U4021QW has an immense 929mm viewable screen width, the corners of the display will still be comfortably visible.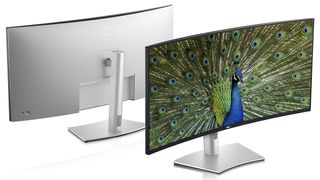 The trouble with many 21:9 ultrawide screens is resolution is often compromised compared to a conventional 16:9, 4K (3840 x 2160) screen - 3840 x 1600 and 3440 x 1440 resolutions are the norm. Not so with Dell's new ultrawide beast. Its 5120 x 2160 (WUHD) resolution equates to a genuine 4K/UHD vertical resolution with additional pixels on the horizontal axis over and above 4K to fill the 21:9 aspect ratio.
Another compromise curved monitors often make is in the core LCD screen technology being used. This is often VA (Vertical Alignment) LCD tech, which can't provide the color, contrast and viewing angle consistency of an IPS (In-Plane Switching) LCD display. But again, Dell has pulled out all the stops and equipped the U4021QW with a 10-bit curved IPS LCD panel with 178/178 viewing angles. This should ensure image quality is perfectly consistent across the entire panel, regardless of your viewing position.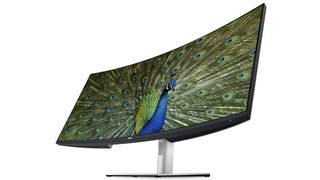 The screen also boasts a 300 cd/m² max brightness - not enough for previewing HDR content, but more than sufficient for serious image editing, where a 120 cd/m² brightness is generally considered optimal. Dell has also paid particular attention to color accuracy, as the U4021QW can display 100% sRGB, 100% Rec.709 and a very respectable 98% of the DC-P3 color space. What's more, Dell claims a Delta-E <2 color accuracy right out of the box thanks to factory color calibration.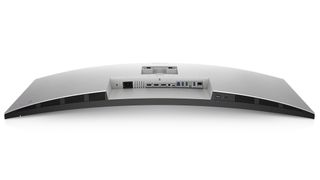 As you'd expect for such a high-end display, connectivity is first-class, headlined by a Thunderbolt 3 port comprising DisplayPort 1.4, 10Gbps USB 3.2 Gen2 and Power Delivery up to 90W. An additional DisplayPort 1.4 connection, dual HDMI 2.0 ports, plus four USB-A ports (one with charging capability), and even and Ethernet socket make up the extensive I/O selection.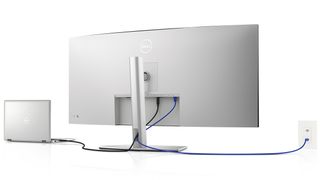 The monitor also comes with a built-in KVM (keyboard video and mouse) switch so you can connect two computers to the same screen and have them share a single keyboard and mouse. The monitor's Intelligent Auto KVM feature can even detect the latest connected PC and seamlessly switch controls over. Dell's Picture-by-Picture and Picture-in-Picture features make the best of the screen's width when using it to view content from two PCs simultaneously.
A pair of internal 9w speakers and a fully adjustable stand with tilt, swivel and 120mm of height adjustment round off this compelling package.
The Dell UltraSharp 40 Curved WUHD Monitor (U4021QW) will be available January 28th, starting at $2,099.99.
Dell UltraSharp 38 Curved USB-C Hub Monitor (U3821DW)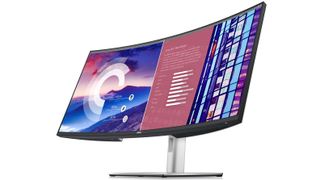 Don't fancy dropping $2100 on a monitor? Dell has also announced the UltraSharp 38" Curved USB-C Hub Monitor (U3821DW), priced at $1500. Like its 40-inch sibling, this also uses IPS LCD tech for top-notch color and contrast accuracy, regardless of your viewing angle.
Color space coverage is almost as impressive, with 100% sRGB, 100% Rec 709, and 95% DCI-P3 coverage along with Delta-E <2 accuracy out of the box.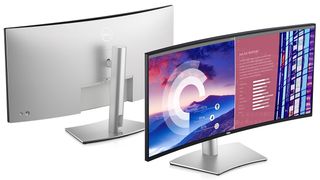 You get almost the same extensive selection of display and data connections, but minus the Thunderbolt 3 port featured on the 40" U4021QW. You'll also have to sacrifice some resolution, as the U3821DW 'only' displays at 3840 X 1600, though its 2300R curvature radius is slightly more pronounced than the 2500R U4021QW, so the 38" display will wrap around you slightly more tightly.
Dell UltraSharp 24 and UltraSharp 27 USB-C Hub monitors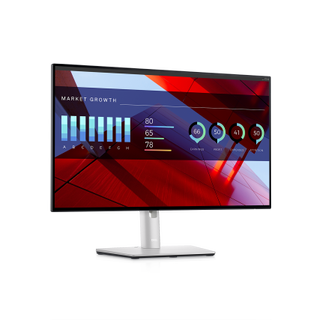 If a 38" screen is still too big, then there's always the new 24-inch UltraSharp 24 USB-C Hub Monitor and 27-inch UltraSharp 27 USB-C Hub Monitor (U2422HE and U2722DE, respectively).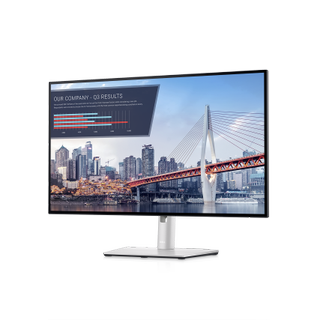 Both these monitors offer a highly respectable 100% AdobeRGB color space coverage, along with USB-C connectivity with 90W Power Delivery. The 24" U2422HE is a FullHD (1920 x 1080) monitor, whereas the 27" U2722DE displays at 2560 x 2440.
Expect to pay $680 for the 27" screen, and $460 for the 24" model.
Dell Video Conferencing Monitors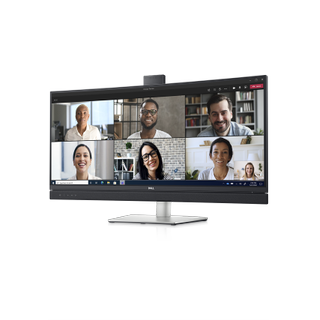 With video conferencing now an integral part of many peoples lives, Dell is also launching three new monitors with videoconferencing at the forefront of their design.
Certified for use with Microsoft Teams, three screen sizes are available - 24", 27", and a curved 34" display. All three displays boast a dedicated button enabling one-touch joining of a Teams meeting, and they all feature an integrated pop-up IR video camera, a noise-cancelling microphone and dual 5W internal speakers. Logging into Windows via Windows Hello facial recognition is also possible, as are hands-free commands in conjunction with Microsoft Cortana.
The Dell 24 Video Conferencing Monitor (C2422HE), Dell 27 Video Conferencing Monitor (C2722DE) and Dell 34 Curved Video Conferencing Monitor (C3422WE) will be all available February 16th, starting at $519.99 (C2422HE), $719.99 (C2722DE) and $1,149.99 (C3422WE).
Read more:
The best monitors for video editing
The best photo editing monitors