The best ultrawide monitor will give you an aspect ratio of 21:9, rather than the standard 16:9. Some have an even wider ratio, up to 32:9. Either way, you'll GET EXTRA space to view lots of photos at once, place multiple windows side-by-side, and see all the tools and palettes in your photo editing software.
So how do you choose the best ultrawide monitor? First, decide on size. Due to the wide aspect ratio, you should aim for at least 34 inches wide. Also consider resolution. If you can afford it, we'd suggest going for 3,440 x 1,440 or higher.
Below we list the best ultrawide monitors for photo editing on the market today. Many of these are primarily aimed at gamers and that's no coincidence, because features such as high contrast ratios, wide color gamuts and low latency also tend to be beneficial to photo and video editing. Meanwhile, if you prefer a 16:9 ratio, see our guide to standard monitors for photo editing.
The best ultrawide monitor in 2023
Why you can trust Digital Camera World Our expert reviewers spend hours testing and comparing products and services so you can choose the best for you. Find out how we test.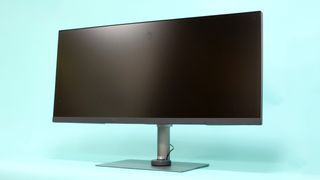 The BenQ PD3420Q is our overall pick as the best ultrawide monitor for photographers. It boasts a quality 3,440 x 1,440 resolution, spread over a 34-inch 21:9 ultrawide screen, giving you a huge desktop to work on. Crucially, this monitor also has 100% sRGB, 100% Rec.709 and an impressive 98% DCI-P3 color space coverage, making it a great choice for photographers, videographers and designers alike.
If you're in the market for an ultrawide monitor that's going to give you solid, dependable image quality for image or video editing, the BenQ PD342Q is a fine choice. Extras like USB-C connectivity with Power Delivery are also welcome, as is the factory color calibration and Hotkey Puck remote control.
Prefer a curved ultrawide monitor? Then we reckon the LG 34WP85C represents superb value. For starters, it's an IPS display, so color and contrast accuracy should be more reliable than a cheaper curved monitor using VA LCD screen technology. You also get a decent 95% DCI-P3 color space coverage, plus there's HDR10 certification for viewing high dynamic range content.
The 3440 x 1440 aspect ratio is to be expected for this screen size, and matches equivalently-sized curved monitors at higher price points. And so all things considered, this LG panel is quite the bargain.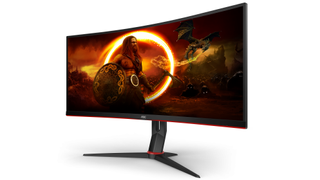 The best ultrawide monitors don't come cheap. But if you're short on funds, it is possible to buy a quality monitor for less. And our top budget buy right now is the AOC Agon Curved Ultrawide CU34G2.
Like many ultrawide monitors, this is primarily designed and marketed as a gaming monitor. But it has a lot to offer photographers too. This curved monitor has a high 3,440 x 1,440 resolution, decent 3,000:1 contrast ratio and high 100Hz refresh rate. This makes it feel smooth and responsive when in use. A 100% sRGB color space coverage is another nice feature to have for serious image editing. However with only a 300-nit max brightness, working with HDR content is a no-no.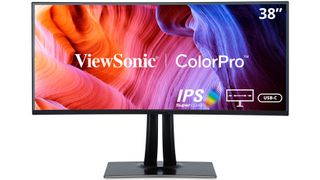 Want a bigger screen than the 34-inchers we've listed so far? Then the 38-inch ViewSonic ColorPro VP3881a will give you that extra space you're craving. Unlike some curved ultrawide monitors which are targeted at gamers, this ViewSonic screen has image and video editors firmly in mind. It's a Pantone-validated screen boasting 100% sRGB and 95% DC-P3 color space coverage, along with factory color calibration and Delta E <2 color accuracy. HDR10 compatibility, USB-C connectivity and backlight uniformity correction further justify the premium price.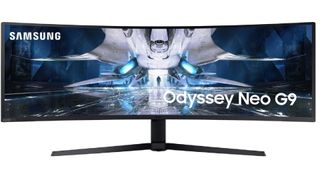 If a normal ultrawide monitor isn't wide enough for you, and you want something even wider, then the Samsung CHG90 QLED is going to be right up your street. With a 49.5 inch screen, with an ultra-ultrawide 32: 9 ratio it'll take up your entire desk, but the amount of workspace will be unbeatable. You're more or less getting the screen space that two normal widescreen monitors would provide, but all in one.
With a high resolution of 5,120 x 1,440 pixels, HDR support and an industry-leading 240Hz refresh rate, your work is going to appear with pixel-perfect accuracy on screen too. So while it's an expensive option, it's worth the money for what you're getting.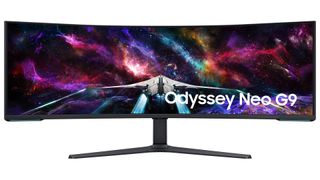 Want an absolutely massive ultrawide monitor, with super-high resolution? The Samsung Odyssey Neo G9 57in is described as "dual UHD", which means that one screen offers the same resolution as having two 32-inch, 4K monitors set up side-by-side (7680 × 2160 pixels to get technical). That's an active area of 1394.6112 x 392.2344 mm. If you're finding it difficult to visualise, then just trust us: that's big.
This 1000R curved display offers refresh rates up to 240Hz and DisplayPort 2.1 support. Plus you get 1,000 nit peak brightness and a claimed million to one contrast ratio.
There are, however, several caveats. It's currently only available for pre-order in the UK. Journalists have only had limited access to it at a launch event, so no proper reviews have been conducted yet. And it's mainly aimed at gaming rather than photo editing. But we still figured it was worth including on this list because the size and resolution are unparalleled among ultrawides, and so if you want the absolute top specs and are willing to pay for them, knock yourself out.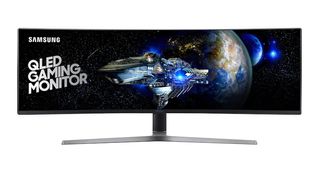 If you want a huge screen but the Samsung Odyssey Neo G9 above is out of your price bracket, the Samsung CHG90 QLED offers a similar spec for a more affordable price. Most importantly, you'll get lots of lovely workspace, thanks to a 49.5 inch screen, with an ultra-ultrawide 32:9 ratio. You'll also enjoy HDR support and while this is a step down in terms of both resolution (3,840 x 1080) and refresh rate (144Hz), we'd see those as both acceptable compromises given the cash you'll be saving.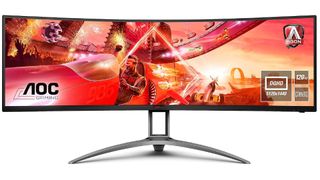 If you're looking for a huge ultrawide monitor for gaming, here's our top choice. This curved monitor is 49-inch monitor is simply huge, and you get a vibrant, rich colours and incredible picture detail to boot. The 120Hz refresh rate keeps the action nice and smooth, there's a good range of ports, and there's a remote control to help you get everything set up perfectly. On the downside, it's darned expensive, and so if gaming isn't your priority, we'd suggest going for something more affordable.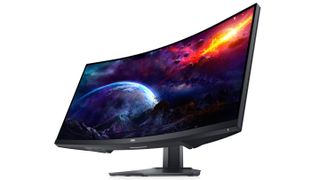 The Dell S3422DWG is another gaming monitor, and its keyboard-illuminating downlight may not be that useful if you're a non-gamer. What photographers will love, though, is the very respectable 90% DCI-P3 color space coverage and the DisplayHDR 400 certification.
Combined with the excellent 3000:1 contrast ratio, that makes this 34-inch ultrawide monitor a great choice for working with HDR content. It offers great connectivity, too, thanks to the inclusion of dual HDMI, a DisplayPort, and plenty of USB ports.
How we test monitors
We evaluate a monitor with particular attention given to its core image quality, including brightness, contrast, color vibrancy and accuracy. While this can - and will - be assessed by the experienced eye of our professional reviewer, some manufacturer screen specs can only be definitively judged by an 'electronic eye' - a monitor calibrator. Where possible, a calibration device will be placed on the screen to verify its advertised color space coverage, brightness output and consistency, and factory color calibration accuracy. Beyond image quality, we'll also scrutinise the monitor's display and data ports to ensure acceptable connectivity, and will give a thorough assessment of build quality, including the range of ergonomic adjustment in its stand. Only then will we determine if a screen is worthy of use by a discerning imaging or video enthusiast.
Read more
The best photo editing tools and accessories
What to look for when choosing a monitor
Best USB-C monitors for photo editing
Everything photographers need to work from home
Best webcam for home working