Lexar and Delkin announced that they had high-speed Type B CFexpress memory cards ready to ship at PhotoPlus Expo 2019. The two card manufacturers join Sandisk and Angelbird that announced their ranges back at IBC 2019. The new type of memory card, specifically designed for professional DSLRS, mirrorless cameras, camcorders and cinema cameras.
The first camera to use the memory card will likely to be the Canon Cinema EOS 500 Mark II which goes on sale in December. Nikon and Panasonic will also issue firmware upgrades to allow cameras such as the D5, D850, Z7, and Lumix S1R to be able to use CFexpress cards in their cameras XQD memory card slots. Earlier this week, Canon confirmed that its next top of the range sports DSLR, the Canon EOS-1D Mark III will feature two CFexpress card slots.
Lexar Professional CFexpress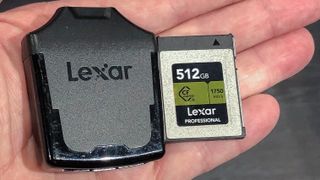 Lexar will offer four different capacities of CFexpress cards - 64GB, 128GB, 256GB and 512GB. These will offer read speeds of up to 1750MB/s - nearly six times faster than the company's fastest SD cards. The write speeds of up to 1000MB/s - a fourfold performance increase over SD.
The 128GB and 256GB cards will go on sale in December with an expected retail price of £199 and $299 respectively.
Lexar will also be producing a Professional CFexpress card reader with a USB 3.1 connection socket, which will be supplied with a USB-C cable.
Delkin Devices CFexpress card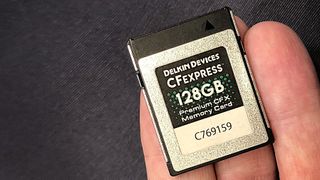 Delkin Devices will be producing its CFexpress cards in 128GB, 256GB, 512GB and 1TB capacities. The cards are set to ship as soon as the first cameras that use them become available. The pricing for the 1TB card has not been set. However the 128GB, 256GB, and 512GB will retail for $189.99, $389.99, and $574.99 respectively.
Read more:
CFexpress cards are here!

Canon first to use SanDisk's superfast memory cards
The best memory card for your camera: top SD, microSD, XQD & CF cards