UPDATE 30 OCTOBER: This piece has been updated to reflect that Canon will be offering the HEIF image format in addition to, not instead of, JPGs.
ORIGINAL STORY: Canon has officially announced its new flagship pro camera, the Canon EOS-1D X Mark III – and it boasts a new AF sensor with 28 times the resolution of its predecessor, along with a new Digic processor, AF deep learning algorithm, 4K 60fps video, 20fps stills shooting, CFexpress storage and "hybrid" mirrorless qualities.
The EOS-1 series has been around for 30 years and, in an unofficial celebration, the Canon EOS-1D X Mark III celebrates the occasion by being featuring some of the most advanced technology ever seen in a Canon camera.
Proudly proclaimed as "the ultimate camera for sports and wildlife" that ushers in "a new era of AF speed and accuracy", the 1D X Mark III's headline feature is undoubtedly its autofocus performance.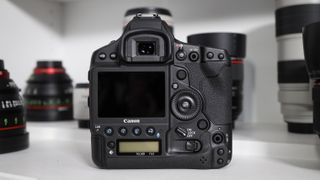 It features a brand new AF sensor with 28 times the resolution of the Mark II, which featured a ludicrously accurate 360,000-pixel RGB+IR sensor. By our maths, that gives this new sensor over 10 million pixels of resolution – and, combined with the bleeding-edge AF deep learning algorithm, promises truly ferocious performance.
"This is an autofocus system we haven't seen before," we were told by David Parry, Canon UK's product intelligence specialist. "This is something very new, very different." We've seen AI subject detection in cameras like the Olympus OM-D E-M1X, which could recognize and track things like cars and aircraft, but an AF system that actually learns as you shoot is an incredible prospect.
Powering this new tech is a new Digic processor – undoubtedly called the Digic9, though Canon is being very guarded about such specifics. The new processor will also give the camera the necessary horsepower for 4K 60fps, with 10-bit Canon Log and internal RAW recording, as well as the 10-bit HEIF image files it produces – yes, Canon is now also offering the JPG replacement format that delivers twice as much image information in the same file size.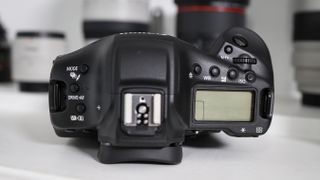 Continuing the 'out with the old' mentality, the 1D X Mark III also eschews SD cards and CompactFlash for cutting-edge CFexpress memory – which it needs, when it's pushing around internal RAW 4K 10-bit video and ridiculous bursts of images.
The blistering continuous shooting speed exploits exploits the strengths of both mirrorless and DSLR shooting capabilities, at 20 frames per second with AF and AE when shooting in Live View mode (via mechanical or electronic shutter), and 16 frames when using the completely lag-free optical viewfinder.
This hybrid functionality gives the Canon EOS-1D X Mark III the best of both worlds. "You can use it like a DSLR, or use it like a mirrorless. It really does feel like that," Parry told us. "The mirrorless is just as important as the DSLR side to it. And I almost feel like we've taken the technology from all the different camps that we have and put it together into this."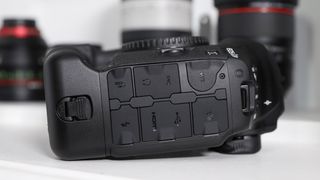 Canon EOS-1D X Mark III specifications
• New CMOS sensor
• New Digic processor
• New AF algorithm with deep learning
• New AF sensor
• 28x more resolution than the 1DX Mark II AF sensor
• Focus over a greater EV range
• Live View and movie AF with same algorithm as optical viewfinder system
• Dual Pixel CMOS AF
• 90 x 100% coverage
• 525 selectable AF areas
• New AF point selection control
• Illuminated buttons
• Dramatically improved battery life for LP-E19
• Better ISO performance
• 10-bit HEIF files
• 4K 60P
• 10-bit Canon Log
• Internal Raw video recording (once again, comes back to CFexpress)
• Optical finder continuous shooting 16fps AF + AE /
• Live View continuous 20fps AF + AE (with mechanical or electronic shutter)
• CFexpress storage
• 5x RAW burst depth vs 1DX Mark II
• Built-in Wi-Fi and Bluetooth (first time 1-series has built-in Wi-Fi)
• Built-in Bluetooth low energy
• Built-in ethernet transfer speed 2x fast as 1D X Mark II
• New optional wireless transmitter will be 2x as fast
• Weather resistant magnesium alloy body
Read more:
The best cameras for professionals in 2019
The best DSLR in 2019: top DSLRs for beginners, enthusiasts and pros
The best Canon camera in 2019: from DSLR to mirrorless to PowerShot and Ixus