Last week CFexpress was born. Sandisk put the first of this new generation of high-octane memory cards on sale - whilst almost simultaneously Canon launched the first camera that can use CFexpress cards. Now, at IBC 2019, Angelbird has become the second memory specialist to release CFexpress cards.
Angelbird promises us two ranges of CFexpress cards from the get-go. The AV PRO CFX memory card is designed for professional cinema cameras demanding high-speeds and extreme durability in the CFexpress Type-B form factor that will be used in the first cameras.
This will be available in capacities of up to 1TB, and will also backwards compatible with XQD compatible cameras with relevant firmware updates (such as the Nikon Z7 and Z6, where such firmware updates have already been promised).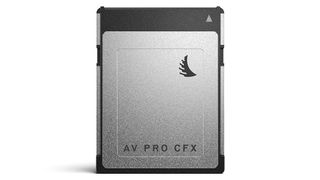 The AV Pro CFX cards offer read/write speeds up to 1700 MB/s and 1400 MB/s – that's 3.5x faster than CFast cards, according to the Austrian manufacturer. These will be available in 128GB, 256GB, 512GB and 1TB capacities
The more expensive AV PRO CFX XT cards are designed to offer a premium option for those concerned with sustained speed performance for higher resolution demands. Confusingly, these cards also offer maximum read/write speeds of up to 1700 MB/s / 1400 MB/s.
However, during constant recording, the write speed on the entry-level AV PRO CFX cards "will settle in at a guaranteed minimum sustained speed of 550 MB/s up to 1 TB capacity. Which the company points out is 150 MB/s higher speed than the maximum write speed of XQD.
The AV PRO CFX XT cards will be sold in 80GB, 160GB, 320GB, and 640GB versions.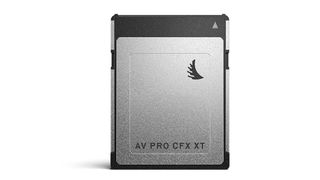 The premium AV PRO CFX XT cards, however, during constant recording, "will guarantee 1000 MB/s sustained write speed up to 650 GB capacity. So 450 MB/s higher sustained write than the AV PRO CFX".
Also announced is Angelbird's own CFexpress card reader. The reader will come with a 0.5m Type-C to Type-C cable, an active USB-A to USB-C adapter, non-slip rubber pads for added stability during operation, and Velcro binding for easy portability.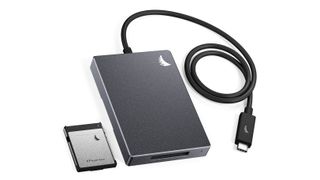 The recessed (USB 3.1 Gen 2, 10 Gb/s connection port helps to provide a secure connection point and minimize wear and tear. Angelbird has a "Write Protect" switch on its card readers, which enables the user to feel secure that they will not delete or erase anything by mistake.
The pricing for the cards, and availability, will be announced in December when the first CFexpress cameras will be on sale.
Read more:
CFexpress cards are here!
Canon first to use SanDisk's superfast memory cards
The best memory card for your camera: top SD, microSD, XQD & CF cards