The Sony FX6 answers a real need for filmmakers that Sony's mirrorless Alpha cameras do not. For shooting video, there is nothing that comes close to using a real cinema camera that has professional controls and ergonomics, multi-channel XLR audio, built-in ND filters, no overheating issues and a very long battery life. These cameras are purpose made for the job, but have lacked the full-frame sensor and advanced AF features that mirrorless camera users are used to. Until now.
Just over a year ago, Sony and Canon finally fitted full-frame sensors and the latest advanced AF systems into the more affordable end of their cinema camera ranges, but the price was still steep. The 4K Sony FX9 costs around $11,000/£11,000 and the 5.9K Canon C500 Mark II $16,000/£17,000.
Now Sony has really put the cat among the pigeons with the FX6 that is smaller and lighter than the FX9, is more advanced in many ways, and costs around $6,000/£6,000. Using the full-frame 4K sensor and hybrid AF from the A7S III mirrorless camera along with its codecs, it also inherits the well-loved S-Cinetone colours of Sony's Venice motion picture camera and a dual native ISO sensor for stunning performance at high ISO settings.
It's a camera that can be used for everything from real feature films and drama to run-and-gun documentary shooting, events and even news gathering. All for the price of a professional DSLR.
• Note that the FX6 is supplied body only. All lenses, mics and accessories are the author's own!
Specifications
Sensor: 10.2 megapixels BSI-CMOS, full frame
Video formats: 4096x2160 C4K, 3840x2160 4K, 1920x1080 FHD, MXF
Codecs: C4K XAVC-I 10-bit 4:2:2 up to 60p 600Mbps; 4K 10-bit 4:2:2 up to 120p 600Mbps; 4K XAVC-L, 8-bit 4:2:0 150Mbps up to 120p, FHD XAVC-I 10-bit 4:2:2 up to 60p 223mbps, XAVC-L 10-bit 4:2:0 up to 240p 50mbps, MPEG 8-bit 4:2:2 50Mbps 60p, 16-bit Raw via external recorder
Gamma curves: S-Cinetone, Std, HLG, S-Log3
ISO: Base ISO 800/12,800
ISO range: 800-102,400 (expandable 160-409,600)
Dynamic Range: 15+ stops
Autofocus: Fast Hybrid AF with real-time Eye AF, touch AF. 627 on-sensor phase detection points. one shot, continuous, face priority, eye tracking
Lens Mount: Sony FE
Controls: Peaking, waveform, zebras, focus assist
Shutter speed: 1sec – 1/8000sec
Filters: Stepless variable ND 1.4 – 1/128
Memory card: 2x CFexpress Type A or SD/SDHC/SDXC card slots
LCD: Fully articulating 3.5in LCD, 2.76 million dots
Audio: 2x XLR inputs on handle
Connectivity: Wi-Fi, Bluetooth, BNC 12G-SDI, HDMI-A, UBS-C
Size: 114x116x153mm
Weight: 890g (body only)
Key features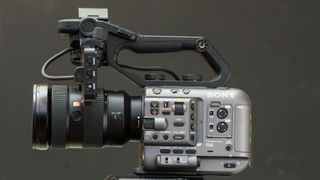 The FX6 doesn't use the same sensor as the FX9, which is actually 6K but downsampled to 4K. Instead, it inherits the same BSI-CMOS sensor from the Sony A7S III mirrorless camera and also the majority of its video spec and on-sensor phase detection autofocus.
So like the A7S III, the FX6 records in 4K at 60fps full frame with no crop, which is stored internally to SD or the same new CFexpress Type A cards as first used in the A7S III. While the mirrorless camera records only in 4K at 16:9, the FX6 can go to DCI 4K at 17:9 XAVC-I 10-bit 4:2:2 at up to 60p, recording at 600Mbps. But at this super-wide setting, the view actually becomes shallower (in height) to give the DCI-4K aspect ratio.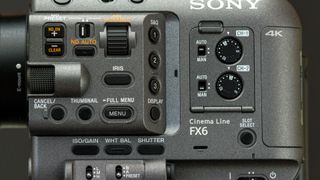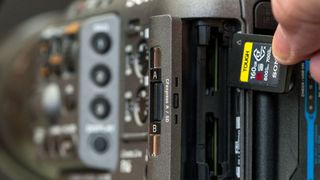 Like its mirrorless sibling, the FX6 records in up to 10-bit 4:2:2 All-Intra with no recording time limit. And the all the advanced hybrid AF functions still work. Both cameras can shoot 120fps in 4K internally too, and 240fps in HD for up to 10x super slow-motion. There is a slight 1.1x crop at frame rates over 60fps.
As well as these headline options, there are lots of other settings to choose from in HD and 4K options, in 10-bit and 8-bit, 4:2:2 and 4:2:0 versions, All-Intra and Log-GOP compression. On the FX6 in 4K at up to 60p, it records from the whole width of the sensor.
Being able to shoot in 4:2:2 10-bit makes a real difference for videographers who want to shoot in Log settings to extend the dynamic range of the 10.2-megapixel BSI sensor.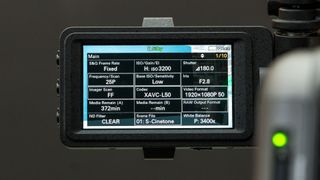 The camera has two different base ISO settings. When using S-Log 3 for maximum dynamic range of up to a claimed 15 stops, the first is at 800, and the second High Sensitivity mode ISO is 12,800. So when light levels drop and the ISO has to go up, the higher setting takes over and does a fantastic job of eliminating noise.
Where the A7S III and FX6 are very different is in codecs. The FX6 uses the MXF wrapper like most cinema cameras, and there is no H.265-based codec like the A7S III. The FX6 has standard colours as well as the S-Cinetone colour technology from the Venice and FX9. This gives filmic colours right out of camera, with great skin tones.
There are built-in LUTs or you can add your own, and they even work in fast frame rate settings up to 120fps.
And if you want to get the ultimate quality from the FX6, it can output raw video files to an Atomos recorder, which converts it to 12-bit ProRes Raw files.
Build and handling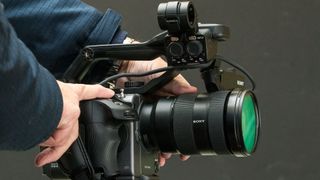 The camera body is actually very compact and light, until you start to bolt on all the components that you need. There is an adjustable handle grip which screws into the body and houses the two XLR inputs and the MI shoe. There are lots of user-customisable buttons, but sadly no viewfinder at all. Instead, there is just the monitor screen.
This touchscreen is good and has buttons to turn on and off the peaking, zebras or move AF point. All of these buttons can be customised.
The touchscreen itself can be used to change settings, or you can use the multi-function knob at the front or the small joystick near your thumb. One nice touch is the menu button which has a short push for most-used function, then a long push to reveal the full menu.
There are lots of customisable options, and the FX6 has all the professional controls that real filmmakers can't live without. There are waveforms and vectorscopes, focus peaking and adjustable zebras, plus all proper audio controls. There are nine user-settable buttons for most-used settings, too. The menu is complicated, but OK when you get used to it.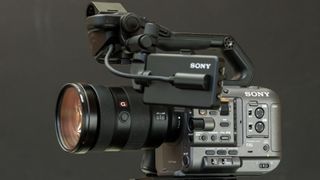 A huge benefit of the FX6 is the Electronic ND filter which allows you to switch between stepped ND filters or variable ND. You can also use Auto ND, so you can keep your shutter speed and aperture constant and the camera alters the ND amount to get the exposure right.
Having built-in ND filters mean there is no room for IBIS, so the only in-camera image stabilisation comes from the use of stabilised E-mount lenses. But like others in the cinema camera range, the FX6 records gyro metadata for every shot, then Sony's Catalyst software can stabilise it.
The camera has Wi-Fi built in and can be controlled remotely with a smartphone using Sony's free Content Browser Mobile where you can alter camera settings and view what's being filmed.
Performance
This is one of the best low-light video cameras you can buy, thanks to its full-frame sensor's large photosites and dual native ISO settings. As the sensor is relatively low-resolution, the signal is processed very quickly by the new Bionz XR processors so rolling shutter issues are very well controlled, too.
You can watch a sample movie shot with the Sony FX9 below:
But it's not all about low light performance, as in all conditions the camera produces footage that is very natural and bright without being too oversaturated. Using the S-Cinetone setting gives a more filmic look that's useable right out of camera. Or youu can switch to S-Log to maximise dynamic range, and those 10-bit 4:2:2 files are packed with colour information so you can push and pull the footage around in post to grade it exactly how you want it. In this way, it's a camera that can produce everything from subtle, natural colours to stylish, graded looks, as well as bright and punchy looks that work well on certain subjects. It gives you all these options.
And the 120 and 240fps footage is addictive. There is some slight drop in image quality but it's hardly noticeable unless you're a pixel-peeper.
But perhaps the biggest bonus for filmmakers is the useable autofocus, once you learn how to master the system. The face and eye detection is very good, in particular. There is Face Detection, with a Face Only mode which only changes focus when it detects a face, and Face Priority focuses all the time but gives priority to any face. Up to eight faces can be detected, and you can choose one to track with the touch screen.
You can alter the AF transition speed and AF subject shift sensitivity, which refers to how long it locks onto a subject before finding something else to focus on. Then the focus area can be altered, from a wide area to a tighter zone, and to spot for the most precision. You move these areas around using a toggle switch or touch-to-focus on the touchscreen which also lets you do smooth focus pulls.
Many stills shooters have had tech like this for years, but it is relatively new to video . Many advanced mirrorless cameras have a much more limited range of AF settings for shooting video but, like the A7S III, the FX6 has the lot. The AF locks onto the subjects quickly and stays with it like no other system in any other cinema camera.
Verdict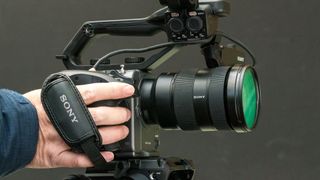 You don't get something for nothing in this world, so the Sony FX6 is not just a cheaper FX9 with all the same spec. For professional cinematographers, the more expensive FX9 has the appeal of a 6K sensor that's oversampled to get the recording down to 4K. The FX9 can also be set to a 5K crop at a maximum of 60p, and a Super35mm crop at 4K. The FX9 has full interlaced recording and output at up to 50/ 60i while there is no interlaced internal recording on the FX6. The FX9 has more connections, more gamma choices, live streaming capability and so is more suited for big productions.
But still... if you can get by without the FX9's additional features, the FX6 is just a stunning cinema camera, not just for its own exceptional feature set and performance, but for its ground-breaking price point too.
Read more:
• Best cinema cameras
• Best cameras for filmmaking
• Best cameras for vlogging
• Best Sony lenses