We always recommend that if you want a cheap camera deal, then the best place is to look for the reductions on older models. And this brilliant £330.44 bargain we have spotted at Amazon UK just goes to prove this. The OM-D E-M10 Mark II was one of our top recommendations as to a great starter camera just a few years back - and although it has been superseded now, it is still a great mirrorless camera for those who want to get to grips with proper photography. It is also a great camera for someone looking of a lightweight system camera.
The Amazon UK deal gets you the Olympus OM-D E-M10 Mark II camera along with the Olympus M.Zuiko Digital 14-42 mm f/3.5-5.6 EZ pancake zoom.
So why should you invest in the Olympus OM-D E-M10 MkII? Well, with a small and lightweight design, the E-M10 MkII is only a mere 342g and is half the size of an entry level DSLR. It has 5-Axis Image Stabilization technology that enables you to take high-quality, pin-sharp images wherever you go.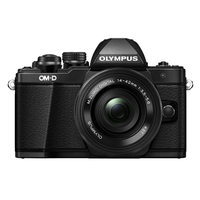 Olympus OM-D E-M10 Mark II in Black + 14-42mm lens
You can buy the Olympus OM-D E-M10 Mark II in Black with a 14-42mm lens for only £330.45! This is the lowest ever price on this particular lens bundle, and we don't expect this deal to be around very long. (UK only)

Read more
Olympus OM-D E-M10 Mark II review
The best Micro Four Thirds lenses for your Olympus or Panasonic camera