With the Xiaomi Mi Note 10, Xiaomi has become the first manufacturer to launch a 108-megapixel camera phone. But this is not its only claim to being one of the best camera phones around; it also sets a new record by having five rear cameras, too. Even the battery is an over-the-top affair that is likely to power you through the longest days with juice to spare.
In terms of imaging, the Xiaomi Mi Note 10 excites us on two fronts: its zoom and pixel-count. It features two telephoto cameras, one with a 2x optical zoom and a 12MP resolution, and another with a 5x optical zoom and a 5MP resolution, the latter loaded up with OIS.
This is the third super-zoom smartphone we've seen to date, following on from the Huawei P30 Pro and Oppo Reno 10X Zoom, both of which were fantastic camera phones, so we're looking forward to seeing how the Mi Note 10 compares.
• The best Xiaomi phone guide
As for the headline feature, the primary 108MP, 1/1.33" sensor, unsurprisingly it employs pixel binning to combine four sensors into one, so shoots 27MP images. It also features OIS and supports Xiaomi's long exposure night mode too.
If you're desperate to know whether or not it gives you the option to grab full 108MP images, breathe easy – it does indeed, capturing silly big 12,032 x 9,024 images, which is actually around 109MP.
There's an ultra-wide camera here as well, clocking in at 20MP with an f/2.2 aperture and a 117° field of view, as well as a 2MP macro camera that, interestingly, supports up to 960fps slow-motion video capture.
We're not done yet; upping the combined pixel-power even more is the selfie camera, whose 32MP resolution captures 9MP images, and that's combined with an f/2.0 lens.
Interestingly, Xiaomi hasn't opted for the most powerful internals around to process all these big-pixel images, instead going for a Snapdragon 730G. Combined with 6GB RAM and 128GB storage, it's clear where the specs have been tapered to keep costs down in the base model (the Xiaomi Mi Note 10 Pro offers 8GB RAM and 256GB storage, and actually has an extra lens element in the 108MP camera).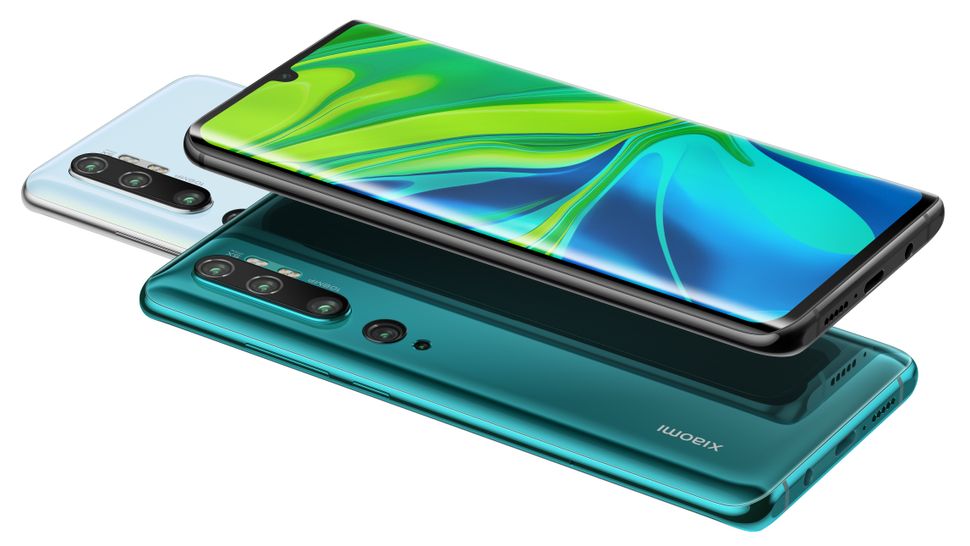 In addition there's a giant 5,260mAh battery inside (which supports 30W fast charging), an in-screen fingerprint scanner and face-unlock support – all flagship-grade inclusions. As for its size, with a 6.47-inch curved AMOLED screen, it's about on par with the Huawei P30 Pro and OnePlus 7T, so it is a big phone but not a huge one.
The Xiaomi Mi Note 10 will retail for €549 ($609 / £472), with the Xiaomi Mi Note 10 Pro priced at €649 ($720 / £559). We're still waiting for specific release information, but check back for that and our hands-on review – as well as the largest smartphone sample images known to man.
Read more
• The best camera phone in 2019
• Best budget camera phone
• Best selfie sticks for your smartphone
• The best iPhone tripods
• The best gimbals for your iPhone, GoPro and camera
• The best phone cases to protect your camera phone
• The best 5G phone for photographers