The OnePlus 7 was a great phone with a decent camera, but it didn't offer any flexibility across focal lengths – and at its price was outgunned by the likes of the Honor 20 Pro and Xiaomi Mi 9T Pro. Now the OnePlus 7T boosts the line's imaging credentials with a trio of rear cameras, a 2.5cm macro photography feature and a silky smooth 90Hz screen.
While the UK price is yet to be confirmed, the OnePlus 7T is expected to launch for around $599, so it's definitely not a budget camera phone. So is this upper mid-range smartphone going to sate keen photographers' picture-taking needs, or would they be better off looking at pricier flagships like the Samsung Galaxy S10, or more affordable options like the Motorola One Zoom?
• The best OnePlus phones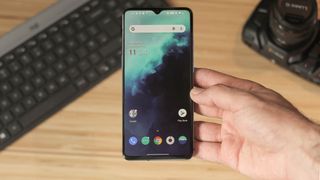 OnePlus 7T Camera Specs
The OnePlus 7T's triple camera features a primary 48MP half-inch sensor with 0.8µm pixels and a wide f/1.6 lens. There's also a 12MP telephoto camera, with 1µm pixels and a 2x zoom f/2.2 lens, and an ultra-wide 117° 16MP module with an f/2.2 aperture.
It also brings back the same shooting modes as found on the OnePlus 7 and 7 Pro – Video, Photo, Portrait, Nightscape, Pro, Time-lapse, Panorama and Slow-motion – though the Photo mode is supplemented with a new Super macro feature, which supports close-up shots as near as 2.5cm and far as 8cm.
Dip into the settings and OnePlus enables you to customize the shooting modes you have to hand, toggle Ultra Wide Lens Correction and Manual HDR on or off, and you can also load up your viewfinder with a 3x3, 4x4 or golden ratio grid.
The phone's Nightscape mode supports exposures as long as 30 seconds, if the phone is being held on a tripod or steadied on a surface, and in Pro mode it also overlays a histogram and horizontal line reference, which can be toggled on or off.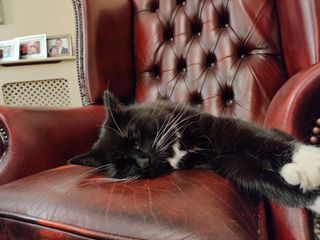 OnePlus 7T camera performance
Despite a 48MP sensor, by default, photos are taken at 12MP (4,000 x 3,000) unless you fire up Pro mode. Even at this 'lower' resolution, therefore, there's ample image information for large prints and a bit of cropping, and the core photo quality lends itself to both.
The OnePlus 7T's camera also has added optical image stabilization, and it's incredibly welcome. Photos are held steady impressively in good lighting, even with slight handshake, and it also plays a part in video – more on that later.
In terms of processing, the 7T balances things out nicely without totally over-sharpening or boosting detail and colors like some phones. Images don't have the dynamic range of an iPhone 11 Pro, and they aren't perfectly tuned every time, but they still look rich and natural for the most part.
In bright conditions, auto-HDR also works well. It brightens up backlit subjects nicely and usually prevents any part of the image from being totally blown out, unless you're shooting a very high-contrast scene. This feature also extends to the selfie camera, which is excellent.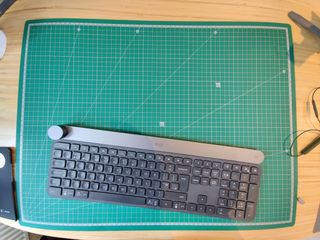 Drop the lights and the phone struggles until you fire up Nightscape – a handheld long-exposure mode that uses computational photography to deliver solid results in the dark. Pioneered by Huawei, this feature has now trickled across brands and price points, and has recently made its way onto the new iPhone 11 Pro series. While it was on the OnePlus 7, now, it's better than ever.
For the first time on a OnePlus phone, Nightscape now works across the wide and ultrawide cameras, outperforming almost every midranger we've used, though, falling behind the likes of the contentious Huawei flagship, the Mate 30 Pro.
What really impressed us was the fact the OnePlus 7T's Nightscape shots usually nailed white balance in poorly lit scenes, something that most smartphones really struggle with.
The new Super Macro mode works impressively, too, locking in focus to close-up subjects and delivering mountains of background blur. While we might be mistaken, it looks like OnePlus applies a bit more sharpening to Super Macro shots to give them more impact. Either way, we're not complaining – it's a great point of differentiation and the results still look strong.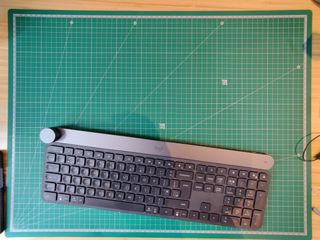 The ultra-wide camera on the OnePlus 7T produces a good amount of lens distortion, which is corrected by default; turn this correction off and you get some very irregular barreling, even if it does widen the angle a bit. The 7T is also one of the only phones with an ultra-wide camera that features autofocus, which can make for some beautifully impactful close-up images.
In turn, the 7T's stills camera is very good. It doesn't always deliver the balance of Google Pixel phones, or the nuanced, natural dynamic range photos that the iPhone 11 Pro captures, but given the fact that it's a more affordable device and an across-the-board great phone, its camera is more than adequate.
This praise extends to its video capabilities, too. It records 4K footage at up to 60fps without sacrificing the image stabilization. In fact, if you're happy shooting at 1080p, OnePlus has included a new Super stabilization that locks everything together to make footage gimbal-smooth (or even DJI Osmo Action-smooth) – and it's amazing.
Color reproduction is zingy, perfect for sharing, and detail is on-point as well. Meanwhile, if you're looking to slow down time, its slow-mo footage is captured at up to 240fps in 1080p, and 480fps in 720p.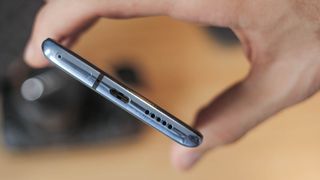 OnePlus 7T OS, Battery and Connections
The OnePlus 7T is the first mainstream flagship phone to launch with Android 10, giving it thorough future-proofing, and with OnePlus' Oxygen OS over the top it goes a step beyond Google's stock experience.
You can flick on Zen Mode, for example, to shut out the digital world for a set amount of time, effectively disabling everything but the phone's camera. The 7T also supports smart gestures, so you can put the phone to your ear to answer it without pressing any buttons.
Running with a Snapdragon 855+ chipset, the OnePlus 7T is about as powerful as a phone gets. And thanks to its 8GB RAM and 128GB storage, it gives you a respectable amount of space for all your photos and videos. It's worth noting, though, that there's no microSD card slot, so this capacity isn't expandable.
The most striking thing about the 7T is its screen, though. With a fast 90Hz refresh rate, it looks smoother than almost anything else in its price range. And with AMOLED tech, blacks are deep, colors are punchy and there are enough pixels present to keep things looking sharp.
The phone's stereo speakers are loud, its under-display fingerprint scanner is fast and its design is stellar, with a beautiful, frosted-glass finish.
It also has a 3,800mAh battery that easily makes it through a full day, even with a fair bit of picture taking, and incredibly fast charging, powering up the phone from 0-70% in around 30 minutes.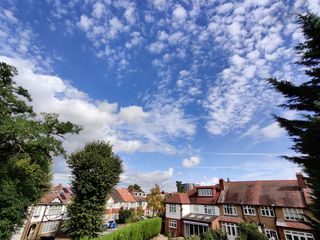 OnePlus 7T Verdict
The OnePlus 7 was criticized for being an incremental refresh, but the 7T is a total overhaul – and a welcome one at that. Nowhere is this felt more acutely than the camera, with its ultra-wide and telephoto focal length blowing the lid off the kinds of shots it captures.
We're impressed with the new Super macro feature, too, and OnePlus has boosted the 7T's video capture, with Super stabilization and smoother 60fps 4K recording – and both look sweet.
Given the fact that the phone has no major shortcomings, provided you can live without a headphone jack and wireless charging, there's a lot to love here, even if it does end up costing a bit more than the OnePlus 7 did.
Read more:
The best camera phone in 2019: which is the best smartphone for photography?
OnePlus 7 Pro review
OnePlus 7 review