2019 is drawing to a close and we're already looking ahead to the various exciting camera rumors that have been circling the internet recently. However, we couldn't possibly enter the New Year without looking back fondly on the camera news that our readers loved this year.
From a camera the size of a grain of sand, to a lens that's over five foot wide, there have been some truly fun and bizarre stories in 2019. We've rounded up our top ten favorites to give you a blast from the past before you make your way into 2020…
• Read more: Best mirrorless camera
01. The world's smallest camera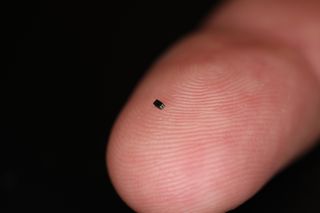 This article from October 2019 on the world's smallest camera was definitely one of our favorites this year. While we're not likely to see the pithily named 'OmniVision OV6948' on the shelves any time soon, this camera is a clear reminder of just how advanced camera technology is getting.
"A specialist medical camera that measures just 0.65 x 0.65 x 1.158mm has just entered the Guinness Book of Records. The size of the grain of sand, it is the camera's tiny sensor that is actually being entered into the record book.
The OmniVision OV6948 is just 0.575 x 0.575 x 0.232mm and produces a 40,000-pixel color image using an RGB Bayer back-side-illuminated chip. Each photosite measures just 1.75 µm across."
02. The world's biggest lens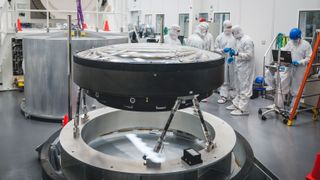 On the other side of the spectrum, our story on the world's biggest photographic lens definitely made some waves. Designed for use at the Large Synoptic Survey Telescope, the camera as a whole was budgeted to cost $168 million - so you might not want to put it on your Christmas 2020 list just yet!
"Pictures of what are claimed to be the largest-ever photographic lens have been released... and it sure is a whopper. The lens measures 1.57 meters, or 5.1 feet, in diameter and has been designed for use at the Large Synoptic Survey Telescope (LSST), which is currently being constructed in Chile, where it will be mounted in front a camera with a 3,200 megapixel sensor.
Called L-1, the lens is currently at SLAC, the Stanford Linear Accelerator Center, in California, which is assembling the super-resolution camera for the telescope. The lens is mounted with a smaller companion lens (1.2 meters / 3.9 feet in diameter) in a carbon fiber structure. Both lenses have been designed by the Lawrence Livermore National Laboratory (LLNL), and have been built over the past five years by Boulder, Colorado-based Ball Aerospace and Technologies Corp. and its subcontractor, Tucson-based Arizona Optical Systems."
03. Photographs from a $57,000 camera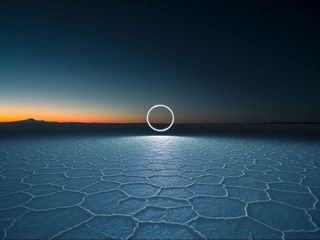 Got a spare $57,000? Then you may want to throw it in Phase One's direction, whose medium format Phase One XT camera made waves on the Digital Camera World website when we published this article showing what kind of photos you could expect from this 150MP monolith.
"Photography is an expensive hobby, and cameras are expensive toys – especially medium format cameras. However, even the eye-wateringly pricey Fujifilm GFX 100 at $10,000 / £10,000 pales in comparison to the Phase One XT – the $57,000 field camera with 150 megapixels of firepower.
There has always been a mystique surrounding medium format photography, and the range of Phase One systems sit right at the top of the food chain. So the question is, what kind of photography does a $57,000 camera get you?
The Phase One XT is designed to be a medium format camera that can be taken outside the confines of the studio – in the vein of the premium performance field cameras of old."
04. iPhone 11 Pro has Steve Jobs' turtleneck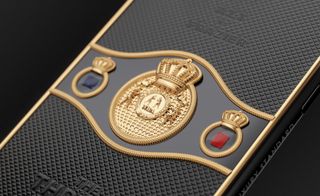 If a $57,000 camera is a little out of your reach, why not console yourself with a $6,000 iPhone 11 Pro that contains a scrap of Steve Jobs' turtleneck. However, that's not the only not-at-all-ludicrous iPhone product you can buy! Our article covers a wide range of products - for the billionaire that has everything.
"Russian luxury phone company Caviar has come up with one of its most meta iPhone releases ever: the iPhone 11 Pro Superior Jobs, which has a real piece of the Apple kingpin's iconic black turtleneck sweater on it!
It's the latest in the crazy "collaborations" between the Russian company and various celebrities, which also includes Muhammad Ali and Joe Frazier as well as The Beatles, known as the Superior collection."
05. First ever photo of a black hole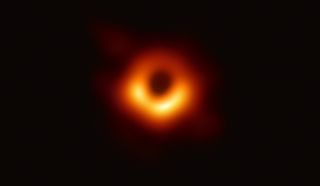 Here's one for the space fanatics out there. Back in April, scientists were able to capture the first ever photo of a black hole. Our article on this exciting achievement also has a photo of the gigantic telescope that captured the photo.
"An extraordinary scientific feat has been achieved, as a revolutionary astrophotography technique has enabled astronomers to capture the first ever photograph of a black hole – a phenomenon that has, until now, been unseeable.
The image depicts the shadow of a supermassive black hole against a disc of glowing gas, 55 million light years away from Earth, at the center of the enormous Messier 87 galaxy in the Virgo cluster."
06. This is why Leica is so expensive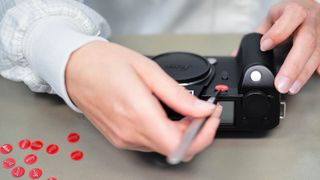 For years you've wondered, and now we can finally tell you. This article explains just why Leica is so expensive - and why its brand has proved to be so enduring. Interestingly, the reason we wrote this article is because someone asked this exact question on our DCW forums - so if you've got a burning question just let us know and we might write a story on it!
"Why is Leica so expensive? It's a question that everyone familiar with cameras and photography has asked, at one point or another.
It's not necessarily a complaint, certainly no more than someone who follows the automotive industry who might ask why the price of the Bugatti Veyron is so high. So the question "why is Leica so expensive?" is often a genuine question, not just a declarative criticism."
07. This is what a 600MB 16-bit TIFF looks like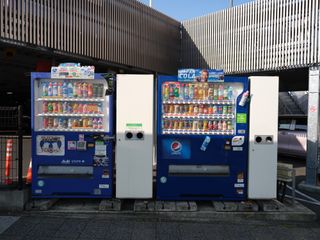 The medium format monster Fujifilm GFX100 has the ability to shoot 600MB 16-bit TIFF files, so we just had to write an article on it. Download one of two unprocessed 16-bit TIFF files in our story and bask in the unabashedly huge file sizes.
"The new Fujifilm GFX100 gets a number of new records for medium format cameras. But its 100 megapixel images do mean large files – and not least because if you shoot in RAW you get a 16-bit option, that records four times as much data as a standard 14-bit RAW file. In face, from our field tests we have found that these 16-bit RAW files take up around 200MB of storage on one of the GFX's two SD card slots.
But if this does not fill up your memory quick enough, the Fujifim GFX 100 gives the option to save these 16-bit RAW files as 16-bit TIFFs using the camera's onboard RAW editor. And these uncompressed TIFFs take up a whopping 600MB of storage!"
08. The Slofie
For any iPhone enthusiasts who were eagerly awaiting the introduction of 5G in 2019, Apple gave them something even better - the slofie! While the iPhone has had slow motion video for a while, it's always been relegated to the back camera. However, the introduction of the iPhone 11 gave us slow motion for the front-facing camera as well. Our story on the matter saw our reluctant staff writer Louise take it for a test drive.
"The iPhone 11 has a new feature that sounds cheesier than a month old camembert. It's bad enough that the whole world has become obsessed with selfies, without showing people how to shoot slow motion video versions that we have to look at FOR EVEN LONGER. We were sceptical.
It sounds like the simplest, most pointless thing ever – a video you can shoot with the front-facing selfie camera. But when it's combined with the skill of an expert selfographer and the iPhone's extremely slick slo-mo editing (we were testing the new iPhone 11 Pro Max), the results are actually rather brilliant. Louise Carey shows us just how it should be done..."
09. Is this the end of Nikon as we know it?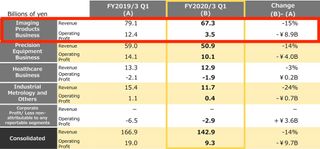 Our admittedly slightly clickbait-y title on this article certainly drew readers attention, but the information inside was definitely sobering. Nikon's first quarter FY2020 financial results showed a 71% decrease in earnings and an almost 15% drop in revenue. However, with the continued success of the Nikon Z6 and Z7, plus the recent release of the Nikon Z50, we're certain that 2020 is going to be Nikon's year.
"As if there wasn't already enough doom and gloom in the camera industry, Nikon has released its first quarter FY2020 financial results. Hit by a shrinking market and the initial costs of developing Z-mount lenses, Nikon has reported a huge 71% decrease in earnings and an almost 15% drop in revenue.
Nikon's results presentation says that although it is enjoying steady sales of full-frame mirrorless cameras and interchangeable lenses, its revenue has been affected by the reduced sales of entry and mid-range DSLR cameras in Asia including China.
Nikon looks set to continue expanding its sales of mirrorless cameras and lenses, but this downward trend of digital SLRs and compact cameras is expected to continue to affect its revenue."
10. Comedy Wildlife Photography Awards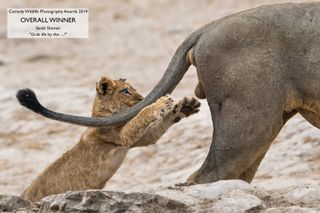 If you want to go into 2020 with a chuckle, then we'd recommend looking over this article from November where we post the funniest photos from the Comedy Wildlife Photography Awards. From dancing penguins to melodramatic squirrels, this story truly has it all.
"The winning image for the Comedy Wildlife Photography Awards has been officially announced - and it's a real doozy! Shot by Sarah Skinner, the amazing image 'Grab life by the…!' has been awarded the top honor.
Sarah said, 'It certainly warms my heart to know that this image will spread some laughter and happiness around the world. I am happy to report that this lioness continues to thrive in the pride, having seen her again in October this year. I can only hope and encourage everyone, as a collective, to each do our part in the conservation of all wildlife species, so that future generations can enjoy them… Long may lions walk the plains…'"
Read more
Best Fujifilm cameras in 2020
Best camera for kids in 2020: child-friendly cameras for all ages
Best Sony camera in 2020: which Sony camera is right for you?