Photography is an expensive hobby, and cameras are expensive toys – especially medium format cameras. However, even the eye-wateringly pricey Fujifilm GFX 100 at $10,000 / £10,000 pales in comparison to the Phase One XT – the $57,000 field camera with 150 megapixels of firepower.
There has always been a mystique surrounding medium format photography, and the range of Phase One systems sit right at the top of the food chain. So the question is, what kind of photography does a $57,000 camera get you?
• Read more: 150MP Phase One XT aims to transform landscape photography
The Phase One XT is designed to be a medium format camera that can be taken outside the confines of the studio – in the vein of the premium performance field cameras of old.
So Phase One charged its newest ambassador, Reuben Wu, to demonstrate the kinds of photographs that the XT is capable of producing by taking it to Bolivia for his Lux Noctis project.
"Bolivia had been at the top of my bucket list since forever," said Wu. "I'd had this idea in my head of playing with drone light reflected on Bolivia's salt flats covered with water. This image of the salt flats acting as a huge mirror and the light paths interacting with the landscape – that's what I wanted to create."
Wu's project also took him to the Altiplano, a 15,000ft- high desert in the south of Bolivia, where he wanted to take a photograph of the 'Salvador Dali valley'. "This is why I love the XT, because I was only able to shoot a photo like that thanks to how the XT Camera System is designed.
"It lives in this unique place between a technical and a handheld camera… It's a lot more integrated than technical cameras, and everything is controlled using one screen. I don't have to think about a separate viewfinder, a cable release and so on. Everything is centralized. Also, it's light."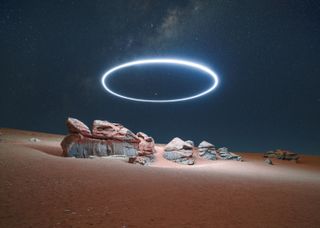 And obviously it has 150 megapixels, which is really the only thing Wu mentions that dozens of other cameras don't have. Well, aside from one more thing:
"It's minimal and modern, and also looks slightly quirky. There's no other camera that looks like it. I believe that using tools which look and work differently than what everyone is using can encourage new ideas that are different. So by using a camera that's unique, I am pushed to think differently about the photography I'm creating."
So there you go, folks – 57 grand buys you a weird looking camera whose weirdness will inspire you to shoot weird-looking photographs in the middle of the South American desert.
Read more:
150MP Phase One XT Camera System aims to transform landscape photography
These are the best medium format cameras available today
We pick the best cameras for professionals
Best photography tips
Best mirrorless camera
Best camera phone