As if there wasn't already enough doom and gloom in the camera industry, Nikon has released its first quarter FY2020 financial results. Hit by a shrinking market and the initial costs of developing Z-mount lenses, Nikon has reported a huge 71% decrease in earnings and an almost 15% drop in revenue.
Nikon's results presentation says that although it is enjoying steady sales of full-frame mirrorless cameras and interchangeable lenses, its revenue has been affected by the reduced sales of entry and mid-range DSLR cameras in Asia including China.
Nikon looks set to continue expanding its sales of mirrorless cameras and lenses, but this downward trend of digital SLRs and compact cameras is expected to continue to affect its revenue.
• Read more: Best Nikon cameras
This is yet another blow to Nikon, after reports in May that Sony had overtaken it for the number two spot in interchangeable lens sales.
However, while it could be easy to despair at this gloomy report (especially if you're a loyal Nikon user), not all hope is lost. Japanese website Nikkei interviewed Nikon's CEO Mr Toshikazu Umatate (hat tip to Nikon Rumors) and he had some interesting insights into the firm's financial future.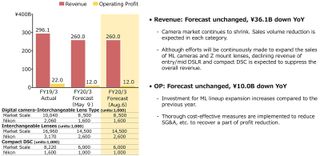 "We hope the profit will increase to 20 billion yen three years later. We're reviewing our sales network of digital cameras. Online sales are increasing in North America while brick and mortar stores are still strong in Asia. We're going to rebuild our sales structure to focus on each region's strength. Structural reform since fall 2016 lessened fixed costs, but there is more room to cut costs by overhauling procurement costs."
While Mr Toshikazu did acknowledge the difficulties Nikon has been experiencing, saying that its unit sales have decreased to less than one-sixth in comparison to fiscal 2012, it's heartening to see that not only does Nikon have high hopes for its future, but it's also putting strong plans in place to achieve that.
In today's turbulent market, and amidst breakneck technological advances, it's not surprising that almost all camera manufacturers are facing difficulties. However, with more Z cameras rumored to be on the way, we wouldn't count Nikon out of the game just yet.
Read more:
Best Nikon Z7 deals in July 2019
Nikon Z lens roadmap: new lenses for the Z system and when they are coming
Nikon Z6 review