A specialist medical camera that measures just 0.65 x 0.65 x 1.158mm has just entered the Guinness Book of Records. The size of the grain of sand, it is the camera's tiny sensor that is actually being entered into the world-famous record book, for being the smallest commercially available image sensor.
The OmniVision OV6948 is just 0.575 x 0.575 x 0.232mm and produces a 40,000-pixel color image using an RGB Bayer back-side-illuminated chip. Each photosite measures just 1.75 µm across.
The resolution may seem low, but the OVM6948-RALA camera is designed to fit down the smallest of veins in the human body giving surgeons views that will aid diagnosis and with surgical procedures. Previously the surgeon would carry out these operations without the use of a camera, or use a much lower-resolution fibre optic feed.
Manufactured by California-based OmniVision Technologies Inc, the sensor captures its imagery at 30fps, and its analog output can be transmitted over distances of up to 4m with minimal noise.
The camera unit offers a 120° super-wide angle of view - so something like a 14mm on a full-frame camera. It gives a depth of field range from 3mm to 30mm.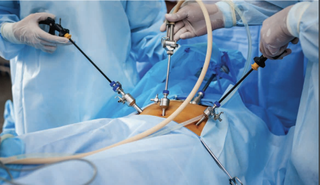 Specifications
Resolution 40K pixels (200x200 pixels)
Sensor type Backside illuminated Bayer RGB
Diagonal field of view 120°
Focal length 0.175mm
Aperture f/2.8
Frame rate 30fps
Shutter type Rolling shutter
Power requirement 25mW
Operating temperature -20°C - +70°C
Camera size 0.65 x 0.65 x 1.158mm
Weight 0.87g
These comparatively high-resolution images are said to be particularly useful in areas such as neurology, ophthalmology, ENT, cardiology, spinal injuries, urology, gynecology and arthroscopy. The low-power consumption of the camera means that less heat is generated, which allows for longer procedure duration and better patient comfort.
"Previously, procedures in the body's smallest anatomy were performed either blind or using low quality images from fiberscopes, as existing cameras were too big and reusable endoscopes were not cost effective," said Aaron Chiang, marketing director at OmniVision. "The OVM6948 wafer-level camera module offers a compact, high quality solution for disposable guidewires, catheters and endoscopes, which are experiencing growing demand because of their ability to reduce cross-contamination risks, downtime inefficiencies and costs associated with the repairs, preprocedural testing and sterilization of reusable endoscopes. In addition, these compact disposable medical devices can improve patient comfort and shorten recovery time."
Read more:
The world's biggest photographic lens is massive… and this is what it looks like
PNY announces world's smallest and fastest SSDs
Rode Wireless GO is world's smallest wireless mic system
The Insta360 GO is the world's smallest stabilized camera