CIPA (Camera & Imaging Products Association in Japan) has published its June report and we recommend shielding your eyes if you're squeamish, because the results aren't pretty. Sales of digital cameras have dropped by almost 1,000,000 in the month of June in just two years, almost halving the amount of units sold from 2017 to 2019.
If this decrease had been spread out over ten years or so, it would still be significant. However, the speed at which sales are falling begs the question - when will the market level out? And what will the fallout from such dramatic decreases in sales be?
It's not just digital cameras that have been affected. While sales of interchangeable lenses held pretty steady last year, even selling over 16,000 more units in June 2018 than June 2017, they've taken a significant nosedive this year. Selling over 340,000 less units year-on-year, it appears as if even interchangeable lenses aren't safe from this fiscal apocalypse.
• Read more: Best camera: which digital camera should you buy?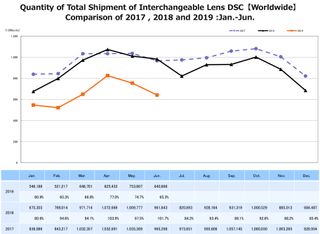 So what exactly has caused this? There could be a variety of reasons, but one of the most influential is likely the rise of smartphone photography. The average consumer who used to choose between an entry-level DSLR or a compact camera now has no reason to invest in either when their iPhone has a Portrait mode that, to their eye, perfectly simulates a professional photo. This has transformed digital cameras from something almost every household might own (or aspire to own), to a niche product used by mostly enthusiasts and professionals.
With such dramatic shifts to the digital camera market, who knows how camera companies are going to adjust. Will they diversify, like Canon with its printers? Or perhaps they'll turn their attention to pushing boundaries and innovating their products, just like Fujifilm appears to be doing. Maybe a shrinking market will be good for the consumer, forcing companies to strive for higher levels of excellence to attract customers.
Either way, keep a look out for some potentially interesting moves from your favorite brand. And if you have some spare change, perhaps consider donating to a camera company of your choice...
Read more:
Smartphone sales slump 22 million – a golden chance for the camera market?
Best point and shoot camera in 2019: our pick of pocket cameras
Canon Imaging: 23% decline in camera sales, 81% drop in operating profit