You might think that you can't go wrong with a lens at this price. But older versions of Canon's popular 50mm f/1.8 weren't always altogether 'right'. They had a noisy autofocus system based on a simplistic electric motor, and a 5-blade diaphragm that gave pronounced pentagonal shapes to defocused lights when you weren't shooting wide open, i.e. at the widest possible aperture.
This latest version of the lens puts all those wrongs to right. It has an STM (Stepping Motor) autofocus system that provides speedy yet quiet operation for stills, and smooth autofocus transitions during movie capture. The focus ring no longer rotates during autofocus, which improves handling and also gives the bonus of manual override in Single AF mode. The new lens has a metal mounting plate, and a more well-rounded aperture based on seven diaphragm blades. Despite feeling more robust than earlier versions, the new edition is still pleasingly small and light, weighing just 160g.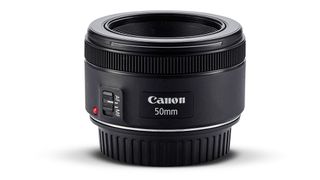 Performance
The real surprise in this budget-friendly lens is just how good it is. Throughout our tests with multiple samples of competing Canon lenses, its autofocus system proved much more accurate and reliable than that of the supposedly superior Canon EF 50mm f/1.4 USM. It also beats the pricier Canon lens for sharpness, especially in the f/1.8-2.8 sector of the aperture range. The budget lens also wins out for edge/corner sharpness when comparing the results on an APS-C format body, along with less colour fringing and distortion. At the price, you really can't go wrong in this instance.
The front element of the 50mm f/1.8 is so well recessed that you don't really need to use the hood to cut out stray light. Other factors worth noting are the fact that the fly-by-wire focus ring requires power from the body, and that the lens doesn't have a focus distance scale, which the 50mm f/1.4 does. The 50mm f/1.8 also has a 49mm filter thread – a giveaway of just how small it really is – and overall it feels robust and pleasing to handle, with a metal mounting plate.
Read more:
Best wide-angle lenses for Canon