If you're looking for the best camera deals, you've come to the right place. Whether you're in need of a cheap compact camera, an affordable DSLR, or even a great price on a medium format beast, we've rounded up the most exciting camera deals around to help you get the best price on your next bit of kit. 
A good camera deal doesn't necessarily mean the very least expensive camera (although we've got plenty of cheap cameras here as well). To us, an exciting camera deal means getting as much 'camera' for your money as possible. Theoretically, you could get a great deal on one of the best Leica cameras – as long as there was a decent discount on a good model.
With Amazon Prime Day on the horizon, don't forget to take a look at our Prime Day camera deals page to find the hottest deals available so far.
To help you find the best camera deal for you, we've split this guide into a few different sections. Firstly, we've got links to our favorite camera retailers' deals pages in the panel to the side, including B&H, Adorama and Amazon. These are always up-to-date with the most recent camera deals, so they're well worth a look. 
Next, we've got some of the latest up-to-date camera deals that are running at the moment. These deals won't last forever, so if you fancy one of these, then don't delay! 
And lastly, we've got some of our favorite perennially great cameras that are always a good deal, such as the Fujifilm X-T200 – a fantastic piece of kit that's proved popular with consumers and is priced very competitively. 
So, without any further delay, happy shopping!
Flash camera deals
Canon rebates | B&H | Save up to $2,400
Save up to $1,500 on Canon cameras at B&H with these rebates, including the Canon EOS 5DS R, Canon EOS 7D Mark II, Canon EOS 80D and more. View Deal
Nikon rebates | Adorama | Save up to $550
Fantastic Nikon cameras such as the Nikon Z5, Nikon Z7, Nikon D750 and more currently have instant rebates of up to $570 at Adorama.View Deal
Sony rebates | B&H | Save up to $1,000
Looking for some fantastic deals on Sony kit? Check out these rebates at B&H on cameras including the Sony A9, the Sony A7R IV and more. View Deal
Olympus savings | Olympus store | Save up to $150
You can grab up to $200 of savings on a variety of Olympus lenses at the Olympus store, including the M.ZUIKO 7-14mm f/2.8 Pro, the M.ZUIKO ED 12-100mm f/4 IS Pro and more.
View Deal
Olympus OM-D E-M1X | was $2,999 | now $1,799
Save $1,200 You can't get a much better discount than this! The Olympus OM-D E-M1X is now just $1,799, making it a great deal for anyone from beginner to professional shooters. View Deal
Sony A7R IV | was $3,498 | now $2,998
Save $500 The Sony A7R IV features a 61MP Exmor R BSI CMOS sensor and a BIONZ X image processor. It also has a 15-stop dynamic range and a native sensitivity range of 100-32000. View Deal
Sony FE 24-105mm f/4 G OSS | was $1,398 | now $1,098
Save $300 This E-mount lens is perfect for Sony full frame cameras, featuring a wide focal range of 24-105mm with a relatively wide maximum constant aperture of f/4.
View Deal
Panasonic Lumix DC-S5 + lens | was $2,297 | now $1,997
Save $300 This mirrorless camera comes with a Lumix S 20-60mm f/3.5-5.6 L-mount lens, perfect for capturing everyday shots from portraits to landscapes. View Deal
SanDisk 256GB Extreme UHS-I SDXC | was $99 | now $62
Save $37 Who doesn't need an extra memory card? This SanDisk card has 256GB of space, so you can capture lots of raw files without worrying about running out of memory. View Deal
Camera deals: Evergreen camera deals
The Panasonic ZS50, also known as the TZ70, gives you a huge zoom range that goes up to 720mm (35mm-equivalent) setting, plus a built-in electronic viewfinder, which is super useful in bright light. This camera features focus peaking for precision when manually focusing, a time-lapse video option, and even Raw shooting (although this is arguably less significant on a camera with such a small sensor). On that subject, don't let the sensor's 12.1MP pixel count throw you off; Panasonic deliberately reduced this from the 18.1MP TZ60 that came before it for the benefit of image quality in low light. Full HD video recording to 60p, effective Hybrid O.I.S. image stabilization and both Wi-Fi and NFC on top of all this make the SZ50 unquestionably brilliant value for money and another great camera for travel.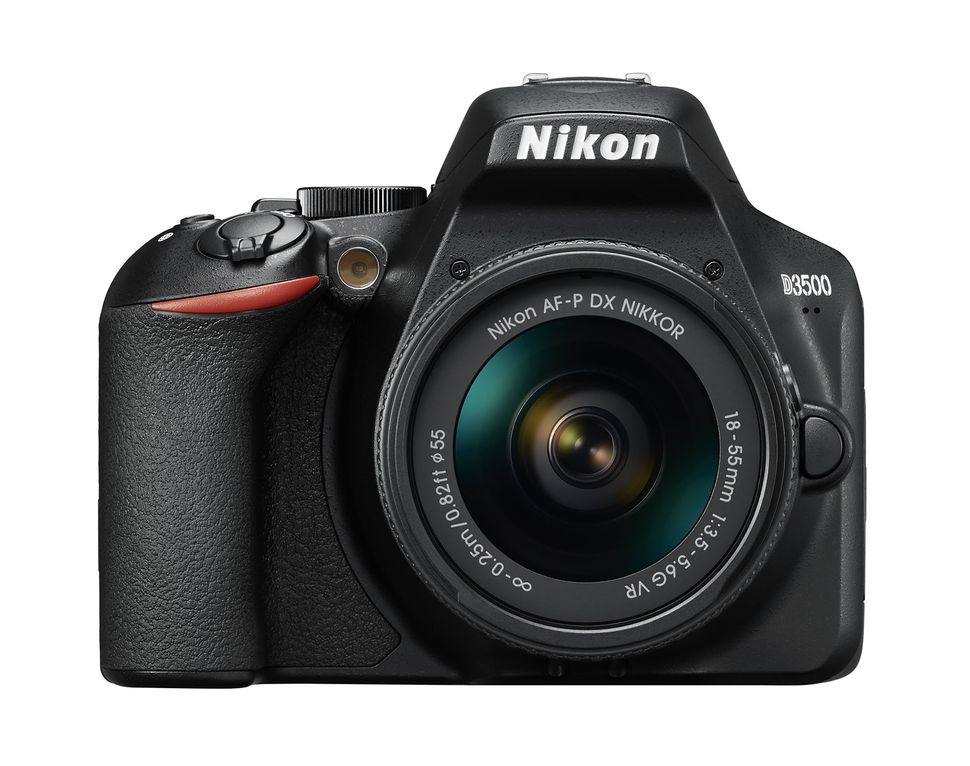 The entry-level model in Nikon's DSLR range looks a lot like the previous Nikon D3400 before it, but subtle design tweaks have produced improved on a winning formula to produce a camera that's small and light, yet comfortable to grip. It's an entry-level model but it has a 24.2MP sensor as good as those in cameras at twice the price, and it offers a very good 5fps continuous shooting speed for a beginners camera. The Nikon D3500 has all the manual controls you need to learn about photography as you improve your skills. The lowest prices include a non-VR kit lens but we'd recommend paying that little bit extra for the VR version of the 18-55mm standard zoom.
The Canon Rebel T7 (EOS 2000D in some territories) is not a bad camera to get started with, but it is admittedly pretty basic. It has a fixed rear screen and only shoots full HD video. It doesn't even come with Canon's Dual Pixel CMOS AF for faster focusing in live view. It does have a 24-megapixel sensor to match the resolution of our favorite low-cost DSLR, the Nikon D3500, but it can't match the Nikon's 5fps continuous shooting or the Nikon's space-saving retracting kit lens. However, you can currently pick it up for a steal, so if you're looking to save your cash, this might be the camera for you.
The dinky Olympus OM-D E-M10 has long been one of our favorite entry-level cameras. Its small enough to fit in a pocket, especially with the 14-32mm 'EZ' kit lens, but the controls never feel cramped and the features buried in this camera go far beyond 'beginner' photography. The Olympus OM-D E-M10 Mark III version has 4K video but still the older 16MP sensor. The new Olympus OM-D E-M10 Mark IV model has the latest 20MP sensor. However, this does mean that the Mark III, while you can still get it, is on sale at really good discounts.
Image 1 of 5
Image 2 of 5
Image 3 of 5
Image 4 of 5
Image 5 of 5
The Fujifilm X-T200 is exceptional value right now – if you can get hold of one. It's a terrific camera for beginners and smartphone upgraders, with a big flip-out 3.5-inch touchscreen, a built-in viewfinder and 4K video. The exterior controls are simple and unthreatening, but they disguise a camera that's actually quite advanced. It's definitely worth following the pricing on this one, because at current prices, there really is nothing to touch it. Just be warned that stock levels seem to be fluctuating, so if you see one available then you might not want to hesitate!
For a time, this was our favorite low-price mirrorless camera. Now several years old, the A6000 is a once top-end camera that's just got cheaper and cheaper. Later A6000-series models beat it for video and autofocus features, but for regular stills photography the A6000 is just as good at a fraction of the price. The 24MP APS-C sensor may seem somewhat ordinary on paper, but its 179 phase-detect AF pixels means that it's  better suited for tracking moving subjects than many other mirrorless options at the same price point. 
Read more
Best cheap cameras
Best cameras under $100
Best cameras for beginners
Best cameras for professionals
Best mirrorless cameras
Best DSLR