The Zhiyun Smooth X gimbal is built specifically for smartphones and action cameras – but just how well does this compact gimbal perform?
Meet the Zhiyun Smooth X gimbal – a rotatable, palm sized 4–axis stabilized gimbal from smartphones and action cameras. This latest offering from Zhiyun is so light and compact that you can easily toss it into your backpack or coat pocket – but how does this smartphone gimbal hold up when put to the test? I took it out for a spin to see just how well the Smooth-X handled.
The Zhiyun Smooth X features an extendable grip (up to 260mm), which is helpful when you want to get a little extra reach. It also comes with a handy phone app to help you create videos with a little extra pizazz.
Build and handling
When it comes to smartphone filmmaking, simplicity rules. Luckily, the Zhiyun Smooth X delivers this simplicity, weighing only 246g and providing surprisingly stable footage when paired with your phone. I've been a fan of Zhiyun gimbals for a while now, and have carried the Zhiyun Smooth Q around with me for many years. I enjoyed how compact the Smooth Q was – but the Smooth X is even smaller.
However, while being compact is all very well and good, the most important thing a gimbal should provide is stability. When being used as a gimbal-like 'selfie stick', the stabilization is already good enough for most general users, but the Smooth X has pan and roll motors as well (although it doesn't have a tilt motor, which I'll discuss later). This means that it features 4-axis stabilization, giving users more than enough stability to experiment with. However, I would say that I'd be tempted to label the Smooth X as an extremely impressive selfie stick rather than a full blown gimbal.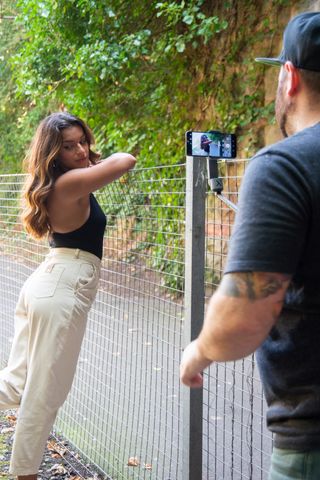 The Zhiyun Smooth X comes with a sleep looking case to house the gimbal when traveling, featuring a hard exterior to keep the device from harm and a wrist strap to help prevent accident knocks and drops. The main stick comes with small detachable tripod feet so you can put it down easily with your phone still mounted in place, or even set it down on a steady surface for filming or creating time lapses.
To get started with the Zhiyun, it's absolutely essential that you instal the ZY Cami app and connect it to the gimbal when you power it up for the first time. Once I had made the initial connection and the gimbal was stabilized I decided to just use my phone's (Huawei p30 Lite) inbuilt camera app so I can't comment much further on how the ZY Cami app works in the field.
Like the majority of gimbals, the Smooth X provides 3 working 'modes', which are Pan-Follow, Lock, and Roll-Pan Follow. All of them work pretty well. You can cycle through the modes by using the very well placed buttons on the front of the stick where your thumb naturally lies while gripping it.
Performance
Watch video: Sample footage shot with the Zhiyun Smooth X gimbal
I shot with my model Sophie for around half an hour, testing how the Zhiyun Smooth X handled the rough terrain we were walking over. However, the gimbal felt really stable throughout the shoot. I particularly liked the ability to roll the phone while walking to create something a little more dynamic.
It was extremely easy to set up and start shooting – it takes literally seconds to clip the phone in and then you can immediately begin (although it's worth noting that you must have pre-paired your device with the ZY Cami app before going out). The only thing missing from the Smooth X would be the ability to tilt with a motor, as if I wanted a tilting up or down shot then I had to do it manually myself. However, this really isn't a deal-breaker considering how affordable this smartphone gimbal is.
The Smooth X has a conveniently placed joystick next to the mode button so you can pan and swivel the head to get some movement into your shots. I was also surprised to see the zoom button on the right hand side work seamlessly with my phone, which meant that I could reframe shots without needing to touch my phone's screen.
After my 30 minute excursion of shooting continuously with the Zhiyun Smooth X, the battery indicator still showed an impressive four bars.
Verdict
The Zhiyun Smooth X is a great piece of kit in a compact and lightweight package. While it might feature a plastic build, the brilliantly affordable price tag helps make this smartphone gimbal a very tempting proposition for anyone looking to upgrade their smartphone videography or vlogging. Plus, the ability to swivel the gimbal head into portrait orientation helps make this gimbal an indispensable piece of kit for any vlogger.
One of our only niggles with the Zhiyun Smooth X is that the ZY Cami app that you need to use in order to set up the gimbal isn't compatible with every phone. However, most phones are capable of running the app, so check the compatibility list here if you're unsure.
Read more:
The best smartphone gimbals
Best laptops for video editing
Best video accessories
Best camera phone