The Redmi Note 10 5G (made by Xiaomi) feels like a direct response to the Realme 8 5G, given the fact both phones carry forward the same ethos – low-cost 5G with just one usable camera. There's a lot more to them than just secondary camera sacrifices and fast mobile data though.
The Redmi Note 10 5G is a big-screened smartphone with a smooth, 90Hz refresh rate display and some fun quirks you don't usually see at the price, including an IR blaster for changing TV channels. Launching alongside a slew of low-cost 5G phones, including the OPPO A54 5G as well as the Realme 8 5G, it's got some tough competition out of the gate.
With its huge 5000mAh battery and iPhone-matching 18W fast-charging, not to mention up to 128GB storage, as a budget phone, its specs look on the money. Hardly the best camera phone of the year though, with pared-back secondary cameras, is its main camera at least good enough to deliver quality photos for the price?
Redmi Note 10 5G: Design and screen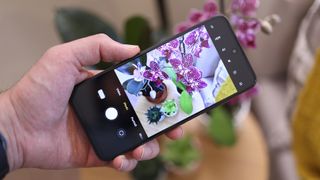 The Redmi Note 10 5G is the best looking of the three budget 5G phones out now, beating out the OPPO A54 5G and Realme 8 5G thanks to its more matte, diffused finish. They're all basically the same size, but the Redmi is the only one to feature a centered punch-hole selfie camera at the top, as opposed to a top-left positioned selfie camera.
Measuring 8.92mm thin, and weighing 190g, the phone's bulk is distinctly middle of the road for Androids, but on the larger side if you're coming from an iPhone. All-plastic, the back of the phone curves into matte sides. At the top of the phone is a 3.5mm headphone jack and an IR blaster, and at the base is a USB-C port. All the buttons are to the right – a power button (which doubles up as a fingerprint scanner), and a volume rocker. As for color choices, you can pick the Redmi Note 10 5G up in Aurora Green, Chrome Silver, Graphite Gray, and Nighttime Blue.
Combining a 6.5-inch screen size and a 1080 x 2400 resolution, the phone has an ample 405 pixels in every inch of display, making it nice and sharp. It's also protected by Gorilla Glass 3 and has a smooth, 90Hz refresh rate. With a typical brightness of around 400 nits, viewing it in sunny environments isn't always the easiest, and viewing angles could definitely be better – the 5G-free Redmi Note 10 Pro, for example, packs a much better panel. That said, out of the 5G budget phones on the scene, the Note 10 5G still delivers a good enough display and impressive design.
Redmi Note 10 5G: Cameras
The Redmi Note 10 5G's main camera module features a half-inch 48MP main camera sensor. Matched with an f/1.79 aperture and a 26mm focal length. It's the same primary camera found on other Xiaomi favorites (an IMX582), including the Poco F3 and Poco X3 Pro.
With a 2MP macro camera which is entirely pointless (the main camera captures better macro photos), and a 2MP depth sensor, the notable omission on the Redmi Note 10 5G is an ultra-wide camera, also missing from the Realme 8 5G. On the plus, at least Xiaomi hasn't removed the selfie camera! The Redmi Note 10 5G sports a front camera resolution with 8MP resolution and an f/2.0 lens.
Xiaomi phones usually pack loads of shooting modes, even on budget bangers, but the Redmi Note 10 5G's modes are surprisingly pared back. Annoyingly for camera enthusiasts, the main omission is Pro Mode, with available modes on our review device limited to (in order of position) Video, Photo, Portrait, Time-lapse, Short video, Night, Slow motion, and 48MP mode.
Redmi Note 10 5G: Camera performance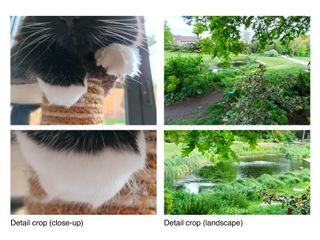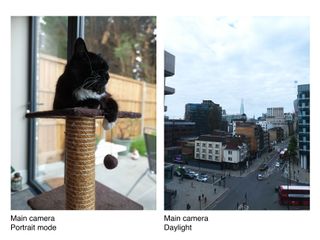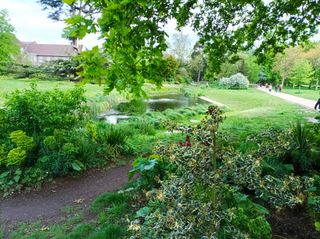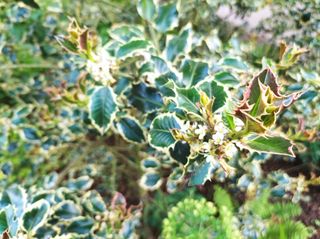 Redmi Note 10 5G: Additional specs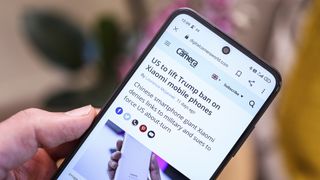 Powered by a MediaTek Dimensity 700 processor paired with either 4GB or 6GB RAM, it won't come as any surprise that the Redmi Note 10 5G isn't a powerhouse. Indeed, if you want something that's going to keep up with your maxed-out 3D gaming, you'd be better off picking up the Poco X3 Pro. That said, for day-to-day use and 2D and simple 3D games, it's more than up to the job.
Running Android 11 with Xiaomi's custom interface over the top, the phone's UI is highly customizable and app support is excellent. There are a few bugs when dark mode is fired up with buttons appearing as invisible in the notifications bar, and occasional adverts within the UI, though at the phone's price, this is a given in Xiaomi's lineup.
You can pick up the Redmi Note 10 5G with either 64GB or 128GB storage. We'd recommend the larger capacity for app-hoarders or anyone with a large WhatsApp backup (these can't be installed on external storage). Thanks to microSD card support though, file hoarders can get away with the 64GB option and a memory card.
Even less of a concern than storage is battery life. While 5G tears through the battery on most phones, with flagship devices like the Xiaomi Mi 11 Ultra lasting a few hours with its 5G mobile hotspot fired up, the 5000mAh battery in the Redmi Note 10 5G easily makes it through a full day with around 40 percent left in the tank, even with moderate use. Thanks to 18W fast charging, it also powers up relatively quickly for the price, taking about two hours to go from zero to 100 percent.
Dwelling on the 5G speeds for a second, one point to note – we got very fast download speeds on the phone; averaging 150Mbps indoors with a 5G signal. That said, upload speeds were slower than when using a flagship phone with a Qualcomm Snapdragon 888 chipset. Not a deal-breaker, just a point to note.
Redmi Note 10 5G: Verdict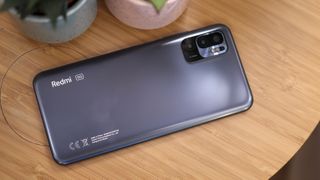 The Redmi Note 10 5G's saving grace is a tried and tested, competent main camera and strong design. It still isn't the best budget camera around – after all, it misses out on an ultra-wide angle of view and manual shooting modes. When it comes to photo quality, however, it's at least competitive, matching all the other budget 5G phones head-on. Where the phone excels is battery life, day-to-day usability, and quirky extras, like that IR blaster. Its design is also our favorite when set against its main competition.
If the Redmi Note 10 5G is a bit too basic for you, Xiaomi's Poco F3 5G is a fantastic alternative that's much more powerful, both in terms of performance and imaging. Alternatively, If you want something with power and are happy sacrificing on 5G, the Poco X3 Pro could be the one for you.
Read more:
• Best camera phone in 2021
• Best budget camera phones
• Best iPhone for photography
• Best burner phone
• Best 5G phone
• Best phablets
• Best flip phones
• Best phablets