The Panasonic G90/G95 aims to be the perfect camera for both stills photographers and video bloggers, so it's not really a specialist in any one area but has powerful features for all kinds of photography and film making.
It supersedes the Panasonic G80/G85 as a DSLR-style mirrorless camera for photographers looking to step up from a basic DSLR or mirrorless camera, or even a smartphone, to something more advanced, and clearly wants to challenge the best 4K cameras for a share of the growing consumer video market. It's one step below the mighty Panasonic Lumix G9 in the Panasonic Micro Four Thirds range.
Read more: New Panasonic Lumix G90/G95 is designed for both stills and 4K video
New features include Panasonic's latest 20-megapixel sensor, which is a step up from the 16-megapixel sensor in the G80/G85 and Panasonic's cheaper mirrorless cameras, but still not quite up to the level of the larger 24-megapixel sensors in rival cameras like the Canon EOS M50, Sony A6400 and Fujifilm X-T30.
But what it lacks in outright sensor size (Micro Four Thirds sensors are roughly half the size in area of APS-C), the G90/G95 makes up for with high-tech features, dual lens and body image stabilisation, 4K video with the option of Panasonic's pro-level V-Log L mode for 12-stop dynamic range when colour grading video footage on a computer, new Live View Composite and 'stromotion' modes and more. You can find out more about this camera's features in our Panasonic G90/G95 news story.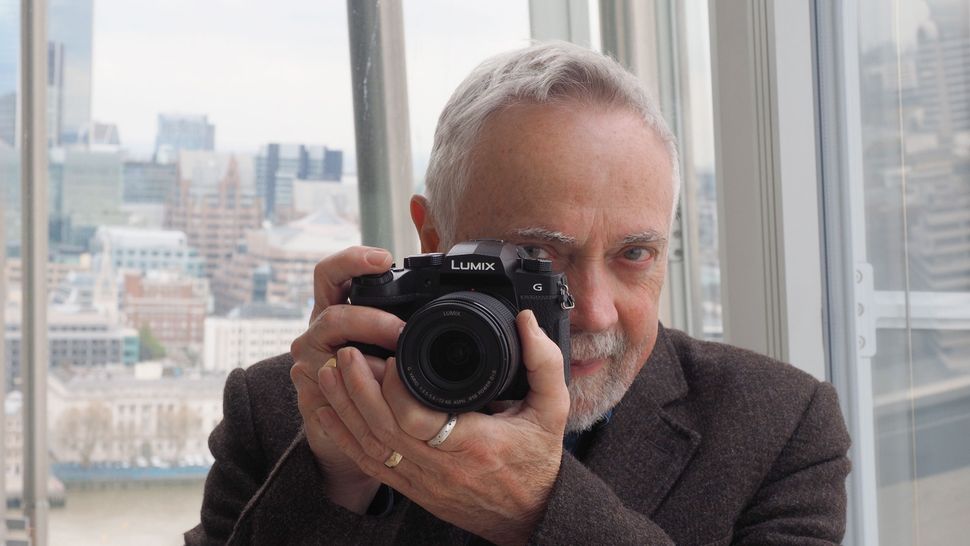 Specifications
Sensor: 20.3MP Live MOS Micro Four Thirds
Image processor: Venus
Autofocus: DFD contrast AF
Video: 4K UHD at 30p, 25p, 24p
Viewfinder: OLED EVF, 2.36m dots, 100% coverage, 0.74x magnification
Memory card: SD (UHS II compatible)
LCD: 3-inch free-angle touchscreen, 2.1m dots
Max burst: 9fps, 6fps with CAF
Connectivity: Wi-Fi, Bluetooth
Size: 148.9 x 110.0 x 96.7mm (body only)
Weight: 1,016g (body only, with battery and SD card)
Build and handling
Unlike Panasonic's rectangular rangefinder-style GX80/GX85 and GX9 models, the G90/G95 is styled more like a compact DSLR, with the electronic viewfinder mounted centrally on the lens's optical axis on the top of the camera, just like the Lumix G80/G85 before it, and like a smaller version of Panasonic's range-topping Lumix G9 model.
The body feels about the same size as a compact DSLR, but the smaller Micro Four Thirds sensor format means that the lenses are correspondingly smaller too, so the Panasonic 12-60mm kit lens fitted to the sample cameras is quite light and compact, despite its wide 24-120mm effective zoom range.
The body itself feels light but well made, and has a magnesium alloy front frame and extensive weather sealing around every joint, dial and button. Panasonic says it's been redesigned and improved for maximum comfort and easy one-handed operation. It already feels chunky and 'grippable', but it will also be possible to fit the same optional battery grip used by the existing Lumix G80/G95.
The electronic viewfinder has a resolution of 2.36 million dots, which is less than half that of the new Lumix S full frame cameras, but thanks to its OLED technology it still looks very sharp and crisp nonetheless, and has a decent 0.74x magnification as well as 100% frame coverage.
Unusually, the vari-angle touchscreen display on the back of the camera uses OLED technology too. The screen flips out to the side but can also be folded flat against the back of the camera, either facing outwards for image and information display or facing inwards to protect it during viewfinder shooting – and the hinge mechanism feels reassuringly solid.
The menu system on this camera is bold, clear and concise, and a lot nicer to navigate through than some we've tried.
One noticeable design change compared to the previous model is the addition of three new buttons on the top of the camera for adjusting the white balance, ISO setting and exposure compensation – and they have different top surfaces to make them easier to recognise by touch alone.
There are two separate front and rear control dials on the top of the camera, and the rear dial has a central button which, when you press it, enables white balance and ISO settings via the two control dials. There's a third spinning control dial on the back, and external controls are clearly one of this camera's strong points because they can be customised to practically any user preference with no fewer than 11 different configurable Fn dial/button settings.
You can change the autofocus mode using a lever to the right of the viewfinder eyepiece, and change the focus area mode by pressing left on the rear controller. The autofocus itself is extremely fast and positive, and certainly seems to justify Panasonic's faith in its contrast-based DFD autofocus system.
The top of the camera also houses the main mode dial, on the right hand side, and a drive mode dial on the left – this also offers direct access to Panasonic's trademark 4K photo modes. With the Post Focus mode, the ability to select a focus point after you've taken a picture still feels quite uncanny even now, though you are restricted to 8MP images (the resolution of 4K video).
All of the dials and controls feel really firm, 'tight' and positive. The G90/G95 is far from being a cheap camera, but along with its advanced specifications, its quality build and handling do feel in line with its price.
The memory card door opens to reveal just a single SD/SDHC/SDXC memory card slot, it is UHS-II compatible. The quoted battery life of 290 shots is mildly disappointing, but Panasonic says the G90/G95's power save mode can extend the battery life to 900 shots between charges. This camera also supports USB charging, so it'll be possible to top up its battery using a portable power bank if you find yourself away from an electricity supply.
Performance
It feels like Panasonic has ticked every possible box for specifications with this camera, and that it's achieved the same thing with its performance. Panasonic has stuck with its DFD (depth from defocus) contrast-based autofocus where other makers have swapped to hybrid phase-detection systems, but here it's so fast and so positive it feels like Panasonic's faith is justified. Focussing feels near-instantaneous, and while it's very common to find the AF point in the wrong place when you put the camera to your eye, that's typical of cameras with touch-screen focus control – it's very easy to brush the screen with your hand or fingers as you handle the camera and change the focus point accidentally.
The image quality is excellent too, both in the lab and in real-world shooting. The Panasonic G90/G95 will usually be sold with Panasonic's own 12-60mm f/3.5-5.6 kit lens and that's the one we used for our tests. It's a step down from the more expensive Leica 12-60mm f/2.8-4 option, but it still delivers great edge-to-edge detail right across its focal range.
The lens range and lens performance is an important factor when choosing a camera, and the Lumix 12-60mm f/3.5-5.6 kit lens offers a zoom range and an optical quality that's a step above the average.
The colour rendition and white balance are very good. The Lumix G90/G95 renders outdoor scenes with vibrant but natural-looking colours, and indoors its auto white balance does a good job of removing much of the yellow cast of artificial lighting.
We had a couple of shots where the exposure was just a little bright, mostly with backlit subjects, but that's easy enough to correct with a little exposure compensation and other cameras are just as bad or worse for this (like the Canon EOS Rebel SL3/250D).
Lab results
For our lab test comparisons, we pitted the Lumix G90 / G95 against three key rivals. The Fujifilm X-T30 is a terrific all-rounder with a higher-resolution 26-megapixel sensor, but no front-facing 'selfie' screen. The Sony Alpha A6400 is a purpose-built vlogging tool that's also good for stills photography and comes in at a similar price point to the Lumix G90 / G95. The Canon EOS M50 is an older camera will less impressive 4K video credentials but a lower price point, a more compact body and a good 24-megapixel APS-C sensor.
Panasonic's new 20MP sensor proves it's got what it takes to generate clean images and more than holds its own against the Sony A6400 and Canon EOS M50. It's only just bettered by the phenomenal X-Trans IV sensor in the X-T30, though the gap does open up a bit more noticeably at higher sensitivities.
The G90/G95 also excels for dynamic range, proving the smaller MFT sensor size can easily cut it against the best APS-C competition. The Panasonic's performance at high ISOs is particularly impressive, making this the new mirrorless benchmark for low-light photography this side of a full-frame camera.
Interestingly, the 24-megapixel sensor in the Sony A6400 just pipped the rest for outright detail rendition in our lab tests, but the other three cameras were very close, and the Panasonic Lumix G90 / G95 matches the Fujifilm X-T30 for resolving power and narrowly beats the Canon EOS M50 at medium to high ISO settings. It might 'only' have a 20-megapixel Micro Four Thirds sensor, but the Lumix G90 / G95 certainly doesn't lose out as a result.
Verdict and competition
The Panasonic Lumix G90/95 feels like a very well made and likeable camera with such a long list of features that it owners might never get to try them all. It's an extremely capable stills camera, but even more impressive for 4K video capture – a Panasonic speciality. The inclusion of a V-Log mode will attract serious videographers who want the best possible video quality and are prepared to spend some time in post production colour grading to get it.
The price for the G90 / G95, however, does seem quite high at over £1,000 / $1199 with a kit lens, especially given that Panasonic has said it will keep the older G80/G85 going at the same time, not to mention the bargain-priced G7 model. This price puts it up against two particularly strong rivals, the Sony A6400 and Fujifilm X-T30, both of which have larger, higher-resolution APS-C sensors. Our lab tests show the Panasonic's smaller sensor does not put it at a disadvantage, but the lure of a bigger sensor and more megapixels for the same money is bound to tempt some buyers towards the competition instead.
There is one strong factor that could tilt the decision in this camera's favour. The Panasonic G90 / G95 has a powerful hybrid image stabilisation combining lens-based stabilisation (where available) and in-body stabilisation. It's easy to overlook the fact that none of its APS-C rivals right now have in-body stabilisation – you have to go for the more expensive Sony A6500 to get that or the far bigger and bulkier Fujifilm X-H1. Canon doesn't do in-body image stabilisation at all.
Panasonic Lumix G90 / G95: the competition
Fujifilm X-T30
The Fujifilm X-T30 combines classic retro camera styling, a super-compact body, excellent build quality and handling and Fujifilm's latest 26-megapixel APS-C X-Trans sensor. It has a bigger sensor than the Panasonic G90 / G95 and access to Fujifilm's excellent range of X-mount lenses, but it doesn't have the Panasonic's fully-articulating screen or its in-body image stabilisation.
Sony A6400
The Sony A6400 is the latest model in Sony's APS-C mirrorless camera range, and boasts a flip-over screen, powerful 4K video capabilities and an excellent autofocus system, all of which make it a terrific camera for bloggers and vloggers. The basic physical design is unchanged since the first A6000 arrived in 2014, though, and feels a little dated and limited for regular stills photography.
Canon EOS M50
The Canon EOS M50 is pitched more at novices than enthusiasts, but it's the closest rival to the Panasonic G90 / G95 in the current Canon EOS M range. It has a larger 24-megapixel APS-C sensor than the Panasonic, but although the Canon shoots 4K video too, it's more restricted, due to a heavy 'crop factor' in 4K mode and 4K autofocus limitations. The EOS M50 doesn't have in-body stabilisation, but it is very compact.
Read more:
• Best mirrorless camera in 2019
• Best travel camera in 2019
• Best cameras for vlogging
• DSLRs vs mirrorless cameras: how do they compare?
• The best Panasonic cameras