Orskey might not have the brand recognition of Garmin or Nextbase. But in the S960 reviewed here, the company offers a three-channel dash cam for well under £100. Currently available from Amazon for £69.99 or $89.99 from Orskey, the S960 records a forward-facing view in 1080p Full HD, while also recording views of the interior and from the rear of the car, each at 720p HD.
Add infrared night vision, HDR, fairly wide viewing angles and a three-inch screen into the mix, and the S960 is already shaping up to be a compelling dash cam for drivers on a budget that doesn't stretch to models from some of the better-known manufacturers. For those who need an interior view, like taxi drivers, it's already looking like a no-brainer.
Orskey S960 specifications
Sensor: Not stated
Resolution: 1080p (front), 720p (interior and rear)
Field of view: 170 degrees (front), 155 degrees (interior), 165 degrees (rear)
Frame rate: 30fps
Screen: 3in LCD
GPS: No
Key features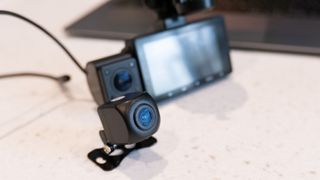 The headline feature is how this Orskey is a three-channel dash cam. This means it records a forwards-facing view, like all other dash cams, but also records a view of the interior from a camera fitted to the main unit, and a back-up camera view facing out from the rear of the car, via an included additional camera unit that attaches with a long cable.
Interior-facing dash cams aren't for everyone, but are often useful for taxi drivers who want the added security that comes from recording their passengers (hence the term Uber dash cam). The rear-facing camera doesn't have to be used, but is very easy to plug into the main unit with the included cable. That said, routing the cable through your car can be a challenge, so buyers might want to consider professional installation.
Another useful feature is the large, three-inch display on the rear of the unit. This makes it easy to set the camera up, as you can clearly see where each camera is facing. And, while this is a personal opinion, we much prefer navigating through a dash cam's settings menu on the unit itself, rather than installing an application and connecting it to our smartphone, all to adjust simple parameters like the video resolution, microphone, or incident detection sensitivity.
Build and quality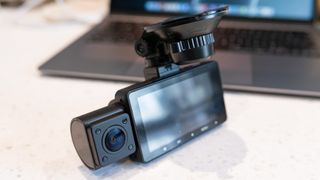 It only takes a few seconds of handling to realise how Orskey can offer this dash cam for such a low price. In short, it feels cheap because it is, and it clearly lacks the quality of pricier rivals from Garmin and Thinkware. That said, how often do you actually play around with a dash cam? Chances are, you install it and never really touch it again, until the day you need to pop out the microSD card and transfer footage of an incident.
As such, we're not too concerned about the cheap-feeling Orskey. The interior camera pans vertically to get a good view, while the main unit can be adjusted horizontally and horizontally. Unfortunately, there's no way to lock the device into place, so it can freely turn left or right if knocked or its power cable is touched.
The camera comes with a suction cup-style windscreen mount with a rotating lock that works well and feels secure. Five buttons on the bottom edge of the unit control the operating system, while the rear camera sits on a hinged metal bracket that can be screwed to the back of your car. It's a slightly crude means of installation, and we recommend hiring a professional to mount it (and hide the cable) correctly.
Performance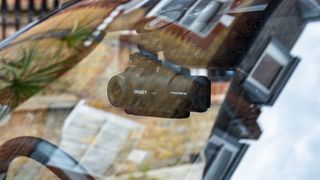 Each of the cameras saves its footage in a different folder of the microSD card (not included; up to 128GB supported) to make it easy to view back later. A date and time stamp on each video makes it easy enough to gather up the right recordings if you ever need to present evidence after an incident.
The main camera records in Full HD and therefore its footage looks a lot like that of most other dash cams. It is sharp and clear, with details like number plates easy to pick out. The interior camera is only 720p HD resolution and the footage often has a pink tint to it. The lens is still plenty wide enough to capture the entire cabin, and while detail levels aren't great, it's still a useful addition for taxi drivers.
The same can be said for the rear camera. The 720p resolution is passable, and should still be good enough to help determine blame after an accident.
Orskey S960: Verdict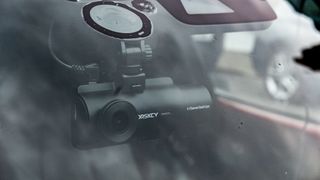 Don't judge a book by its cover, and nor should you judge a dash cam by the obscurity of its name. You may not have heard of Orskey, but the S960 is a surprisingly good dash cam for the price. The build quality isn't match for pricier rivals, and the rear camera's 720p resolution isn't fantastic. But for $90 / £70 this three-channel dash cam is great value for money.
We like the inherent simplicity that comes from not having Wi-Fi, Bluetooth or a smartphone app to contend with, and we like the large, three-inch display. Most drivers won't need the interior cameras, but for taxis drivers we think this Orskey is a compelling dash cam package.
Read more guides:
Best dash cams
Best front and rear dash cams
Best Uber dash cams
The best camera phones today
Best indoor security cameras
Best outdoor security cameras
The 10 best action cameras
The best helmet cameras
Best backup camera