Looking for the best backup camera for your vehicle? Our guide will help you choose the right one for your budget – and show you where you can find it at the best price today.
It's a lot easier to back up with a new car; there's probably a reversing camera built-in (in fact it's now a legal requirement in the USA). It's not beyond the bounds of possibility that it'll park itself.
Only a few years ago, however, it was a very expensive option so most vehicles on the road lack the feature. As a retrofit, things can be much cheaper – plus you don't need to buy a new car at the same time. For those with multiple cars, it means you can make your reversing experience more consistent, too.
Adding a backup camera is also a good move on vans and trucks. If you're the enterprising type and your business is a mobile one, imagine how much easier things could be if you had a camera to help out when making deliveries at unfamiliar locations. Back into someone's fence and not only will you face damage charges and increased insurance rates but lose customers. Courteously avoid disaster and you'll impress.
When it comes to fitting, there are different approaches (see our notes below the list). Reversing cameras are typically attached to the top of the license plate, with a cable run to a monitor which you fit on the dash and a shorter one to the reversing light to tell the camera it's needed. This approach is widely supported and can be readily fitted by a pro or an enthusiast mechanic, though there are different levels of difficulty on this list. Since dash cams that record potential incidents are also a popular option amongst motorists, some combine the functionality.
Given that up to 30% of collisions are caused by rear-ending, it makes sense to capture evidence this way, so cameras discretely fitted to the front and back are ideal. Some even keep recording while you're parked, helping avoid runaways as well as insurance fraud.
Best back-up cameras: our top picks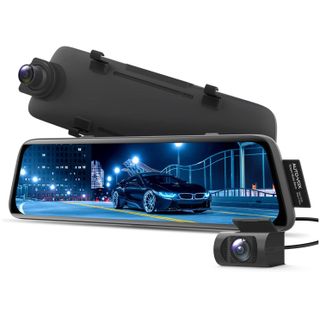 Best smart option
The Auto-Vox V5 is already a great reversing & dash cam, but this 'Pro' option is designed to be fitted directly to a car's fuse box so it really blends into the driving experience.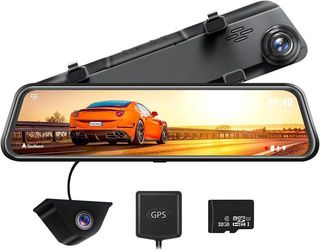 2. Wolfbox G840H 12" 2.5K
Best on a Budget
The Wolfbox G840H, a refined version of the company's G840S, incorporates back-up camera, HDR loop recording which benefits from a G-sensor to detect collisions, and a Sony Stavis sensor to help ensure license plates are committed to the microSD card.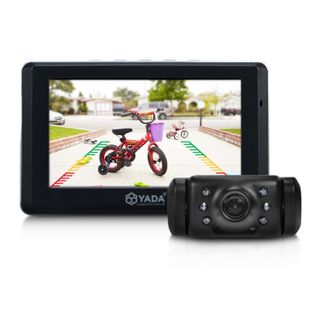 3. Yada BehindSight BT54860
Best for Pickups
The slightly chunky IP67 camera works in most weather conditions but you should look elsewhere if you expect to face extremes regularly rather than face the risk of the camera fracturing over time.
Best back-up cameras in 2023
Why you can trust Digital Camera World Our expert reviewers spend hours testing and comparing products and services so you can choose the best for you. Find out how we test.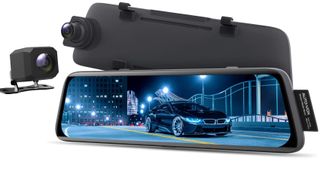 The Auto-Vox V5 is already a great reversing & dash cam, but this 'Pro' option is designed to be fitted directly to a car's fuse box so it really blends into the driving experience. 1080P video might not be the highest resolution available, but the Sony sensors capture good footage which is more than adequate for insurance evaluation. Assuming you supply the maximum 64GB SD card, that'll record up to 72 hours, automatically recorded on a loop overwriting the older footage, and adding GPS geodata as it goes.
To use as a simple dash cam, the only cable you'll need to run is the one from the rear camera to the mirror, but to operate as a back-up camera it also needs to be wired to the reversing light. When you engage reverse and the light comes on, and the device knows to display the rear view on the screen.
The whole mirror replacement is a touchscreen that lets you see 5 lanes and has a lot of handy functions; from split-screen dual view to dragging-and-dropping the reversing guidelines just where you like them once you've fitted the camera, and brightness is adjustable (a backlit monitor needs to be much brighter in the day).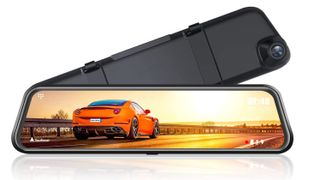 The Wolfbox G840H, a refined version of the company's G840S, incorporates back-up camera, HDR loop recording which benefits from a G-sensor to detect collisions, and a Sony Stavis sensor to help ensure license plates are committed to the microSD card. The device's main strength can be seen as its biggest weakness too; the 12" screen (which attaches to an existing mirror using the rubber bands included in the box) can feel a bit big in a smaller vehicle (but Wolfbox does offer 10" versions).
We did appreciate the powerful dual-core processing, not insignificant here it is important devices that are subject to so much sunshine do not overheat, but also for the more prosaic reason that it makes the touchscreen smooth enough to use (though these things could always be better). Some customers might find the extensive feature list a potential confusion, but for most this is an exciting upgrade.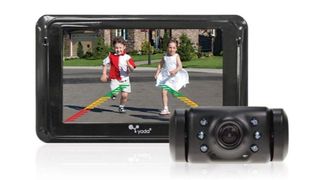 Yada actually provides a good range of choices when it comes to monitors, from 2.4-inch options for suction mounting through 3.5 and 4.3 all the way up to this 5-inch. That goes to emphasize the fact that, while the size is important, it's more to do with the space in your vehicle than the viewing experience. If you have a big-ish family car, 5 inches (plus bezel) won't obscure too much of your forward view so it's a good choice.
Useful for many are Yada's fitting assistance efforts, including videos, a toll-free helpline (in the USA), and their catalog of professional installers, so fitting shouldn't be a chore, and the system is 12 or 24V compatible and, once fitted, is triggered automatically by reverse gear. These are the benefits of an established brand and model (the downside is newer designs have higher resolution, but this has all the important features).
The 2.4GHz digital wireless transmission works through the vehicle but doesn't really have the range to go at the back of a trailer too. The slightly chunky IP67 camera works in most weather conditions but you should look elsewhere if you expect to face extremes regularly rather than face the risk of the camera fracturing over time. You might also find that, although wireless is convenient to fit, there is a lag between engaging the reverse and the monitor detecting & displaying the video signal.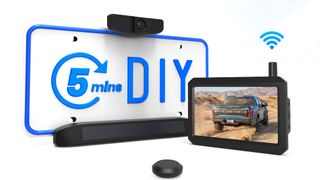 Fitting a reversing camera can be a daunting task if you're not a motor enthusiast, but there is an unsurmountable need for power (the screen and the camera) and a connection between the two. The Auto-Vox Solar 1 takes advantage of wireless to transmit the video from the camera, and a solar panel to power it.
In pure specification terms, the 5-inch display is a bit disappointing (a 7-inch version is available), It draws its power from your vehicle's 12V (cigarette lighter) socket, has three buttons on the side to tweak settings, and a small antenna attachment and a remote, battery-powered switch you can stick somewhere within reach of your driving position.
The actual fitting involved removing your rear license plate (which must be under 17cm/6.97-inches tall). After that, tuck the solar panel & camera bracket behind and screw it back together. The solar block houses a 2,800mAh battery which the panel will help top up, but there is also a Micro USB socket which you'll definitely need if you keep your vehicle in the dark a lot (it certainly needs a full charge before first use, too). Oh, and don't forget to clean the solar panel!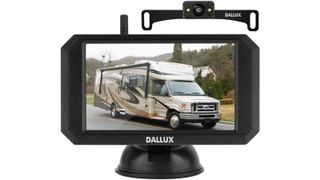 If you're looking for decent resolution, a wide angle of view, and the monitor to see that picture back on, then Dallux is offering a single camera that could help you out whether you're looking to fit it on a car, camper, truck, or SUV. The camera sends a 1080P signal, but the 5-inch monitor (which, yes, could also be more elegant) displays at its maximum resolution (1024 x 600) – Dallux does sell different screen configurations.
The camera can draw power from the 12-30V which powers your taillights. Because it returns a signal as digital wireless it is easier to fit than some while still being secure. How often the secure video is needed for reversing cameras is open to debate, but practical security comes from easily popping the monitor out of sight when parked thanks to the suction cup.
The IP69K camera is partnered with two LEDs to help illuminate the view behind and can operate in temperatures from -68˚F to 176˚F (-55˚C to 115˚C, not that we were able to test this). Any image can be mirrored and have guidelines added or removed via the menu (avoiding a permanent choice by cutting a wire on installation).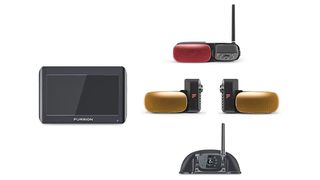 If you're hauling a big camper, you need to think about driver visibility, indicating the presence of the load, and – when you reach your destination – the safety of you and your possessions. The Vision S system is built to contribute in every aspect with a selection of cameras; not just the rear Sharkfin with 120-degree visibility but side cameras with 65-degree visibility and amber marker lights. These can be installed in place of existing lights, cutting down on installation effort – ideally at the front on either side to give a view of the blind spot. Finally, a doorway camera is included which affords a better view of visitors – welcome or otherwise.
When you're parked up, the 7" touch screen can be rested in the camper on the supplied stand, and – except for the side-view cameras – there are microphones in these cameras so they can even help you listen as you monitor events outside, though we'd have liked to see a record function.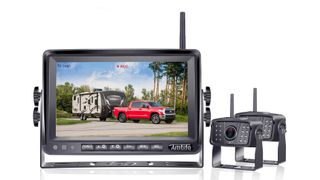 With a theoretical maximum (without obstruction), the 1080P video signals from these cameras can travel nearly 1000ft (300m), meaning they still have a decent amount of range when the radio waves need to negotiate the structures of a truck or RV.
Each of the cameras is designed to withstand the outdoors, with an IP69 rating. The mounting brackets afford a good range of movement, though at 3.3 inches/8.5cm wide they're not designed for smaller vehicles. Not that the extra size doesn't have a purpose; it houses 16 LEDs to provide automatically enabled infrared night vision when needed – don't forget you'll need to hook the cameras to power sources – a big camper's running lights are handy for this.
The 7-inch monitor is sharp, with a selection of buttons to tweak settings like reversing lines and split screens. It's designed for a big cab, but offers fan-shaped or bracket bases. It is also home to the SD card which can record a loop from the up-to four cameras (the included 32GB records 68 hours in this dual camera arrangement).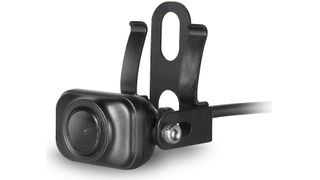 The chances are, if you're thinking of adding a backup camera to your vehicle, you've come to accept there will be an extra monitor in the cab. If so, it'd be nice to have as many features as possible for as little clutter, which is along the lines Garmin, perhaps better known for its GPS navigation systems, have been thinking. The result is the BC35 camera which can be used with several of its Navigators, including the dezl 780 or the Overlander.
The BC35 has wide 160˚ horizontal viewing through its CMOS sensor, and sends its video signal wirelessly, though you'll need to draw power from a source in the vehicle when you fit it.
Garmin also offer a battery wireless camera which can be attached to the top of a license plate, the Garmin BC40, but the BC35 comes with a good length power cable (15ft/4.5m) but a slightly random selection of other cables with the fuse flimsily mounted in the lead.
If you opt for the touchscreen Garmin Overlander – a kind of motorist's tablet – you get the BC35 with a range of other features including cloud backup as well as local recording, so this is an elegant and useful solution for traveler.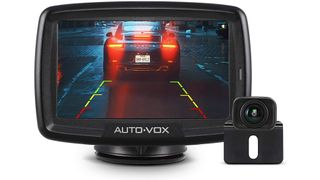 Auto-Vox's digital signal means this one-channel system might not be the cheapest, but it produces a more reliable image than those subject to analog interference. Digital images aren't subject to excessive saturation either, while parking likes can be overlaid too, albeit a limited set of positions.
The camera is connected to (and draws power from) the reversing light, while the monitor is plugged into the lighter socket and offers a spare USB port to charge phones. This makes it an easy DIY install.
The rear-view camera can operate in low-light environments, and with IP68 grade weather protection shouldn't struggle with the great outdoors. It does, however, have a narrower field of view than some, but this is a matter of taste; this also means it side-steps any fish-eye distortion.
The pack also includes a constant power cable and fixings so the monitor can be used for towing too.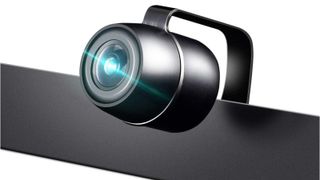 If you've already fitted a car monitor, then you'll likely find it has an RCA port for an analog video feed from a camera. If that's what you've got (or you're having one fitted) then the ERT02 – eRapta's second generation – makes a great choice backup camera.
To install, the camera is connected to the reversing light for power and the video and a control lead which tells the system when reverse is engaged to it takes over the display. The camera is IP69 waterproof, and can survive a carwash, while the view has been improved over its predecessor.
The camera has a glass lens and a typical 30fps refresh, so it can produce a decent image without digital judder. The 26ft RCA cable is enough for a sizable truck or car, and two different mounts are included.
If your car is not equipped with a suitable screen – or you don't feel qualified to lift the entertainment system from the dash – eRapta offer a version of the camera with a monitor.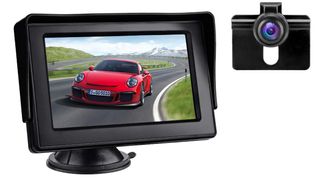 This is a simple and cheap solution which can obtain its power via the cigarette lighter and then needs only one cable to be run to the camera, which clips over the license place. Despite the modest price, the screen can be used in normal and mirrored modes with optional reversing guides and the camera even has 'Super Night Vision'.
The backup camera itself is pleasingly discrete, not only IP68 waterproof but can be fitted without drilling but just attaching to the top of your number plate. (You could attach it over the front plate too if that's where you needed help). The resolution might not be true HD, but it's more than up to the task.
Manual switching may offend the sensibilities of car tech enthusiasts, and changing settings is far from simple, but many car and van drivers like having the ability to keep the view on in other driving situations, so for some that might be a plus.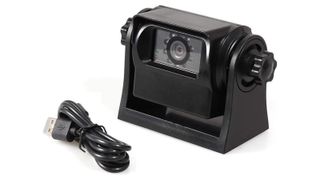 Choosing a backup camera
Reversing cameras divide long three main lines. These are:
Is there a monitor?
If your car has a screen, especially an aftermarket head unit, then your camera can be displayed on that. If you have an original (OEM) monitor, or none at all, you'll likely need a separate monitor. Separate monitors might take the form of stand-alone items you can attach to your windshield or dash. Some of our favorites are integrated into a rear-view mirror.
Wired or Wireless?
Wireless systems can be quicker to install, though despite the name they probably still involve wires. The term usually means there isn't a wire to the display, but you'll still have to connect the camera to the reversing light.
Mounting point?
This is very often above the license plate, with a camera designed to fit into the plate mount. The alternatives are a universal mount that can be placed anywhere (perhaps even inside the rear window) or perhaps a brand-specific design.
Read more guides:

The Best camera phones today
Best front and rear dashcams
Best Uber dash cams
Best 3 channel dash cams
Best borescopes and inspection cameras
Best thermal imaging camera
Best indoor security cameras
Best outdoor security cameras
The 10 best action cameras
The best helmet cameras
The best baby camera monitors