The best dash cams – short for dashboard cameras – have become an important means of protection for motorists, but choosing the best camera can be difficult, especially if this is the first time you've bought one.
Even if you already have a dash cam, or you've purchased one in the past, the technology is moving so fast that it's worth catching up on the latest kit to see if you're still using the best dash cam for your needs.
The technology has a lot in common with the best action cams, but it has been specially adapted for in-car needs. If you ride a cycle or motorcycle and you're looking for something similar, check out our guide to the best helmet cameras.
Dashboard cameras come in all shapes and sizes, with feature sets and prices to match. Some shoot in 4K, some have 'night vision' and some even offer driver-assistance technology, while others try to win points for being compact, cheap and simple to use.
While what you want from a dash cam may vary, the basics are pretty simple and universal. These are cameras recording a front-facing view of the road ahead as you drive; if you should be unfortunate enough to have an accident – or witness one – the camera can save its footage to an SD card, ready to be used as evidence.
Some remain permanently attached to your windscreen and start recording when you fire up the ignition, making them feel like factory-fit optional extras. Others can be stored in your glovebox, then clipped to a magnetic dock on the windscreen for each journey.
Some models can be hooked up to second, rear-facing camera, and other systems record time-lapse footage for a couple of days after you last parked, thanks to feeding off the car's battery.
If you're a cyclist or a motorcyclist, our list of the best GoPro cameras might help you find the ideal helmet cam to record events on the road, along with the best GoPro accessories. If you're concerned about security and safety, you might also want to take a look at our guide to the best insurance for photographers.
With so many options to consider, Digital Camera World is here to walk you through the best dash cams available right now…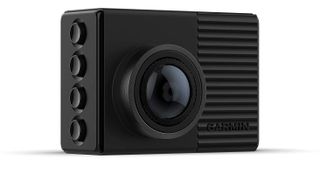 1. Garmin Dash Cam 66W
Our favorite dash cam has just got better, with a wider angle of view
Video quality: 1440p with HDR at 60fps | Viewing angle: 180 degrees | Integrated GPS: Yes | Screen: 2.0-inch LCD, 320 x 240
Compact size
High resolution
Extra wide field of view
More expensive than some
Battery life just 30 minutes
The new Garmin Dash Cam 66W is the replacement to our favorite dash cam from the last year, the Garmin 55. The new model retains its predecessor's compact size and ease-of-use, but increases the field of view from 122 degrees to 180 degrees, giving a far broader view of the front of your car and the road ahead. Also new is HDR (High Dynamic Range) video recording, to help retain detail in high-contrast lighting, while a Wi-Fi connection to your smartphone and the free Garmin Drive app means you can connect up to four cameras at once and synchronised the video they shoot, giving a 360-degree view around your car. Battery life is just 30 minutes without plugging into your car's lighter socket, and if opt for a hardwired professional install the camera (or cameras) will stay on when parked, then record if someone carelessly bumps into your car while parking or driving past.
2. Nextbase 522GW
Arguably the best video quality available in a dash cam
Video quality: 1440p at 30fps / 1080p at 60fps | Integrated GPS: Yes | Screen: 3-inch LCD
Fantastic video quality
Amazon Alexa
Emergency SOS
Not 4K (but that's good!)
Menus need modernizing
While it doesn't offer the 4K option (or the higher price tag) of its bigger brother, the 612GW, the Nextbase 522GW arguably offers superior image quality. At both 1440p (30fps) and 1080p (60fps) the video of crisp and clear – and it's worth noting that 4K is something of a poisoned chalice, given the resulting file sizes. Being the first camera to bring built-in Alexa functionality to Europe, it offers voice control over everything from incident recording to playing music and asking for directions. Perhaps its best feature, though, is Emergency SOS, which can detect a serious collision and alert the emergency services to your vehicle's exact whereabouts if you are unresponsive. This potentially life-saving feature makes the 522GW hard to beat.
3. Anker Roav C2
"Total night vision" and able to withstand extreme heat and cold
Video quality: 1080p | Integrated GPS: Yes | Screen: 3.0-inch LCD
Sony Starvis sensor
Works from -4° to 158°F
Comes with 32GB card
Slow Android app transfer
Slightly laggy GPS
One of the most trusted names in devices such as power banks has expanded its reach to dash cams, and the Anker Roav C2 has some formidable functions that make it well worth considering. Its flagship feature is the tag team of a Sony Starvis sensor and Nighthawk technology, to give you "total night vision" and the ability to record license plates regardless of how dark it is. The C2 is also built to withstand weather extremes, operating from -4° to 158°F (-20° to 70°C), making it suitable for freezing cold and beating sunshine. Its integrated gravity sensor automatically records impact incidents even if you're not in the car, and you can easily pull footage onto your phone using the Roav app – though transfer speeds can be sluggish on Android phones, as can real-time GPS tracking.
4. Garmin Dash Cam Mini
A tiny, key-sized camera at very affordable price
Video quality: 1080p at 30fps | Viewing angle: 140 degrees | Integrated GPS: No | Screen: No
Tiny design
1080p Full HD
No screen
No battery
A new member of the Garmin Dash Cam family, the Mini records 1080 Full HD video through a 140-degree lens, and measures just 3.1 x 5.3 x 2.9cm - roughly the size of a small car key. Truly a set-it-and-forget-it device, the Garmin Dash Cam Mini is designed to tuck neatly and subtly behind your rear view mirror, and once either plugged into the lighter socket or hardwired to the car's fuse box, will boot up when you turn the ignition and record when it detects a collision. If hardwired it will also remain alert while parked, then record if someone drive into your vehicle. There's no display (so no distraction for the driver) and no internal battery, but the compact size and simplicity more than make up for this. A Wi-Fi connection to the Garmin Drive phone app makes it easy to download saved footage from the camera when you need it.
5. Thinkware F800 Pro
The F800 Pro brings speed camera alerts, night mode and a factory-fit look
Video quality: 1080p | Integrated GPS: Yes | Screen: No
Factory-fit look
Enhanced night vision mode
No display
Expensive
If you want a dash cam which looks like it was fitted to your car in the factory, the Thinkware F800 Pro is for you. It's designed to fit snugly up against the top of your windscreen, behind the rear-view mirror and neatly out of the way. The Pro model can also be hard-wired to your car's battery, meaning it will boot up when you turn the key, continue recording while parked, and leave your car's 12V socket free for other uses, like charging your phone. There's also an enhanced night vision setting to improve low-light videos, speed camera alerts, and the option to fit a rear-facing camera too. There's no touchscreen, which could be seen as a negative, but Wi-Fi means it's easy enough to connect the camera to your smartphone to view recordings and alter the settings.
6. Vantrue X4
This feature-packed camera has 4K, night vision and parking recording
Video quality: 4K at 30fps | Viewing angle: 160 degrees | Integrated GPS: No | Display: 3.0-inch LCD
4K video
Night mode
Parking recording
Memory card compatibility
If you're looking for a dash cam that records video in 4K, the Vantrue X4 is a great option. As well as 4K 30fps it can also record both 1440p and 1080p up to 60fps. The camera has a host of other features too, notably including a worthy night vision mode (powered by the Sony IMX317 sensor) as well as a 24-hour parking mode, to start recording when it detects motion around a stationary vehicle. The 160° viewing angle can also record up to 4 lanes of traffic, and helps reduce blind spots. However, the X4 isn't universally friendly to memory cards; specifically, the manufacturer states: "Please DON'T use Sandisk Card and Transend Card".
7. BlackVue DR900S-1CH
4K video, discreet design and remote access via the cloud
Video quality: 4K at 30fps | Integrated GPS: Yes | Screen: No
Cloud access for remote viewing
4K video resolution
No display
Most cloud features require monthly fee
This offers a neat factory-fit look, but also has the advantage of a slim and compact design. The BlackVue DR900S-1CH offers 4K video recording, a wider lens than most of its rivals (162 degrees), GPS and parking mode. On top of all that, there's a cloud-based subscription package for viewing live and recorded footage remotely, and a service which pushes a notification to your smartphone when the camera detects a collision – useful if your car has been bumped while you're away. Not everyone will want to pay for a subscription service, but we can see the added benefits being useful for fleet managers who want to keep tabs on their vehicles.
8. Orskey Dash Cam
It's the best budget dash cam, with full HD & 3in touchscreen
Video quality: 1080p | Integrated GPS: No | Screen: 3.0-inch LCD
Very low price
Wide 170-degree lens
No internal storage or SD cards included
Only 30 frames per second
This dash cam is a sold option for those on a budget. Despite the low price, you get a reasonably compact camera with a Full HD image sensor and night vision. The camera uses a suction cup for attaching to your windscreen, which means no need to fit a more permanent sticky-backed magnet. The camera has a G-sensor for automatically saving footage from just before and after a collision, and an HDMI port makes for easy video playback. Downsides are that the video footage is capped at 30 frames per second (many other dash cams record at 60fps), and there is no internal storage. On a related note, it only accepts SD cards of up to 32GB, which isn't a huge amount.
9. Nextbase 112
It records in standard HD only, but it's cheap, simple and practical
Video quality: 720p at 30fps | Integrated GPS: No | Display: 2-inch
Compact, yet also has a display
Low price
HD recording is limited to 720p at 30fps
No GPS
With its compact design and low price, the Nextbase 112 is a strong contender for best budget dash cam. It records in HD (albeit only 720p resolution instead of the superior and sharper 1080p), has a two-inch screen on its back, and fixes to a convenient magnetic windscreen mount. Endorsed by the UK's Automobile Assocation, this camera is intended to be plugged into your car's lighter socket, but also has a backup battery which can record video for up to 30 minutes should the camera's G-sensor detect a collision. Readers who drive a lot at night may want to consider a camera with a higher resolution sensor and better low-light performance. Of course extras like voice commands and a parking mode are absent here, but for the price it's hard to fault this camera.
10. RoadHawk Vision Super HD
Small and simple, the RoadHawk can hide behind your interior mirror
Video quality: 1296p | Integrated GPS: No | Screen: No
Compact and discrete
Very small windscreen mount
Middling resolution options
No GPS
Your money here is going into a compact and subtle design rather than a boat-load of features. The RoadHawk dash cam is small enough to hide neatly behind your interior mirror, fitting to a very small mount stuck to the windscreen (instead of a larger suction cup). However, the lens is only 120 degrees, there's no display (obviously, given the size), and the camera lacks GPS. Video is transferred to your smartphone via Wi-Fi, or you can pop out the included 8GB SD card for copying to your computer. Full HD is only offered at 30 frames per second, or 720p at 60fps.
Read more:
Best camera phones in 2019
Best wifi camera: for home security and surveillance
The 10 best action cameras