Looking like it is straight out of Thunderbirds, the Wristcam is a novel add-on device for the Apple Watch. By adding two cameras to this strap, the user adds both a front and rear cameras to the Apple Watch – allowing you to use it to take pictures, shoot video, or make video calls.
First introduced in 2015, the Apple Watch is now in its sixth generation – but none of the versions so far have cameras built in as they are designed to be an hand-worn accessory for an iPhone, rather than an independent device. But the makers of the Wristcam has now come up with an option for what to do if you don't have your iPhone with you - but want to take quick snap of something you see, or Facetime someone when out for a jog.
The Wristcam features an 8MP front-facing camera that can shoot 1080p or 720p video at 30fps. The self-facing camera offers the same video options, but has a reduced stills resolution of 2MP. There is 8GB of built-in flash memory allowing you to capture images and video when you do not have your phone with you - and which ync to your iPhone's image library when the two devices are again connected over wifi, via the Wristcam iOS app.
The chunky strap is made of silicon, and is fully waterproof. Its rechargeable battery promises to to be able to deliver up to 30 minutes of video recording between charges.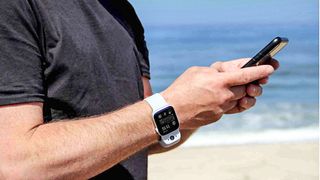 The strap is controlled through the use of a single button. You capture photos with a single tap, long-press to start recording video, with a quick tap after to stop recording and double tap to toggle between cameras.
The Wristcam is available to preorder now, in a choice of five colors, in versions to suit 38/40mm and 42/44mm – and retails at $299. The Apple Watch and iPhone, of course, are extra.
Read more
Wristcam review
Best iPhones for photography
iPhone 12 Pro review
iPhone 12 Pro Max review
iPhone 12 Pro vs Max
iPhone 12 Pro vs iPhone 11 Pro
Best flip phones
Best phablets