If you're a videographer, then you know how important a good gimbal can be. Smooth and steady footage can be the hallmark of a professionally shot video, so investing in the best gimbal possible is important. Luckily, B&H has currently got a deal on the Zhiyun-Tech CRANE 3S PRO handheld stabilizer, offering $450 off the gimbal! However, this deal will end in 16 hours (from the time of publication), so don't delay.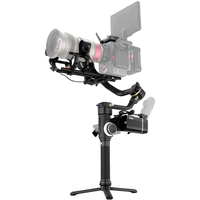 Featuring a large 14.3lb payload, a redesigned detachable SmartSling handle and an updated Axis Locking System, the Zhiyun-Tech CRANE 3S PRO is perfect for handling the weight of cine cameras with ease. This gimbal is a redesign of previous Zhiyun models with additional detachable handle options, including the SmartSling that features an integrated joystick and control buttons and the EasySling that features a simple grip without the controls.
Designed to make your life as a videographer as easy as possible, this Zhiyun gimbal also features external power output and the ViaTouch 2.0 motion control system. Meanwhile, the Transmount Image Transmission System transmitter is also included with the 3S PRO. This transmitter enables you to connect to your camera, mount the transmitter on the gimbal and transmit your live camera view to a separately available Transmount receiver.
Interestingly, the Zhiyun-Tech CRANE 3S PRO also includes a smartphone clamp, which means you can easily capture behind-the-scenes footage on your phone while you're hard at work with your main camera.
Read more
Best gimbals
Best mirrorless camera
Best cinema cameras
Best cameras for video