Update - April 4, 2023
The new Voigtlander NOKTON 55mm f/1.2 SLIIs will go on sale in May, we are now told by manufacturers Cosina. The lens will retail for 88,000 Yen (around $665 / $530). The compatible LH-55s lens hood however is not included, and we cost an additional 5,500 Yen ($42 / £35).
---
Original story - February 21, 2023
Praise be to the camera gods, as it seems we have been blessed with a photographic miracle. That's right, in the face of a seemingly omnipotent force towards mirrorless domination, Voigtlander has come amongst us with a new lens... for good old DSLRs!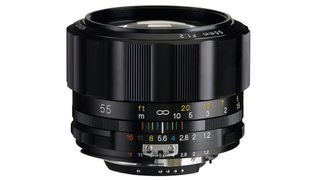 Don't get too excited though. You can forget about cutting-edge stabilization systems or lightning-fast autofocus tech - the 'new' Voigtlander NOKTON 55mm f/1.2 SLIIs lens looks like it belongs firmly in 1983, not 2023. Designed for Nikon F-mount DSLRs, it's styled both in line with Voigtlander's signature retro aesthetic, but is also modelled unashamedly on period NIKKOR lenses like the Nikon 50mm f/1.4 AI-s from the early 1980s.
Despite its large f/1.2 maximum aperture, the lens weighs just 365g and is also compact at 48.1mm long, with a 69mm diameter. The optical stack is said to consist of 7 elements in 6 groups, though we don't yet know if any of these are aspherical or low dispersion elements.
The most detail that's been revealed is on the specific mount type that the lens uses. Sure, the basic coupling is Nikon F-mount, but specifically this is based on Nikon's AI-s mount - the F-mount variant that preceded AF (and later AF-S and AF-P variations). This makes sense as the Voigtlander lens is manual focus only, but it does have electrical contacts to facilitate aperture control from the camera body, as well as automatic exposure metering. Consequently the NOKTON 55mm f/1.2 SLIIs should be compatible with modern Nikon DSLRs as well as much older F-mount film SLR cameras.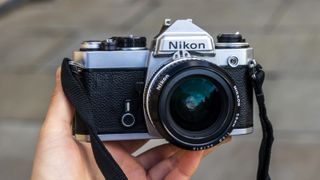 The new lens is one of five new optics launched at CP+ 2023 (February 23-26 in Yokohama, Japan). These include Voigtlander's first Canon RF mount lens – the NOKTON 50mm F1 Aspherical RF-mount – as well as a trio of Fujifilm X-mount optics, one of which is lenses a super-fast 35mm f/0.9 lens. Pricing and availability of these lenses and the new F-mount lens have yet to be revealed.
Story credit: Nikon Rumors
Read more:
The best DSLRs
The best Nikon lenses
The best camera for beginners
Best cameras for enthusiasts
Best professional cameras
The cheapest full-frame cameras
Best mirrorless cameras
DSLR vs mirrorless cameras