Tamron has unveiled the full specs and details of its portrait zoom lens, the Tamron 35-150mm F/2.8-4 Di VC OSD, which will soon be available for Canon EF and Nikon F mounts.
It is part of the trio of full-frame lenses announced by the manufacturer in February, which also includes a pair of wide-angle lenses: the Tamron SP 35mm f/1.4 Di USD for Canon and Nikon as well as the Sony-only Tamron 17-28mm f/2.8 Di III RXD zoom.
Intended to challenge for the title of best portrait lens, the 35-150mm optic comprises an unusual focal range – and Tamron is playing fairly loose by including 35mm in what it is marketing as a "fast, compact portrait zoom" (particularly as, at traditional portrait lengths, it isn't actually that fast, dropping to f/3.5 at 85mm and f/4 at 150mm).
Still, it does enable the company to make the bombastic claim that, "Effectively, this is six prime lenses in one," telling DP Review in a recent interview that its performance is a match for high quality primes.
"We see a lot of demand from portrait and wedding photographers," said Tamron. "Especially in the US and Asia. They mostly use prime lenses like 85mm, 105mm or 135mm – single focal lengths. We wanted to make a very convenient lens that could cover from 35 to 150mm, which is the range mostly used for portraiture."
Again it's a bit of a stretch to classify 35mm as a portrait length, though obviously it can be used for environmental portraiture. Taken in the context of wedding photography, however, this classification does seem fair.
"There are two popular focal length ranges – 24-70mm and 70-200mm, and usually people will take those two lenses when they shoot. We wanted to only make one lens. So while 200mm is maybe too long [for portrait photographers] and 24mm is too wide, 35-150mm allowed us to make the lens as compact as possible."
And indeed, it's a very compact package. The optic measures just 124.3mm / 4.9 inches) in length and weighs 796g for the Canon fit and 790g for Nikon.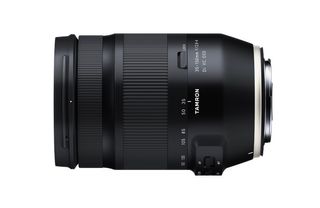 Tamron boasts that the lens "meets requirements of high resolution 50+ megapixel DSLRs" thanks to a trio of Low Dispersion glass elements aligned with three hybrid aspherical elements, delivering sharpness and contrast across the range, with optimum performance at 85mm.
Autofocus is powered by a 'Optimized Silent Drive' DC motor, for quiet focus acquisition, and a 'Dual Micro-Processing Unit' system to balance AF performance and vibration compensation.
With close focusing of 45cm / 17.7 inches across the zoom range, Tamron's Moisture-Resistant Construction weather resistance, and compatibilty with the company's TAP-in Console (which provides a USB connection for firmware updates and feature customization), the manufacturer calls it "the most useful and most creative lens a portrait photographer can own".
The Tamron 35-150mm F/2.8-4 Di VC OSD goes on sale 20 June 2019 for $799 / £799 for both Canon EF and Nikon mounts.
Read more:
The best portrait lens for photographers
What's the best telephoto zoom lens for the 70-200mm range?
Tamron announces trio of full-frame lenses for Canon, Nikon and Sony