The Memorial Day sales weekend might be all-but over, but you can still pick up some fantastic deals. B&H are currently running a great discount on a 5-in-1 reflector, offering you 56% off its original price of $49.95. This means you can now purchase this collapsible circular reflector for the incredible price of just $21.95.
A reflector is one of the most useful pieces of equipment a photographer can have in their kitbag. While specifically known for being great for portrait photography, a reflector can come in handy on the vast majority of shoots, including food photography, still life, macro and even pet photography.
• Read more: Best reflectors for photography
This 5-in-1 circular reflector comes with four reflective sides, include white, silver, gold and silver/gold. However, the reflective cover also unzips to unveil a translucent white disc that you can use to soften direct sunlight. This collapsible reflector folds down to just a third of its open size and also comes with a storage bag. This means that you can easily store the reflector away until you need to use it.
If you're interested in picking up this 5-in-1 reflector with a 56% discount, then don't delay! This deal will run out in 17 hours from the time this article is published, so click the link below to avoid disappointment.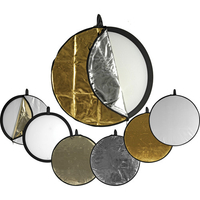 Read more
Best light tents for photography
Best flash diffusers, softboxes and modifiers for your speedlight
Best photography lighting kits in 2020: for studio, location and video