If you're looking for a way to get a fresh perspective with your photography or videography, then drones are the perfect answer. Not only will they take your content to new heights (literally), but you'll also see a whole new world of compositions open up to you. High end drones can be a little pricey, but luckily the Autel Robotics EVO II 8K drone is currently on sale for a fantastic price – and it comes in a bundle with lots of useful accessories too.
Autel Robotics EVO II drone deal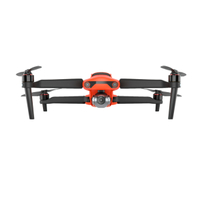 Autel EVO II bundle | was $1,795 | now $1,249
Save $546 The Autel EVO II drone has up to 40 minutes of flight time and can shoot 8K video and 48MP photos. It comes with a shoulder bag, an extra battery and extra propellers as well.
This bundle from Autel Robotics features the EVO II 8K drone, a travel shoulder bag, an extra flight battery (two in total) and three extra pairs of propeller blades (five pairs in total).
The EVO II quadcopter is capable of capturing video at up to 7680 x 4320 resolution and 8000 x 6000 stills. Meanwhile, it also features a 7100mAh battery that enables it to fly up to 40 minutes at a time – plus, the motors can fly in Ludicrous Speed to reach speeds of up to 44.8 mph. You can even transmit HD footage back to the controller's 3.3" screen from up to 5.6 mils away.
Read more
Best camera drone
Best drones for beginners
Best drones for kids
Best indoor drones
Best underwater drones